Our People
The man behind the mascot

If you look closely at The UWI's crest, the Pelican stands proudly atop. The brown bird is a reminder of The UWI's Caribbean roots. This was originally suggested by Sir Thomas Taylor, the first Principal of the University College in his capacity as chair in 1949. The pelican evolved as The UWI's symbol, which is why students, staff and alumni proudly display "Pelican Pride" in the achievements of our regional University.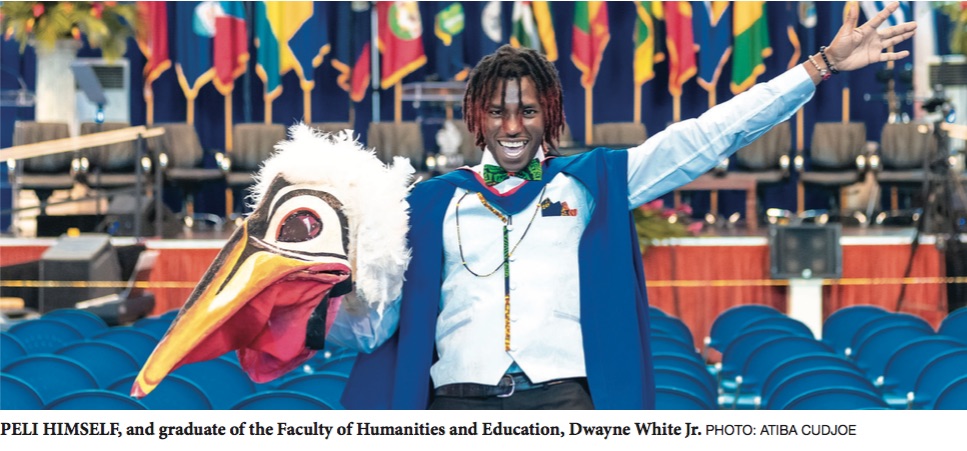 To embody the emblatic spirit of The UWI Pelican is no small feat. Here at The UWI St Augustine, our beloved mascot "Peli" is simultaneously always on display while being completely anonymous. And Peli's anonymity is taken very seriously. Peli is never to be seen without mascot attire and Peli's identity, never to be revealed. The campus, tries its best to maintain the mascot's mystique since Peli flies between cheering on athletes and audiences at The UWI Games to posing for photos with shy first-year students at the First Year Experience (FYE) New Student Orientation among other responsibilities.
At this year's Graduation Ceremony for the Faculty of Humanities and Education (FHE), Peli was revealed. Meet Dwayne White Jr, the man who has been donning white feathers and a large orange bill for the past two years. Dwayne graduated this year with a BA in Theatre Arts and that's no surprise since he's been performing practically all his life. "I've been involved in the arts since secondary school and took part in many plays. I love the essence of performing, whether it's mascots or masks. I just love to masquerade."
He describes his introduction to Peli as being made possible thanks to the Head of the Department of Creative and Festival Arts (DCFA), Mr Louis McWilliams, who told him that the Marketing and Communications Office was looking for someone to fill the orange webbed shoes. "Who better to introduce a mascot than someone from the arts? I loved my interactions with Marketing and I decided to do it."
Dwayne has only one word when recounting his experience as Peli, "Vibes. Peli is vibes. I like how people don't know who I am. I have a love for communication and a lot of people are not sensitised to the mascot, so I was grateful that they met Peli through me and that I could be a representation of The UWI campus."
Dwayne wants to continue his career as a performer, "I want to pursue my Master's in a couple of years in either drama therapy or performing. I'm from Tobago so I'll be back and forth between there and Trinidad and involved with the NGO Arts in Action (AiA). I'll also be freelancing so I can be Peli still!"
Wherever Dwayne migrates in the future, we know he will always soar to exceptional heights.