Food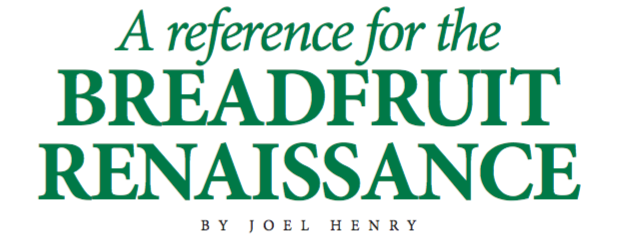 On October 2, Professor of Crop Science and Production at the Faculty of Food and Agriculture (FFA) Laura Roberts- Nkrumah launched her book The Breadfruit Germplasm Collection at UWI St Augustine. It's the product of over two decades of research into breadfruit in the Caribbean. But more than that, the book is an important block in the building of a vibrant breadfruit industry.
A new outlook is taking shape in how this traditional food item is viewed, driven by researchers, and those interested in food security, nutrition, entrepreneurship and export. It's not happening as quickly as it should. Breadfruit is still "neglected and under- utilised" the professor says, but work is being done to change perceptions. The Breadfruit Germplasm Collection is a visible sign of that progress.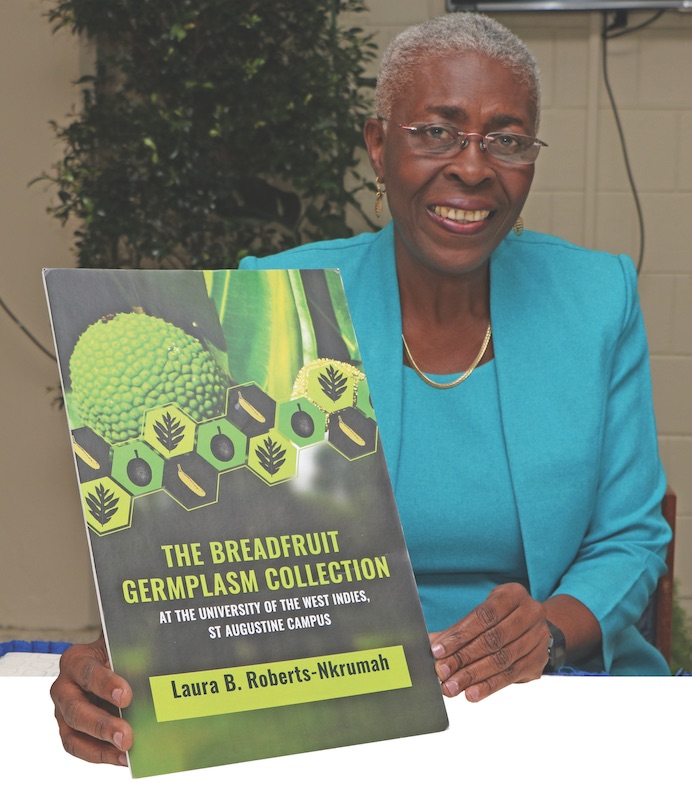 "Between the covers of this book is a wealth of information on the germplasm collections studied, which, if used, should promote sustainable commercial production and utilisation of breadfruit for food and nutrition security in the Caribbean and similar areas," said Professor Emeritus E Julian Duncan, Professor of Botany at the Department of Life Sciences, Faculty of Science and Technology, at the book launch at UWI S Augustine's Alma Jordan Library.
The Breadfruit Germplasm, published by UWI Press, is a collaborative work between the FFA and the Jamaica Agricultural Development Foundation. The book identifies the different varieties of breadfruit available in the Caribbean, describes their characteristics and provides comparative information. The goal is to give producers (farmers), processors (manufacturers of breadfruit-based products) and consumers an easy-to-understand guide to this "super food."
Professor Roberts-Nkrumah stresses that it is "not a scientific text." She says; "we have really worked to make this book as user friendly as possible. The information is accessible. We want the whole industry to become more sophisticated in their understanding of the varieties of breadfruit."
The book includes over 50 basic descriptors for each variety, an evaluation of their performance and also a picture. There are also summary tables to compare the different types of breadfruit. The last chapter discusses the differences and what they mean, as well as her research methodology.
For Jamaica, where the book was launched at the UWI Mona Campus in September, The Breadfruit Germplasm will enhance their export business (Jamaica is leading the way in breadfruit exports). But the author says her primary focus is food security.
"Essentially, we are a food insecure region. And there is no good reason for that," Professor Roberts-Nkrumah says.
She describes growing up in St James and seeing "large breadfruit trees laden with fruit." People, she said, "would probably harvest one or two occasionally and the rest would waste."
As far back as the 1980s when she was employed in agricultural development work she started looking at the potential of breadfruit. At the UWI she interacted with colleagues who were interested as well and had even done work on the potential - and limitations - of a breadfruit industry.
One of the major recommendations was greater variety in the types of breadfruit available to deal with limitations such as the short lifespan and seasonality of local types. This is what prompted her proposal to expand the germplasm (living genetic material such as plant seeds) to include more varieties. Professor Roberts-Nkrumah's research involved identifying the existing "cultivars" in the Caribbean (in Trinidad and Tobago, Jamaica and St Vincent) and importing new ones.
Despite the book's completion, she says there is still much work to be done:
"Every time I look at a breadfruit tree I am humbled. There is just so much more to do. We have barely scratched the surface." She has included student researchers in her work as well as collaborating with colleagues in the FFA and other faculties in the hope that others will continue the study of this super food. Her dream is that breadfruit in its many forms will rise to feed Caribbean society. "It's our food supply. It's our responsibility."