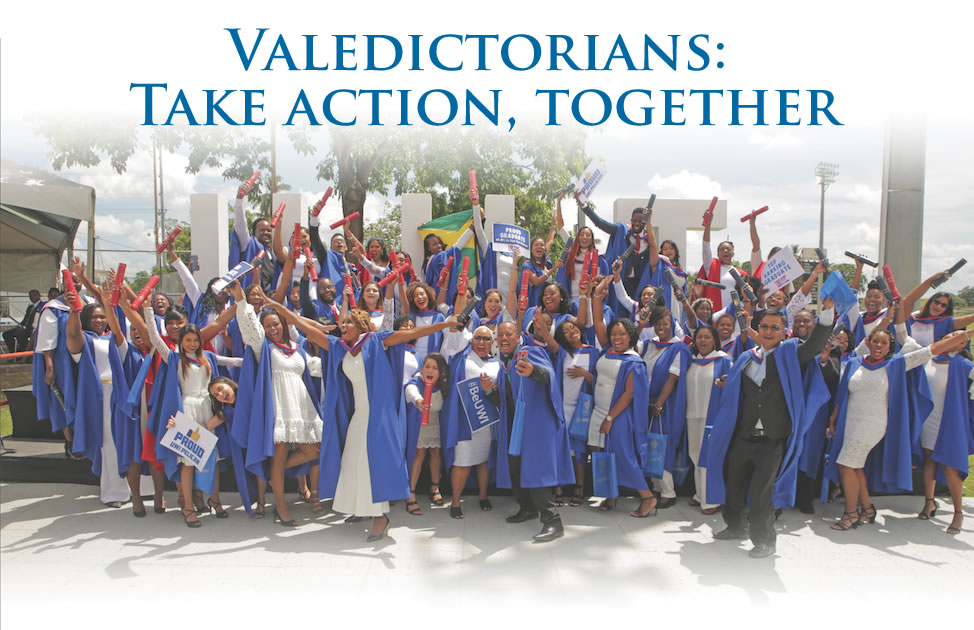 Although the six valedictorians representing seven faculties at The UWI brought perspectives located mainly within their various disciplines, there was one pervading motif in all their speeches: collective action.
That rallying call was also the central point made by The UWI Chancellor Robert Bermudez as he addressed each of the graduating classes and spoke about the threats to humanity and the planet through environmental destruction.
"Climate action is not a call to step backwards into the past...rather a call for a great leap forward to save the human race from self-destruction. We speak about destroying our planet, but in reality, we are not harming the planet; what we are doing is destroying the environment that sustains our life on this planet."
Chancellor Bermudez said that while efforts were sometimes made, more had to be done. "We know that climate change is not a hoax; we bear the scars to prove it," he said, challenging graduates to be activists and to persuade governments to act.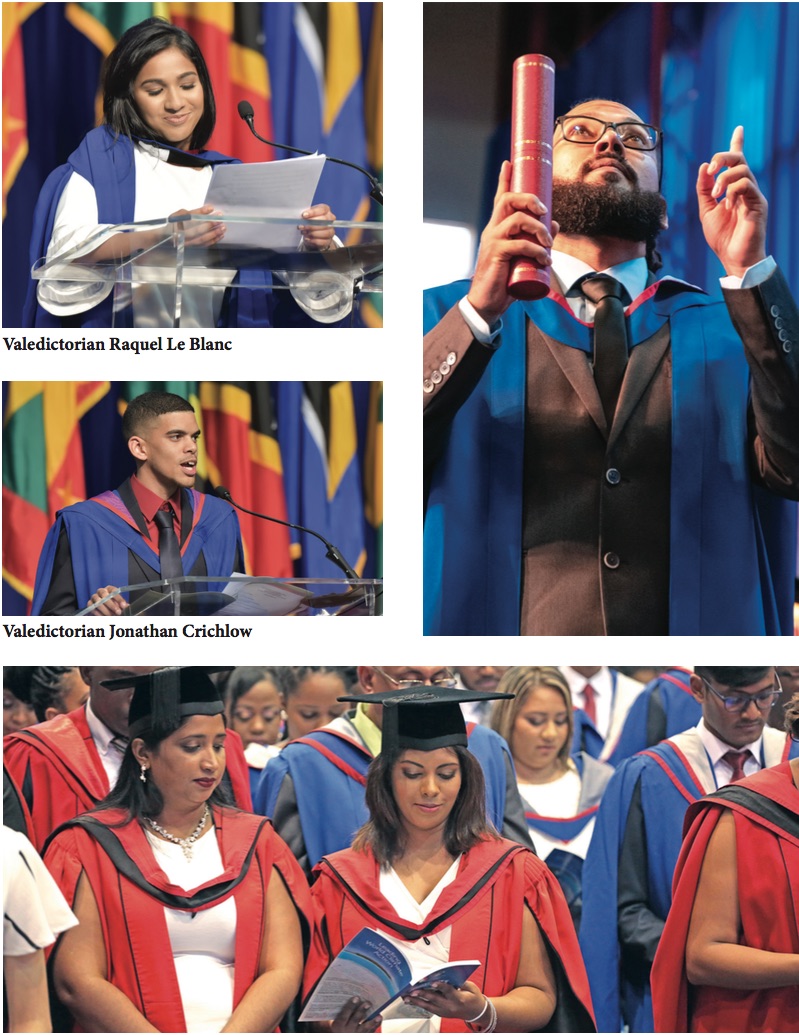 "I urge you to add your voices to support this movement; your support through sustained advocacy and activism will be critical in influencing the action at the level of our governments. Individual actions are commendable, but collective action is critical. You have to think globally and act locally." The Chancellor addressed each of the six graduation exercises held at The UWI, St Augustine Campus from October 24-26.
Each valedictorian spoke about their commitment to becoming more active participants in matters affecting society, and in one way or another, endorsed the idea that collective action was the only way to achieve meaningful change.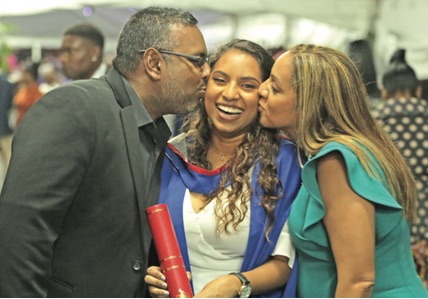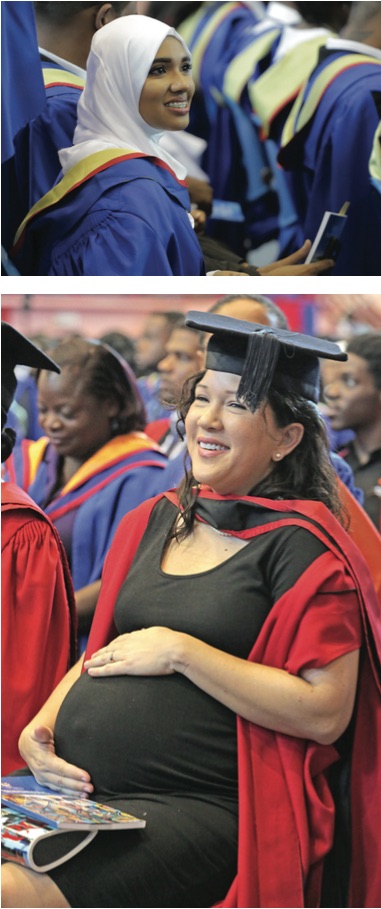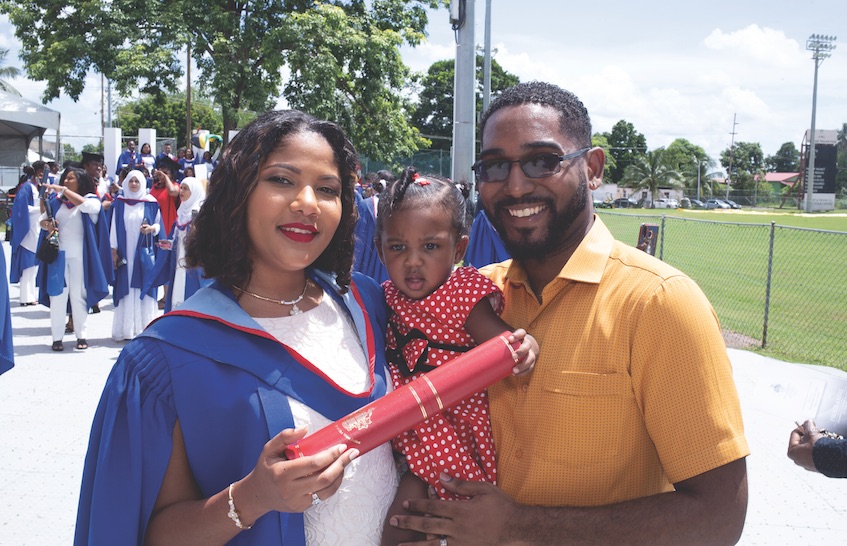 Shaquille Duncan, speaking for the Faculties of Science and Technology, and of Food and Agriculture, set a stirring challenge. "Currently, our region is under threat from the worst environmental phenomenon it has ever faced. With an increase in natural disasters and rising sea levels, Small Island Developing States need us more than ever. Let us not wait for others to find solutions to our problems."
Stressing that it was important to apply the skills they had learnt, to be agents of transformation and to achieve all-round development, Naomi La Croix from the Faculty of Social Sciences said, "Is there a problem in society you can't let go of? What about the things that hold this world captive? How can you provide hope? Many of us, after we leave university, spend most of our lives in boxes. Maybe it's an eight-by- ten box, also known as a cubicle; maybe it's a two-by-two box, also known as the mind [whose boundaries] most of us remain trapped within. However, I'm encouraging you to choose to recognise now that this pattern of living does not benefit you or society, because even though graduation provides legitimacy of transition in life, and the robes we wear are materialistic markers of this, for change to truly exist, we must act on it. We must not stay within our comfort zone."
Marcus Bridgemohansingh, also from the Faculty of Social Sciences, shared similar sentiments. "Do what you feel passionate about. If you see an opportunity in front of you, grasp it! We all have ideas; we have passion, but we often hold back on these. Get up and take chances. Come out of your comfort zone." And while students were told to lift themselves out of complacency, Amanda Mendes, speaking on behalf of the Faculty of Humanities and Education, urged her peers to look after their mental health as life stresses have become more pervasive and complex in today's world.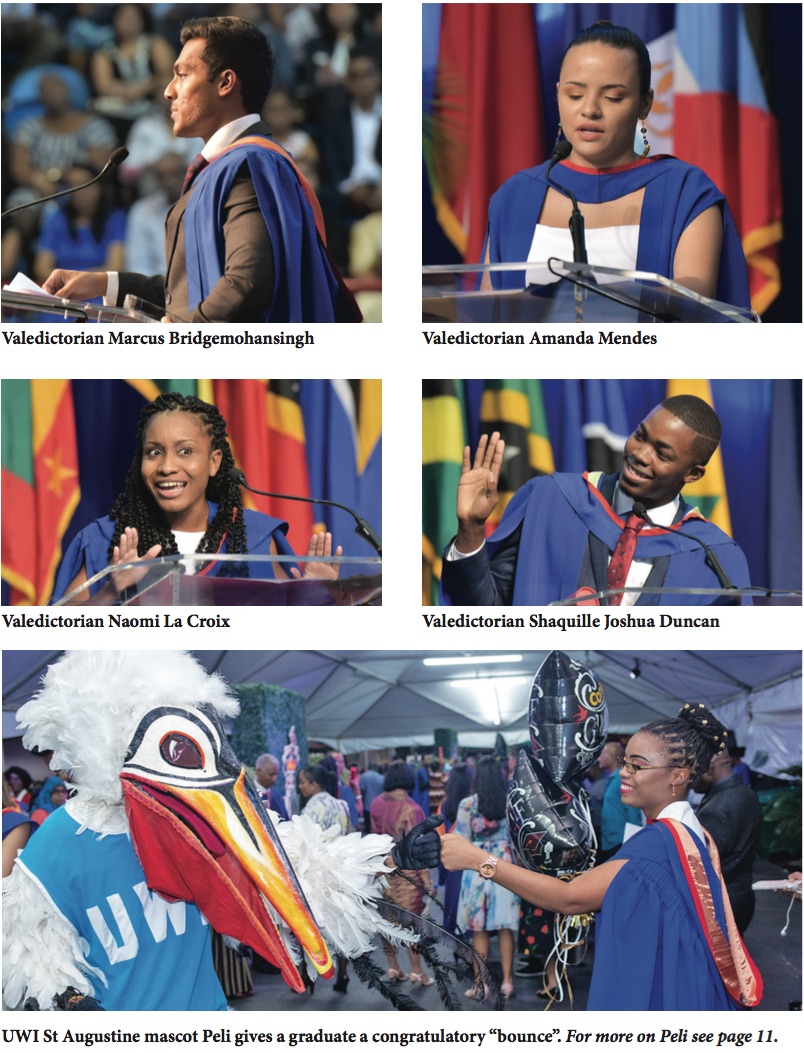 "Prioritise your mental health throughout all phases, be it stable or unstable in this waiting period. Look out for each other, foster strong relationships among your friends and family and aim high for collective growth, not just personal. I urge you to remember that your perspective positions you." Jonathan Crichlow from the Faculty of Medical Sciences offered a view that living responsibly was a path to happiness.
Every single person here is seeking two things: happiness and fulfilment. Now, I am no philosopher like Hippocrates – we never pitched marbles – but I believe that taking up responsibility will provide meaning in our lives. In the same way that our existence became a source of purpose for our parents, assuming responsibility over our patients will guide us to happiness and fulfilment in life. Showing love and kindness, whether it be to citizen or non- citizen, human or animal, will not only touch them by safeguarding their lives, but will also provide us with direction."
That idea of taking responsibility as a shared duty was echoed from a different corner by Raquel Le Blanc, speaking for both the Faculties of Engineering, and of Law.
"We are the new generation of fearless attorneys and engineers who must propel our region into the future. It's our duty, our shared responsibility." At the end of the ceremonies, it was clear that the 2019 graduating class would not be saying goodbye after all, because for them to share collective action, they have to become a community.