Calendar of Events
UWI Calendar of Events, November 2019- March 2020
November 13-14 | UWI St Augustine
Capitalism and Slavery – 75 Years Later
The CARICOM Reparations Commission in collaboration with The UWI Centre for Reparation Research and the Faculty of Humanities and Education will host a two-day symposium to commemorate the 75th year of the publication of Eric Williams' Capitalism and Slavery: Capitalism and Slavery – 75 Years Later. On the 13th there will be an academic symposium. November 14 will focus on schools and the general public.
For updates, please check the Campus Notices and Announcements page at https://sta.uwi.edu/news/notices/.
November 16-17 | UWI St Augustine
Palliative Care Workshop
The Faculty of Medical Sciences' (FMS) Department of Clinical Surgical Sciences, Anesthesia and Intensive Care Unit and School of Advanced Nursing, in partnership with End of Life Nursing Education Consortium (ELNEC) invite nurses to participate in a palliative care workshop. This two-day workshop will be held at the Teaching and Learning Complex, Circular Road, St Augustine. The workshop will focus on providing nurses with additional skills in dealing with patients who are at the end of their life cycle as a result of Cancer, HIV, Traumatic Brain Injury, Stroke and other serious medical conditions.
To register or for more information, please call 645-3232 ext 2864.
November 18-19 | UWI St Augustine
Mixed Methods Workshop
The School of Education, in collaboration with the Mixed Methods International Research Association – Caribbean Chapter (MMIRA-CC), hosts the workshop: "Joint Displays to Facilitate and Represent Mixed Methods Analysis." This two-day workshop will be held from 9am to 4pm at the School of Education.
For more information, please email Tynessa.Gay@sta.uwi.edu or visit the MMIRA-CC website at https://www.mmiracc.com/.
November 19 | EWMSC, Mt Hope
Special Care Dentistry Workshop
The School of Dentistry hosts a workshop on the topic, Jumping into the Deep End: The Why and How of Special Care Dentistry with Professor Maureen Munnelly Perry, Director of the Centre for Advanced Oral Health, AT Still University, Arizona School of Dentistry and Oral Health. The workshop takes place from 5 to 7.30pm at the Amphitheatre A at the Eric Williams Medical Sciences Complex. The deadline to RSVP is November 11. RSVP now by calling Denley Le Ben at 645-3232 ext. 4115 or emailing Denley.leben@sta.uwi.edu.
For more information, please visit the Campus Notices and Announcements page at https://sta.uwi.edu/news/notices/.
November 22-24 | UWI St Augustine
DCFA presents A Festival of Plays
he Department of Creative and Festival Arts (DCFA) Theatre Arts Unit hosts their annual New Directors Forum – A Festival of Plays at the Learning Resource Centre (LRC). The forum features the works of six student directors. This year's installment includes the following plays:
November 22 | 6pm – Douglas Archibald's The Bamboo Clump directed by Nishard Mohammed and 8pm: Trevor Rhone's School's Out directed by Shelby Outar.
November 23 | 6pm – Eric Roach's Calabash of Blood directed by Neriah Alfred and 8pm: Clinton Duncan's Final Chapter directed by Nickose Layne.
November 24 | 4pm – Errol John's The Tout directed by Oduduwa Aluko (Ifa) and 6pm: The Festival Theatre Company's Sayings directed by Rachel Henry.
Tickets cost $60 for adults and $40 for students (one ticket allows you to see two plays) or you can purchase a festival pass for $150.
For more information, call 272-3232 (272-DCFA) or email DCFA@sta.uwi.edu.
November 27 | Online
The Innovation and Entrepreneurship Webinar feat. Principal Prof Brian Copeland
The UWI Office of the Pro Vice-Chancellor for Graduate Studies and Research continues their Innovation and Entrepreneurship Webinar Series with a webinar on the topic, "A UWI Innovation and Entrepreneurship Ecosystem for Revitalising Caribbean Economies." The webinar is presented by Professor Brian Copeland, Pro-Vice Chancellor and Campus Principal, The University of the West Indies, St Augustine Campus. Join the webinar happening from 2.30 to 4pm by registering at: www.uwi.edu/ogsrwebinars.
For more information on upcoming webinars and initiatives, email pvcgradstudies@uwimona.edu.jm or thepvcresearch@sta.uwi.edu.
Call for Papers – SALISES 2020 Symposium
The Sir Arthur Lewis Institute of Social and Economic Studies (SALISES) has issued a call for papers for their one-day symposium on the Life and Work of Sir Arthur Lewis. This symposium is being held in the 50th anniversary year of the creation of the Caribbean Development Bank (CDB) on January 26, 1970 of which Lewis was its first president. The symposium takes place on January 23, 2020 and the deadline for the call for papers is December 22, 2019.
For more information, please visit: https://sta.uwi.edu/salises/.
Call for Abstracts – SALISES 21st Annual Conference
SALISES will host their 21st Annual Conference under the theme, The Rise of Global Populism and its Policy Impact on Caribbean Development. They have issued a call for abstracts for participants to interrogate contradictions, crises, disconnections and policy implications for the Caribbean region. The conference takes place on May 5 to 8, 2020 at the Mt Irvine Bay Hotel and Resort, Tobago.
The deadline for submission of abstracts is December 31, 2019. For more information, email salises2020@sta.uwi.edu and visit: http://conferences.sta.uwi.edu/salises/.
January 26, 2020 | UWI St Augustine
30 years of UWI Fete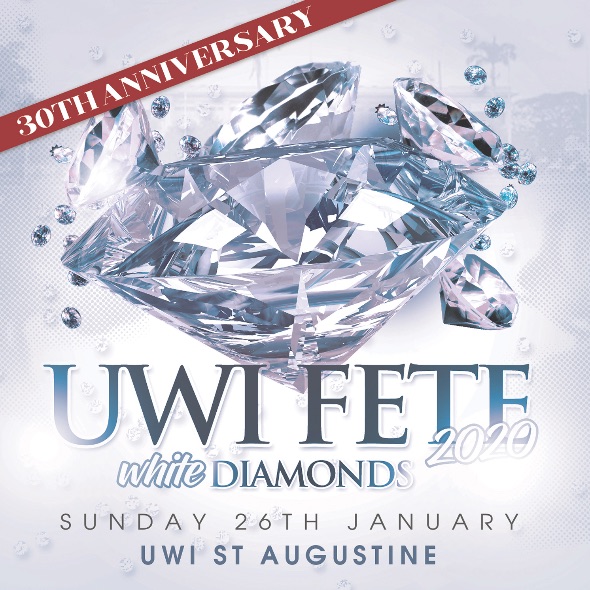 UWI Fete is the cornerstone of The UWI Development and Endowment Fund (UWIDEF), which to date has granted over 3000 bursaries to deserving students. Help provide more scholarships to deserving students by purchasing a ticket for the historic 30th annual UWI Fete 2020 – White Diamonds.
For updates, please visit The UWI Fete Facebook page: https://www.facebook.com/UWIFete/
March 13-15, 2020 | UWI St Augustine
Emerging Trends in Engineering and Technology Conference
The Faculty of Engineering hosts the International Conference on Emerging Trends in Engineering and Technology (IConETech-2020). The conference aims to bring together leading research scientists, innovative engineers, and environmental policy experts to share their experiences, research results and entrepreneurial methodologies on fundamental developments in science and engineering concepts and their contemporary applications in technological advancements in the 21st Century.
For more information, please visit the IConETech-2020 website: http://conferences.sta.uwi.edu/iconetech2020/.