By Serah Acham
What does a chocolatier do on World Cocoa and Chocolate Day?
Astrida Saunders followed her passion. She spent October 1 as she spends every Saturday: at her workshop, elbow deep in chocolate. For the founder and managing director of Exotic Caribbean Mountain Pride, and the source of the company's delectable creations, it was business as usual.
"Saturday is my dirty day, or work day," she says, "the day that I will be doing the roasting and the shelling of the beans … and it can be very dirty and dusty." Since much of the process is done manually, it's a lot of hard work, but "it's the most important part of the chocolate process."
First, the beans are fermented. Next they're dried, roasted and set aside to cool. Then it's time to shell them, and for this she uses her own self-taught method. "It's very effective, but it's a lot of work."
"Or," she continues, "if I have done it before it's the day to actually be making the chocolate … I will be grinding the beans, mixing my spices, pouring it into moulds, putting it into the freezer."
It seems arduous, but she isn't complaining. "I have a really comfortable workshop," she explains, crediting all who helped construct it. "They did it with love … so when I sit in my workshop I am very comfortable."
Comfort is a good thing; in just one Saturday session she produces 600 chocolates.
Don't be mistaken though, Saunders' creations aren't your regular 'open a box and pop one in your mouth' chocolates. They're "traditional chocolates," she declares. "It's what people grew up with – the chocolate that was used to make the traditional hot cocoa tea." It's her specialty, and as long as it's a part of the Exotic Caribbean Mountain Pride brand, "it must have the taste of long-time."
A sip must bring forth memories of childhood and granny's kitchen.
"We try very hard to keep that taste."
Saunders' entered the chocolate world through her grandparents.
"I grew up in a family that was always involved in cocoa," she explains. "We are from Tamana … which grew a lot of cocoa … my grandparents had estates which they passed on to my parents … so we (Saunders and her brothers) are inherently the owners of the estate now." While her brothers deal with the production of the beans, she decided "to take it a step further … than just sell cocoa beans," by turning them into chocolate.
She didn't know how to make the chocolates that are so popular today. She hadn't learnt because she never foresaw a future in chocolate. Or maybe she did. She'd dreamed of becoming a florist and studied Agricultural Management in Venezuela.
Although she couldn't make chocolate, she thought of what she could produce out of her cocoa beans. "So we said … long time they used to make a kind of chocolate that people no longer get so let's try to make that – the chocolate that people knew long time."
"They had a mortar and a pestle and they used to pound beans and that is exactly how we started."
That's where her training in Agricultural Management came in. "It was a practical school. You had to work hard and think of how to make your job easy, so developing this chocolate I had to use a lot of my skills from Venezuela … because it's a practical product."
After visiting "one or two little open days" with her product, she discovered that "people loved it." This cemented her decision to create what is now Exotic Caribbean Mountain Pride.
Initially, she admits, "the passion (for chocolate) wasn't there." But she wanted to create something that people would love. Answer one question and up pops another: how could I make this product without so much labour? … without so much work? … easier?
She became focused on finding a way to produce in bulk without the intense labour. It was complex and draining.
"There were all these factors involved so you couldn't have passion for the product. You had to have passion for machinery, infrastructure, electricity, getting it to the market, getting people to know it."
"I've overcome that challenge," she says. Now her passion is for her chocolate. With her brand gaining increasing recognition, she's ready to move forward.
"I want to get as much information as I can so that I can develop the product, put more finesse into it," and The UWI's Cocoa Research Unit (CRU) is ready to help.
"They have embraced me really," Saunders says of her relationship with the CRU. "I met them after I started making the chocolate." The CRU had invited her to an open day that they hosted for the Friends of the Botanical Gardens, "and I brought my tea and samples … I served my hot chocolate to them and they saw the standard of my display and so on." Today she works with Professor Pathmanathan Umaharan, Dr. Darin Sukha, and Ms. Naailah Ali at the CRU to develop her chocolate. "They love the product. They give it out as gifts sometimes to people who come to the Cocoa Research Unit and I am very happy for that."
She says that she appreciates the link that she now has with The University and looks forward to learning from "the wealth of knowledge that they have with regards to cocoa and chocolate."
"Out of all who work with us at the CRU, she's the only one that makes drinking chocolate," says Ali, "and she's really good at it."
She won't stop there; she's preparing to join "the edible market," and is working with the CRU to help her take off with that, hopefully by 2012.
"My aim is to take the same taste that we have as the traditional drinking chocolate and make it into edible bars, so…our bar will taste like long-time cocoa … which will be something different."
Exotic Caribbean Mountain Pride produces six flavours of drinking chocolate: original, mint, lemon grass, ginger, chilli and orange, "as well as a liqueur, Astrilique," for Astrida's Liqueur, Saunders explains. "We also do a liqueur in cream which is like ponche de crème or cocoa crème," she continues, letting me know that it may be on grocery store shelves soon, "we're looking forward to start selling it this Christmas."
Where can you find her chocolate?
"Today it's in most of the major supermarkets in Trinidad, she says.
And it's certainly making its way around the world.
"There's a guy from Alaska who sent for 15 lbs of chocolate … he emailed me and said it was the best gift he got for father's day … I have had emails from Switzerland and Switzerland is the home of chocolates and somebody from Switzerland is telling me that they love my product. That has to be amazing … It's nice when you offer somebody or somebody purchases it and they call and say 'Wow I love this product' … it makes you feel good inside and it's what stirs you on to keep going."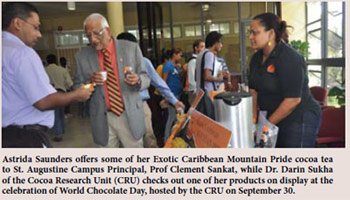 World Cocoa and Chocolate Day – October 1
The day was first declared by the London based International Cocoa Organisation (ICCO) and then the Académie Française du Chocolat et de la Confiserie (French Chocolate and Confectionery Academy) to recognize and raise global awareness of the efforts of cocoa growers around the world, their living conditions, and the need for a long-term self-sustained cocoa economy.