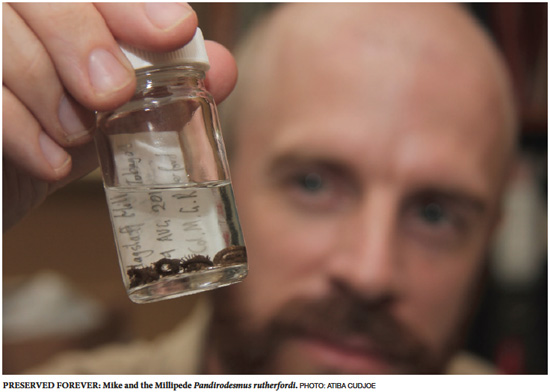 In June 2012 I was in Charlotteville, Tobago with several friends and colleagues carrying out research on land snails and reptiles. We were spending a lot of our time walking forest trails and searching for any interesting animals, which involved raking through leaf litter, rolling over rotting logs and generally delving into all sorts of nooks and crannies. One trail in particular, heading north past Pirate's Bay, provided many good sites for study as it was a mix of forest and agricultural land. It was on this path that I made my discovery.
I was looking at a large fallen tree, which had been slowly rotting away, and noticed several tiny creatures in amongst some soil and bark. I knew they were some sort of myriapod (an arthropod with a long body and multiple pairs of legs) but beyond that I wasn't sure if they were millipedes or centipedes. I collected a few specimens to take back to our base for a closer look.
Under the microscope it was soon obvious that they were millipedes as they had two pairs of legs on each body segment, unlike centipedes which only have one pair per segment. Beyond that though they were quite unlike any other millipede I had seen in Tobago or anywhere else for that matter. The pairs of legs were not of the same length with a short one and a long one on each side and the whole of the animal's body was covered in a fine layer of sand which looked like it had been carefully cemented onto every segment. I cleaned one up and found they were a pale translucent colour underneath. I didn't think much more of it and just carried on with our main research for the rest of the trip.
When I got back to the St. Augustine Campus I emailed Rowland Shelley, an international expert on millipedes at the North Carolina State Museum of Natural Sciences. We had already corresponded on other research matters so he was happy to look at some photos I had taken of the millipede. He got back to me very quickly as he had not seen anything like it before, he contacted Sergei Golovatch at the Russian Academy of Sciences in Moscow and he was excited as well. The only other species that they could find that was close to my one was collected from central Guyana many years ago but it had no mention of being covered in sand. They both wanted more specimens to study; males in particular (the genitals of male millipedes are a key feature in species identification!).
I didn't get a chance to visit Tobago for research until June 2013 and I found more specimens in the same site as well as two other sites near Charlotteville and Speyside. I sent some specimens to Rowland who did some very delicate dissection work to look at key features and then started work on describing the new species. He asked me if I would like to write up the paper with him or if I would prefer that he did it himself in which case he would name the millipede after me – it didn't take me long to choose the latter! On September 11, 2015 the paper was finally published naming the new species Pandirodesmus rutherfordi.
Years ago when I was an undergraduate student at Glasgow University in Scotland a friend made a cartoon birthday card showing me traveling to far off countries and discovering new species, it was a great feeling to have that story finally come true.
Discovering more about the nature that surrounds us is not just the preserve of scientists it is something that anyone can do. To help people do this the UWI Zoology Museum along with partners the Trinidad & Tobago Field Naturalists' Club, will be running the first ever Tobago Bioblitz on October 24-25. Since 2012 there has been an annual Bioblitz in Trinidad. The first event was in Tucker Valley, then Arima Valley in 2013 and Nariva Swamp in 2014 so it is about time to head over to Tobago. Charlotteville was the ideal choice as within a short distance you can find a wide range of habitats from coral reefs and seagrass beds to rainforests and rivers. Many other scientists and researchers have made interesting discoveries in and around Charlotteville and hopefully some of this year's bioblitzers will do the same. Other groups getting involved in the Bioblitz include the Trinidad & Tobago Eco Divers, Environment Tobago and Trinibats.
On Saturday 24 various experts and volunteers will gather to record every species of plant, bird, mammal, reptile, amphibian, fish, invertebrate and fungus that they can find. Starting at noon they will cover the forests, streams, rivers, coral reefs and beaches looking for potential species. As well as taking photographs and making notes some specimens will be collected and brought back to the Bioblitz basecamp for further identification. The basecamp will be at the Environmental Research Institution, Charlotteville (ERIC) where the Bioblitz teams will bring back their records, get food and drinks and then head back out to survey some more - many of them going through the night!
On Sunday 25 the public is invited to drop in and see what the experts have been up to. From the basecamp there will be guided walks along the trail from Charlotteville past Pirate's Bay and into the forest (6am, 8am and 10am); guided snorkelling in Man of War Bay (8am, 9am and 10am); displays of specimens and information about the biodiversity of the area and fun activities for families (from 6am to 1pm). The recording stops after 24 hours at noon on the Sunday and the final total of species recorded will be announced around 12.30pm at the basecamp.

For more information about this event and past Bioblitzes you can visit the
Website – http://sta.uwi.edu/fst/lifesciences/BioBlitzHome.asp or the
Facebook page - TandTBioblitz or
Email ttbioblitz@gmail.com or
Call Mike Rutherford on 329 8401