It was January 1996, one of the coldest months in a particularly cold year, when Dilip Dan ventured from the Caribbean for the first time. He'd applied for a position at the State University of New York in Buffalo. Dressed in light shoes, thin gloves and a borrowed overcoat, he was confronted with minus 23° weather. He was confronted with naysayers at the university; black and brown people like himself who told him he would not get the position.
"Well if that's the case, I thought, I'm all the way up in Buffalo, I'm going to Niagara Falls," he recounts.
He took a bus to the Falls, where it was colder still, and the wind cut right through his borrowed coat. But he endured, staring into the chasm where the hundreds of thousands of cubic feet of water thundered down unrelentingly, a true force of nature. After all – and unbeknownst to the naysayers – he was a force himself.
He did get the position and went on to excel at the post, as he has in every post since. From the beginning of his medical career to today, Professor Dan has been so successful and his contribution to Caribbean medicine so impactful, that at 46, he is a Senior Medical Officer, Professor of Surgery and Head of the Department of Clinical and Surgical Sciences at The UWI.
The doctor's doctor
Of the professorship (he was promoted in July of this year), Professor Dan says, "to obtain this academic status at this age is a privilege. I am privileged and honoured."
On his promotion in August 2015 to department head he's a bit more measured:
"It's work, more work, phone calls and challenges," he laughs. "But I'm still enjoying it. It's a new era for me because I'm a clinician. I'm a surgeon. I love to operate. Administration has not been my forte. It's a challenge and I am embracing it."
It's not that achieving a senior administrative position hasn't been one of his goals. It just happened sooner than he expected.
"You look at these types of positions as something you aspire to as you grow in the field and say one day I can achieve that position and make a change, make a contribution. I thought it would happen later in life but the opportunity came up and I decided I would accept it."
Professor Dan's accomplishments as a surgeon and his contribution to the surgical practice in the region through education and training are the catalysts for his rapid rise. He is a Caribbean pioneer in both laparoscopic surgery (a surgical method that makes only small incisions in the body and uses optics to view the interior) and bariatric surgery (anti-obesity surgery that reduces the size of the stomach through various methods). He has trained surgeons throughout the region and introduced and developed UWI's doctorate in medicine in the surgery programme. If you know anyone in Trinidad and Tobago who has received laparoscopic surgery it is possible that Professor Dan has trained the surgeon.
"I decided this was something that Trinidad needs," he says of his choice of specialisation. "I was always intent on coming back [from the US]. So I insisted that I find a fellowship for subspecialty training. I got a fellowship at Providence Hospital [Howard affiliated] in Washington DC, so I went down and started laparoscopic surgery."
He says, "When I came back the skill wasn't in existence in the Caribbean except in miniscule amounts. I started teaching surgeons how to do these procedures. I started teaching at San Fernando General, then Port of Spain, then Tobago, then Sangre Grande [hospitals], and then privately, at all the different institutions. I think it is important that we give back. You are not here and given opportunities for yourself. I don't think I learned the skill for me. I learned the skill and decided to come back for the Caribbean."
Roots in the soil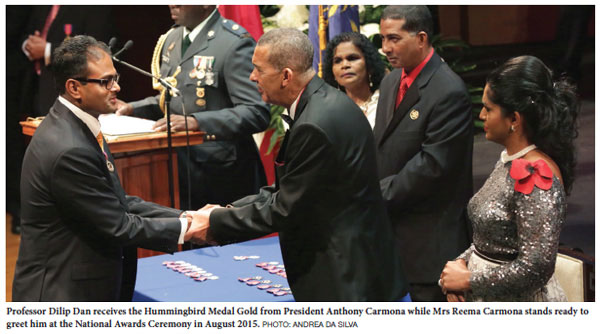 Making a positive contribution is a recurring theme throughout Professor Dan's career. In August he received a national award – the Hummingbird Medal Gold – for his work (2015 has been his harvest year). He credits the value system imparted by his parents for his outlook.
"I have to dedicate all that I have achieved, including the Hummingbird Medal, the professorship and becoming a doctor, to my parents," he says. "They sacrificed beyond what is normally expected to ensure that we got an education. It all started with the values they inculcated in me and my siblings. Our family didn't have but we would always give. If we had to choose fruits to sell or to give we always gave the best. It's a philosophy that I live by. When you give, it always comes back to you in a multiplied fashion."
Professor Dan grew up in Rio Claro, one of four children in a family of farmers.
"I come from very humble beginnings," he says. "Our father planted cocoa, coffee and citrus. I grew up planting the land and taking care of the trees and the produce. Those were good times. It was hard but we made it work. The struggle was there but we never gave up."
Hard work is another value that the professor stresses. In fact, he believes it to be the reason for his success. He cites his experience in Buffalo:
"I wasn't a bright fellow. I will tell you straight. I wasn't bright. But I accomplished a lot. And the reason for that was just pure hard work. I spent five years in Buffalo and realised how welcoming these people were. The ethics that I had, the hard work, that's what they wanted to see. And they reward you for it. I topped all the programmes. I graduated top of the class and top of the country. I went to work. I worked harder than anybody else. While people were sleeping I was studying. Working hard is part of what I do."
Sitting across from Professor Dan as he recounts his tale, I'm taken by the lack of arrogance. If you have had the opportunity to interview powerful people, you grow to accept an overblown persona as part of the job, particularly in business. But Professor Dan is remarkably easygoing and accessible, considering his accomplishments. It's a meticulous kind of easygoing.
And even today, the agriculture instinct still buzzes in him. He has of piece of land where he grows exotic fruits, oranges and grapefruits.
"I try to go even for 10 minutes a day just to relax," he says. "I value where I come from. That is what makes me happy and calm after all the stresses of work."
The pioneer
There is another ingredient to Professor Dan's career that can't be explained by his parent's teaching or his formative years in agriculture – a daring ambition. It's not necessarily ambition for wealth or fame but looking at his choices it is clear that he was determined to make his presence felt in his field. He decided to go abroad to further his medical career. He chose fields of specialisation that were lacking in the Caribbean. Even in his choices of patients Professor Dan has shown a pioneering streak.
In one case he performed obesity surgery on a five-year-old girl. She weighed more than 175 pounds and her knees had buckled so badly that she could not walk. But the idea of obesity surgery on children was taboo at the time. Nevertheless, after giving the child psychiatric counselling, he performed the operation. It was a success. She lost nearly 80 pounds and they were able to repair her knees so that she could walk. Today, she is a student at a prestige school in South, living normally.
The procedure was controversial. Professor Dan wrote a report on it for a leading medical journal. They agreed to publish it but only if an opinion piece by a child obesity expert could be published alongside. It was scathing.
"He wrote a very long piece – longer than the article. In essence he said how bad it was and what a bad decision we made," he laughs.
That was five years ago. Today, not only is the procedure Professor Dan carried out the surgery of choice for childhood obesity, it is the one that even the opinion writer recommends.
He made a bold decision and it paid dividends. This is partly why his reputation in the field is international and his contribution to the medical literature is considerable.
"Sometimes you have to do things that are controversial once you believe it's right," he says.
"Obesity (bariatric) surgery is one of the operations that I find most beneficial to the patient. Patients are the happiest after surgery. When you operate on these patients and they lose weight you are transforming them into different human beings. You are taking them away from depression and difficulty and bringing them into a life that is totally different. Sometimes I don't recognise the patient when they lose weight and come back a year later."
Likewise laparoscopic surgery has made the lives of many patients much easier by reducing pain, bleeding and recovery times from a host of surgical procedures.
So what's the next bold endeavour? Metabolic surgery is essentially bariatric surgery carried out with the primary purpose of treating type 2 diabetes. It has been gaining prominence in recent years as physicians such as Professor Dan have found that obesity surgery has been highly effective (in as many as 80% of patients) in treating the disease.
"I want to see this metabolic surgery take off and to be able to help these patients with diabetes on a larger scale," he says. "We are doing it but the problem is education. We need to educate not just the patients and the public but our own doctors. This is the challenge, to get our own physicians and nurses to understand the value in offering surgery for a disease that you typically treat with medications. That is a big challenge but it will come."
---
Laparoscopic Surgery: This form of surgery, also known as minimally invasive or keyhole surgery, is a surgical technique through which small incisions (less than 1.5 cm) are made in the patient and a laparoscope (a long optical cable) is inserted through which the surgeons can see the area from a more easily accessed part of the body. As opposed to open surgery, laparoscopic procedures cause less pain, bleeding and recovery time (patients are often better within a few days).
Bariatric Surgery: Also known as weight loss or obesity surgery, is a variety of procedures that lead to weight loss by reducing the size of the stomach. These include placing a gastric band around the top of the stomach, removing a portion of the stomach or rerouting the small intestine to a pouch within the stomach. In Trinidad and Tobago, bariatric surgery can be carried out on people with a body mass index (BMI) of 35 and over (the average BMI is 25).
Metabolic Surgery: This is bariatric surgery carried out for the purpose of treating type 2 diabetes. Doctors have discovered that over 80% of bariatric surgery recipients with diabetes are cured of the disease by the surgery. Although weight loss has been found to cure type 2 diabetes, the obesity surgery recipients were cured of the disease within a few days of the procedure, well before they had the opportunity to lose weight. This has led a growing number of physicians in recent years to promote metabolic surgery as a treatment option for the disease.