October 2015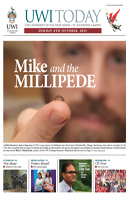 Issue Home >>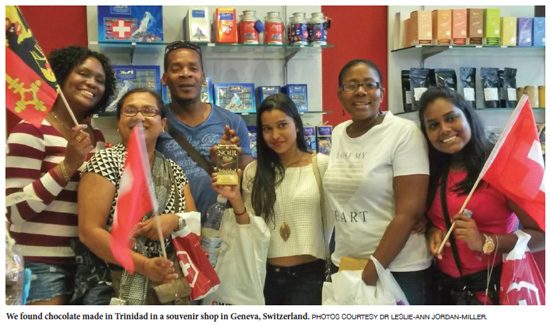 World Tourism Day was celebrated on September 27 and this year the theme was: 1 Billion Tourists, 1 Billion Opportunities. In 2014, 412,447 visitors came to Trinidad and Tobago, contributing TT$4,882 million or 3.2% of total GDP and employing 27,500 persons, i.e. 4.4% of total employment (Tourism Development Company Limited 2015; World Travel and Tourism Council 2015).
At The UWI, students can pursue a BSc International Tourism, BSc Hospitality and Tourism Management (in partnership with the TTHTI), MSc Tourism Planning and Development and more recently, a PhD in Business Administration with a specialization in Hospitality and Tourism.
And what better way to study and learn about hospitality and tourism than to travel the world and experience it first-hand! \
That's exactly what the students of the Department of Management Studies have been doing for the past eight years, accompanied by lecturers, Dr. Acolla Lewis-Cameron and myself, with financial support from the Department, the Faculty of Social Sciences, corporate sponsors and students' fundraisers.
So far, we have visited St. Lucia, St. Vincent and the Grenadines, Curaçao, Mexico, Margarita Island, Jamaica, The Bahamas (on a Carnival Cruise Line) and Cuba.
In March, as part of the Final Year Hospitality and Tourism Field Trip, 25 undergraduate and postgraduate students visited the Dutch Caribbean island of Curacao in order to learn about tourism development in that country and to see if there are any best practices that can be applied to Trinidad and Tobago.
By staying at the Sunscape Resort, Spa & Casino, we were able to critically examine the all-inclusive concept and have fun at the same time! Scheduled presentations by the Curacao Tourist Board, as well as visits to sites and attractions such as the Sea Aquarium, the Floating Market and Hato Caves helped us to appreciate destination management, the need for quality customer service, as well tourism product development that enhances the overall visitor experience. Olivia said that "the ability of the locals to speak several languages is impressive. This is an asset to a tourism destination since it makes it simpler for locals and tourists to communicate." Kadesha commented that "The ability to maintain the traditional architecture in the capital, Willemstad, is an outstanding feature of Curacao. In keeping with such traditions, it helps to share the history and heritage of the island with its visitors. Such a practice should be followed in T&T to avoid losing our unique attractions".
Next, from August 3-17, nine students were selected to participate in a Sustainable Tourism Exchange Programme organized by Lecturer Wendy Fehlner (a fellow Trinbagonian!) from the Department of Tourism, Baden-Württemberg Cooperative State University, Lörrach (South West region of Germany) and her husband Dr. Gert Fehlner from Freiburg University.
The Programme involved a well packed, exciting 10-day stay in Germany, where we learnt on site about best practices in the area of sustainable tourism in Germany. We had a good taste of German culture as well as a touch of France and Switzerland. The formal lectures, cross cultural exchanges, food and visits to a wide variety of different types of sites and attractions proved very useful in expanding our understanding of sustainable tourism. It was also very encouraging to see the genuine bonds that were immediately formed between the students – this really demonstrates one of the most powerful positive socio-cultural impacts of tourism. We were also able to give the Germans a literal taste of Trinidad and Tobago as we carried with us sugar cake, barfi, tamarind balls, fudge, kurma and even pholourie mix!
Devana described this once in a lifetime trip as "one of the most profound learning experiences I have ever had." Elizabeth said, "This experience has taught me more than I imagined about the inseparability of the people, the environment and the economy in building sustainable tourism," and Sabita said, "highlights for me included the tour of the Black Forest Nature Conservation Centre, understanding why protecting the environment is important and how it is done in Feldberg; as well as having a fun filled time at the Europa Park." We must say "danke schön" (thank you) to the Trinidad and Tobago National Lotteries Control Board (NLCB) for their kind sponsorship of this trip – we would not have been able to visit Germany so soon without their financial support!
For further information on studying hospitality and tourism at The UWI, visit https://sta.uwi.edu/fss/dms/