October 2015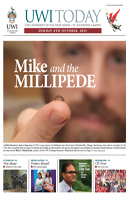 Issue Home >>
Three Naipauls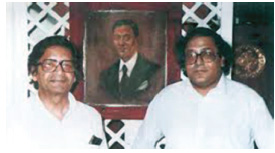 This month ends with the long awaited conference: Seepersad & Sons: Naipaulian Creative Synergies, organised by the Department of Literary, Cultural and Communication Studies of The UWI, St Augustine and the Friends of Mr Biswas.
The conference is free and open to the public and runs from October 28-30, 2015.
It begins on the Wednesday evening with an opening ceremony and keynote address by Naipaul scholar, Dr Bhoendradatt Tewarie. The following two days are dedicated to more interactive discussions of the Naipauls' work. Most of the sessions will take place at the Open Campus Auditorium on Gordon Street, St Augustine. This site was selected to afford ample parking, lack of traffic congestion and a generally laid-back ambience. The first session from 9-10:30 on Thursday morning is an address by Professor Arnold Rampersad.
Professor Rampersad, honoured by another doctorate from The UWI in 2009, is Sara Hart Kimball Professor in the Humanities at Stanford University. Professor Rampersad will be followed after the morning break by sessions led mainly by speakers who are themselves writers. The first one ends at lunch time and after lunch, the conference moves to visit the Lion House in Chaguanas. The evening ends with a panel at the Chaguanas Mayor's Office, comprising writers and artists who will speak about the synergies between their own work and the Naipauls'.
Friday entails a full day of discussions at the Open Campus Auditorium, and includes sessions by very young Naipaul scholars in-the-making such as Varistha Persad, Fariza Mohammed and Meghan Cleghorn as well as more well-known ones such as Paula Morgan and Kenneth Ramchand. The conference is likely to end with a bang at the Naipaul House in St James. We invite you to keep abreast of developments in the daily newspapers and on the Friends of Mr Biswas website at http://www.friendsofmrbiswas.org/.