October 2015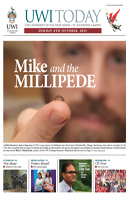 Issue Home >>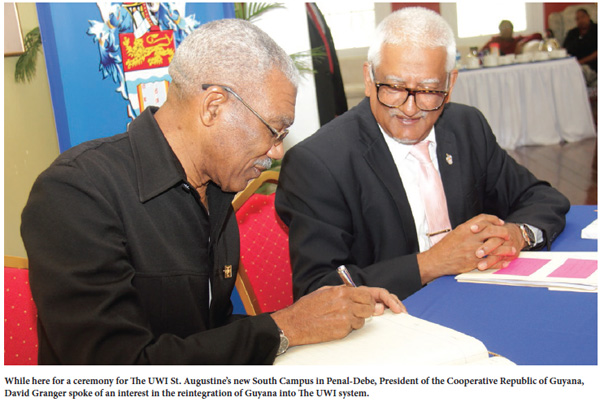 It is widely accepted that the West Indian institutions of cricket and The UWI do for unification of the Anglo-Caribbean what politics and economic agendas have failed to do. It's no surprise then to hear rhetoric of 'reconnection' with Guyana coming from the St. Augustine Campus Principal. The conduit being, naturally, UWI programmes and with the right environmental forces at work currently, a.k.a. opportunity, a clear strategy in mind, a.k.a. as preparedness, he may find success, a.k.a. luck.
In a recent interview on this theme of reconnection with Guyana, Pro Vice-Chancellor and Campus Principal, Professor Clement Sankat, acknowledged past efforts. In particular, he acknowledged the connection efforts of former UWI Chancellor, Sir Shridath Ramphal – both sons of the Guyanese soil, in The UWI's offering of programmes at the master's level in Project Management, Construction Management and International Relations in Guyana. Adding the Lok Jack's Business School offering of an International MBA, and the recent signing of an MoU by UWI's Institute for Gender Studies at the University of Guyana (now headed by the former UWI Vice-Chancellor, Professor Nigel Harris), one can fairly say that the road has been smoothly paved for now – 'reconnection' on a national level – as is the essential vision and strategy of Professor Sankat.
While here for a ceremony for The UWI St. Augustine's new South Campus in Penal-Debe, President of the Cooperative Republic of Guyana, David Granger spoke of an interest in the reintegration of Guyana into The UWI system. Subsequently, there was an invitation from the Minister of Education of Guyana, Dr Rupert Roopnaraine for representatives of The UWI to visit Guyana to meet with relevant technical experts and create a plan of action for building a capacity in Guyana for graduates particularly in the fields of Petroleum Engineering and Petroleum Geoscience. A UWI team met with Prime Minister of Guyana, Moses Nagamootoo on August 13, 2015.
Prime Minister Nagamootoo indicated his support for quick movements given the current status of Guyana's investment in its energy sector. In Georgetown, the team also met with the Minister of Education, Chief Education Officer and representatives from the Ministry of Natural Resources and the Environment. A proposal was put forward by The UWI team, stating that The UWI offers its master's programmes in Petroleum Engineering on the ground in Georgetown, from January 2016.
The proposed duration of the programmes is two years with 18 months of classes delivered both "face-to-face" and using distance technology followed by a six-month capstone internship where students would spend this time assigned at an energy company in T&T. In addition to strengthening the knowledge, understanding and awareness of the students, the expansion would help build bridges between the petroleum industries in T&T and Guyana. Discussions were also held about the possibilities for conducting executive education and short courses for technical skills development along with a wider suite of graduate programmes that would be delivered in Guyana to support the high level professional development there.
Professor Sankat explained that while the conduit is the UWI-structured programmes, his vision is for more of an equal and simultaneously wider nation-to-nation exchange. That is to say, while Guyanese capacity is being developed on the mature expertise of TT petroleum exploration, Trinbagonian capacities can be developed on the experienced Guyanese know-how in the areas of natural resource management, urban and rural development, the legal and revenue managements aspects of exploring natural resources (based on the many years GT has had in mineral mining done by non-national companies) and in the area of food and agricultural production. In this last area he added that European Union funded cooperative projects have long existed, but new ones deepening those already established paths should be pursued.