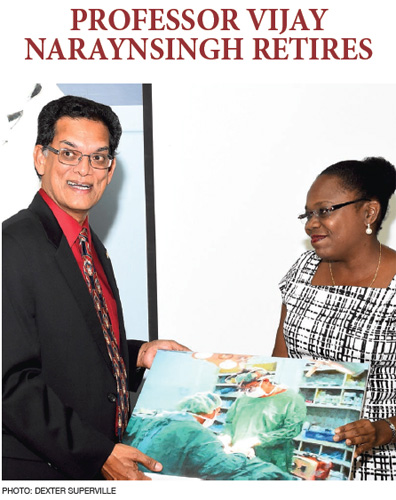 In the photo, Professor Vijay Narinesingh receives a painting from Melrose Yearwood at a function hosted by the Faculty of Medical Sciences at The UWI on September 4, to mark his retirement from The UWI.
Saying he was "overwhelmed by the celebration of my career," Professor Narayansingh thanked Professor Dilip Dan, Head of the Department of Clinical and Surgical Sciences, for organizing the affair, which was attended by colleagues from throughout the UWI system, as well as students and administrators.
A Professor of Surgery and former Head of the Department of Clinical and Surgical Sciences, he was named as one of The UWI's outstanding researchers, lecturers and surgeons, in the publication: "Advancing Knowledge: Impacting Lives" launched to coincide with the 55th anniversary commemoration of The UWI St. Augustine Campus.
"Internationally, Professor Naraynsingh has been a pioneer in the design of twelve new operations, never done in the world before," says his entry, adding that in the Caribbean region, he has been credited with a number of other firsts as well, citing replantation surgery (1984), vascularized free tissue transfer (1984), myocutaneous flaps for breast reconstruction (1981), laparoscopic cholecystectomy (1991), retroperitoneal aortic surgery (1984), and minilaporotomy cholecystectomy (1992).
Sounds complicated to everyone, but the medics, doesn't it? The publication tried to portray his enormous accomplishments in less technical terms.
"Professor Naraynsingh is an educator, community leader, mentor, scholar, adviser, author and surgeon. He has taught and administered programmes at The UWI for more than 30 years, and has started the postgraduate surgical specialties and sub-specialties in Trinidad and Tobago. He exhibits outstanding work ethic, professionalism and leadership. He is passionate about teaching and improving the quality of instruction and his contribution to surgery in the West Indies is remarkable.
He revised the surgery curriculum and radically changed the structure of the final MBBS examination ten years ago."
It also looks at his research, saying he is one of The UWI's most published academics.
"He has co-authored five book chapters on vascular, thyroid and leg ulcer surgery by international publishers and has authored over 250 indexed articles in peer-reviewed high impact factor journals."
Since he graduated in 1974 – just over 40 years ago – his has been a career full of superlatives. The UWI acknowledges his tremendous contribution and wishes him continued success in this new chapter of his life.