Each year in Trinidad and Tobago there are approximately 20,000 pregnancies. Of these pregnancies there are 1,000 cases of pre-gestational diabetes and perhaps as much as three times as many gestational cases are to be expected.
Diabetes and its associated complications are at epidemic proportions in Trinidad and Tobago. Women are at greater risk and often declare this risk for the first time during pregnancy. As pregnancy advances blood sugar can rise progressively into the diabetic range. Following delivery, diabetes often subsides only to return in subsequent pregnancies or as full blown diabetes in later life. Diabetes can of course also precede a pregnancy. Whether diabetes precedes a pregnancy or develops during the course of a pregnancy, there is serious risk to both mother and fetus.
When diabetes goes undetected during pregnancy, particularly during the first few months of pregnancy, the risk for fetal abnormalities is increased and maternal mortality rates are also significantly higher. There is compelling evidence that early detection and treatment of diabetes in pregnancy improves outcomes for both mother and baby; and most studies show that universal screening (screening of all pregnant women) doubles the detection rate.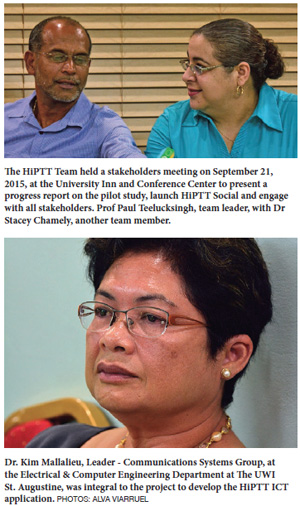 The Helen Bhagwansingh Diabetes Education, Research and Prevention Institute (DERPI) at The UWI has begun a national screening and treatment programme for diabetes in pregnancy. This programme initially focused on the predictors of diabetes in the womb and the reduction of it. To support the programme, we developed an ICT application – HiPTT (Hyperglycemia in Pregnancy in Trinidad and Tobago).
As the project evolved the HiPTT Team understood that while the problem is health related the issue is social, and the name Health in Pregnancy in Trinidad and Tobago was adopted. A HiPTT Social component of the study began. HiPTT Social will build a website and social media pages linked to the HiPTT app to provide important information on health in pregnancy to the wider public.
The HiPTT application will replace a very basic traditional process of largely reactive health care with a localized, human-centric, technology solution. It will stimulate improved patient self-management, enable personal empowerment and ultimately, yield improved medical outcomes and reduced burden on the public health care system. The ICT HiPTT application is being jointly developed and tested by the HiPTT team of lecturers from the UWI Department of Clinical Medical Sciences and Faculty of Engineering, members of DERPI and the CARIRI CED with support from Microsoft.
HiPTT is a software product that will facilitate, for the first time in Trinidad and Tobago, a system of data logging, analysis, visualization, archiving and communications necessary to provide efficient support to pregnant women. HiPTT is a cloud-based solution, intended for use by both public and private medical institutions. At the heart of HiPTT is a web portal which supports the full cycle of data entry, flow and visualization between patient, doctor and medical laboratories for the management of diabetes in pregnancy. The application allows for the registration of patients and institutions, covering doctors, administrative staff and medical labs.
Once HiPTT has been successfully adopted into an institution's workflow, it will automatically provide interpreted test results and reports to registered patients. Healthcare providers will be notified of any abnormal results and can review and provide real time feedback to pregnant women about the blood glucose readings. This feature of providing quick feedback to patients will significantly improve the detection of diabetes earlier on during pregnancy, facilitate timely medical interventions as well as improve self-management abilities. From the institution's perspective, medical labs can more easily produce electronic as well as hard copy reports with doctors being able to conveniently review a patient's medical results either via a mobile device or desktop computer.
The Health in Pregnancy in Trinidad and Tobago project is a DERPI initiative with support and funding from the National Gas Company (NGC), i2i Grant from the Ministry of Planning and Sustainable Development, the Rotary Club of St. Augustine, Community Chest and 2001 Carpet World with technical support from Microsoft and CARIRI.
Fallon K. Lutchmansingh is the Research Coordinator for DERPi