October 2015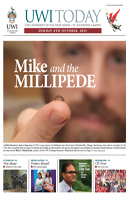 Issue Home >>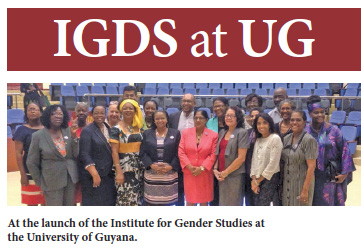 At the end of August 2015, the University of Guyana (UG) launched its Institute for Gender Studies after two years of collaboration. This involved York University's Kamala Kempadoo, coordinator of the Inter-Guiana-Canada women's and gender studies exchange, academics at the University of Guyana, activists from Guyana's Women and Gender Equality Commission, officials from the Ministry of Social Protection, and The UWI Institute for Gender and Development Studies.
Professor Verene Shepherd, Regional Director of the IGDS, and Dr. Gabrielle Hosein, Lecturer at the St. Augustine Unit, also delivered comments at the launch. Professor Shepherd and UG Vice-Chancellor Jacob Opadeyi signed a Memorandum of Understanding, on behalf of The UWI and the University of Guyana, to strengthen collaboration.
The launch also offered an opportunity to bring together The UWI and UG with the Institute for Women, Gender and Development Studies at the Anton de Kom University in Suriname. One such example of possible collaboration may be an intake of Guyanese and Surinamese students in The UWI St. Augustine's Philosophy of Gender in the Caribbean graduate course, which will be offered regionally through online blended learning strategies from January 2016.