October 2015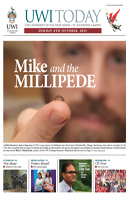 Issue Home >>

From the very beginning the institution that would become the St Augustine Campus of The UWI, was an important centre for research. Its first incarnation was the Imperial College of Tropical Agriculture (ICTA), formed in 1921 when food production still formed the basis of the Trinidad economy. ICTA provided training and research at a time when scientific knowledge in the field was largely unavailable to farmers. Nearly 40 years later in 1960, ICTA became the St Augustine Campus, evolving its mission to meet the specific needs of the emerging Caribbean society.
This year makes it 55 years since then and as the regional societies have developed from agricultural colonies to increasingly sophisticated societies with many needs and challenges, so has the impetus for homegrown research. At 55, the St Augustine Campus has embarked on perhaps its most ambitious research agenda since its creation.
These are critical times for the Caribbean. In Trinidad and Tobago the prosperous energy sector faces increasing international competition, falling commodity prices and the threat of depleted oil and gas reserves. Attempts to diversify the economy have met with little to no success. The wider region suffers from slow economic growth as many islands remain dependent on stagnant food production sectors. Unemployment, especially among young people, is high. Crime, racial tension, corruption, climate change, social development and a host of other issues affect Caribbean society. The UWI was created in part to address these challenges on behalf of the region and research is perhaps its most powerful tool.
"Developing a strong research agenda, a cadre of talented and well-respected researchers and dedicated research funding mechanisms are all very important, particularly as we continue to build a world-class UWI St Augustine Campus," Campus Principal Professor Clement Sankat said late last year at a research awards ceremony. "Intensifying our focus on the societal impact of UWI research projects and how we communicate these findings to our diverse audiences will also ensure that the public better understands what we do at UWI and how university research affects their daily lives."
One of the vehicles for this new research agenda is the UWI-Trinidad and Tobago Research and Development Impact (RDI) Fund. The fund, launched in 2012, was created to encourage and support research projects that address "pressing developmental challenges" and will achieve "recognisable and substantive impact in the short and medium term". The RDI fund emphasises multi-disciplinary research. Its categories include climate change, crime and security, economic diversification and competitiveness, entrepreneurship, public health and technology and society. Up to TT3$ million can be requested per project. The fund provides support for three years.
In its first two years the RDI Fund awarded grant funding for 22 projects totaling more than TT$14 million across a variety of thematic areas. These included three in climate change, four in economic diversification and competitiveness, seven in public health, three in technology and society and five in crime and security. They ranged from looking at the impact of climate change on the Caroni Swamp, to the analysis of counseling programmes for at-risk youth, to understanding the heritage of East Port of Spain, to finding new methods of detecting and preventing the spread of dengue fever and the development of an agri-knowledge digital portal.
In the 55th anniversary year of the campus, nine calls for proposals were accepted for RDI funding. These projects research the impact of human activity on the endangered leatherback turtle, microorganisms as a means of supporting food security, technological solutions for sustainable agriculture, beach erosion and coastal flooding, a programme for ensuring medication safety, work/life balance and its impacts, a genetic programme for the development of a dairy goat industry, and the development of precision agriculture techniques for crop management. Research teams come from the Departments of Geography, Food Production, Civil and Environmental Engineering, Behavioural Sciences and Agricultural Economics and Extension, as well as the School of Pharmacy and the Institute for Gender and Development Studies (IGDS).
St Augustine's anniversary year also held the 2015 UWI Research Expo, from September 22 to 25. This biennial expo is a partnership with the National Gas Company of Trinidad and Tobago (NGC). It featured interactive displays, experiments, mini workshops, mini concerts, poetry readings and film screenings. The Research Expo is designed to show campus work and to encourage a research culture and create linkages between researchers and the wider society (such as the private sector and civil society).
It is fitting to commemorate over five decades as a research institution – reinforcing one of the core missions for which the campus and the university were created at the dawn of Caribbean independence.
(Joel Henry)