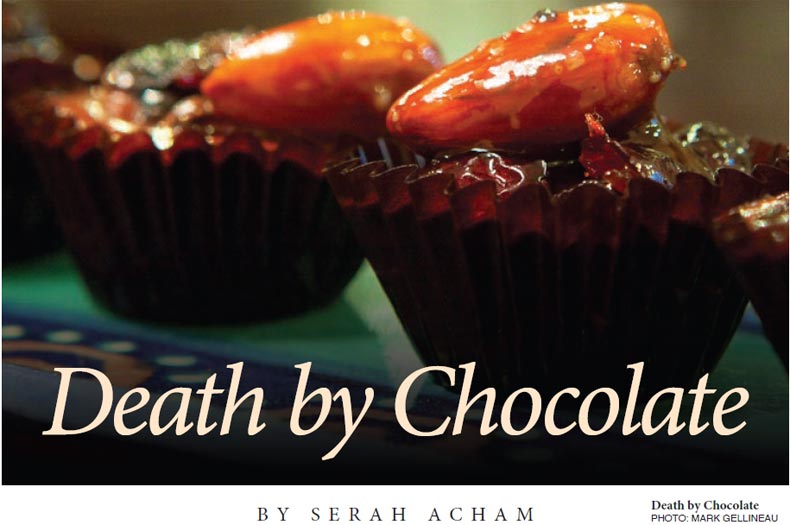 She opens the door to the tiny workshop just off her kitchen and instantly my spirits leap. The smell is divine. I feel like a child walking into Granny's kitchen, the scent of her famous chocolate cake wafting from the oven.
For Gina Hardy entering the Trini chocolate scene was accidental; I think it was fate.
"Let me put out some chocolates for you," she says. A minute later she sets down a plate holding a row of three little balls: her chocolate truffles.
"Ooh La La," she begins, indicating the pink speckled one. It's made with cranberries and currants which have been soaked in apricot brandy and then rolled in pink powdered sugar.
"I soak it for a couple of days, let it get all nice and plump and it just flavours the chocolate so well. It's incredibly fruity."
The Pom Pom, her newest, is a vegan version, made with organic coconut oil, cayenne pepper and PAMA Pomegranate Liqueur, rolled in pure chocolate and cranberries.
The Death by Chocolate is made with 70 per cent cocoa, scotch whiskey and double cream and rolled in cocoa.
"Go ahead. Try it," Gina says, and for a few minutes, I'm in heaven.
It has to be fate.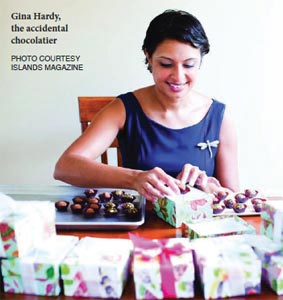 How else would a Singaporean who studied law and economics in England, then worked at a bank there, become a chocolate truffle maker in Trinidad?
"I don't know," Gina says. "I suppose I fell in love with a Trinidadian and here I am." She met her husband while working in England and came to Trinidad with him in 2007. It was a chance to "do something completely different," and like so many things Trini, it all began with a party.
Her mother-in-law decided to throw a dinner party in honour of their move to Trinidad and "she asked me what I was going to contribute to the party and I said 'well I'll make some chocolate truffles.' Rather arrogant," she reflects, "because I never made truffles in my life."
Nonetheless, she tried her hand at it and can now tell the story of the unplanned conception of Gina's Chocolate Truffles.
"My first batch of truffles I made for that party, and that was what would become the Trini Truffle," made with rum, almonds and rolled in toasted coconut.
"It was a success at the party," she says, and, filled with confidence in her newly discovered talent, she made more.
"I would start packaging them up to take as little gifts, like to someone's house for a party," or as a gift to the hostess. One day, a friend suggested that she should start taking orders, "and I said 'no,' it's just something I'm dabbling in." It took some inveigling on her friend's part, but "I finally started taking my orders in December 2008 … and it's just kind of gone from strength to strength from there."
"I've always loved chocolate," she says. "Even as a child I would save my pocket money to buy really good quality chocolate," French, Swiss "and dark chocolate, that's what I love."
Though she had no formal training, her interest in the culinary arts was all she needed. She did lots of research and "loads of experimenting with different ingredients and techniques," to create the truffles that have been described as "the best I've ever eaten" by Brian MacFarlane and likened to "sex and candy" by one Facebook fan.
Gina says her truffles are all handmade and she uses local ingredients as far as possible. "I use Trinidadian rum in my Trini Truffles and I use organic coconut as well which is also from Trinidad, which I toast and process myself," she says, "and you know you can't live in Trinidad for very long without finding out that Trinidad's got some of the finest cocoa in the world." Trinitario cocoa beans.
Initially it was impossible for her to find refined chocolate made from Trinidad's cocoa beans, so she imported chocolate from Belgium. However, "the plan was always to use Trinidad cocoa eventually," she says and so, once she was able to secure a supply of ready-made Trinidadian dark chocolate from Cocobel, she was happy to make the switch.
"My truffles have definitely improved," she says, from the flavour and the texture, to "the feedback that I've been getting from my customers. They absolutely love it ... it's obviously of a much higher quality."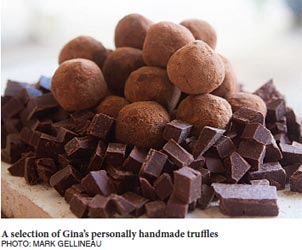 She didn't know about Trinidad's cocoa when she first started out, much less the Cocoa Research Unit (CRU) at The UWI. It was during her research that she encountered the name. When people learned that she was living in Trinidad and making chocolate truffles, they'd immediately mention Trinidad's high quality Trinitario beans.
"It seems to be embedded in the national psyche that Trinidad has the best cocoa in the world ... so I just thought well, let me try it out."
But she needed to learn more. She went online, did some research and came upon "a professor in the States," who told her that UWI's CRU is one of the best in the world and referred her to Dr. Darin Sukha. She gave him a call and set up a meeting. That was in 2009.
"I remember taking a sort of amateurish looking box of chocolates to him," she recalls, "and we just had a good old chat about what was going on in the Cocoa Research Unit and how they could help me." From then on, she worked intensively with the CRU to develop Gina's Chocolate Truffles and they've been "invaluable in their support and guidance."
Gina has gotten a lot out of her relationship with the CRU, including making connections with other chocolate makers in Trinidad who share her passion for Trinidad's cocoa and helping to rejuvenate the country's cocoa and chocolate industry and "to further the name of Trinidad cocoa internationally. If we all work together," she says, "we can market it as a tremendous product, which is what we're trying to do."
This year, the CRU celebrates its 50th anniversary and Gina's looking forward to being a part of the festivities. She's especially excited about participating in the training sessions on the use of chocolate in cooking.
Gina's Chocolate Truffles can be found at Malabar Gourmet Shop in Maraval, Stetchers at Piarco, and Petit Gourmet in St. Clair. She also takes direct orders via her Facebook page or e-mail (ginastrinidad@gmail.com).