September 2017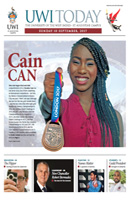 Issue Home >>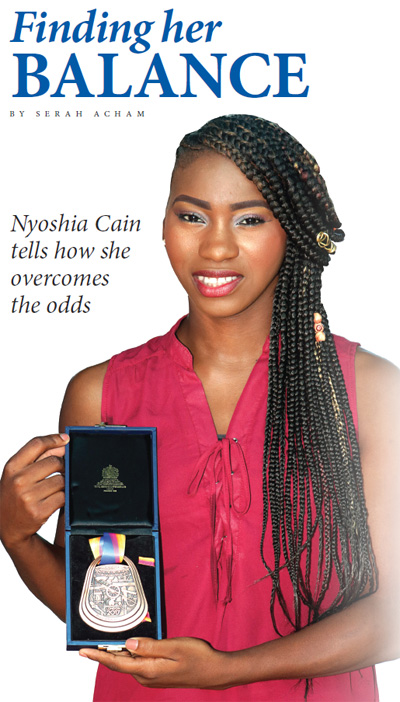 What strikes you most when you meet Nyoshia Cain, is her confidence. At 22, she has an astonishing understanding of who she is and what she wants out of life. There's no hesitation, no pausing to consider her answer; she simply knows herself and speaks her mind.
We're sitting inside UWI's Sports and Physical Education Centre, chatting on the sidelines, amid the sounds of a netball slamming against the floor, a whistle blowing intermittently, and voices calling out to one another as a team practices.
Trinidad and Tobago's much celebrated track and field star, and Bachelor's degree candidate at the Faculty of Social Sciences, stepped onto the competitive running path while she was at The UWI, she reveals.
It was 2013. She had just graduated from the Business Management and Technology programme at the Open Campus and was a facilitator at an on-campus vacation sporting camp, run by the Ministry of Sport and Youth Affairs, when she began her training.
She'd been interested in sports, "since I know myself," she says. She did track in primary school, took up volleyball and netball in secondary school – dropping out of the latter, she admits, because she couldn't do both sports at the same time – and continued volleyball till she left UWI's Open Campus. "Then I got back into track."
Why, I ask, having spent so many years playing volleyball, would she leave the sport for another? She was actually contemplating quitting sports completely. Her life-long desire to represent T&T in volleyball had not yet been met and she felt far from achieving her dream. She wanted out. "But," she says, "when I went to the sports camp, I found the love for track."
So, in 2013, 19-year-old Nyoshia joined the Cougars, a track and field club in Arima. "Training was very tedious at that point in time. I had a job," she says, and living in Laventille, it was difficult "having to drive from so far in the traffic." She stopped track and field training and resumed volleyball. Sports had a hold on her that she couldn't escape.
At that point, Nyoshia had no set plans, save for completing her programme at UWI's Open Campus and then beginning her Bachelor's degree. She applied to UWI but wasn't accepted for the 2013 intake, so she applied for jobs and began working at the Ministry of Health.
"I was just going with the flow," she says.
In early 2014, about three months after leaving the Cougars, her former coach called with a prospect. Would she like to give it a try? She agreed to learn more and joined the coach for a meeting with the former president of the T&T Paralympic Committee, Kenneth McKell. "[McKell] told me about the opportunities to travel and just encouraged me to come on board." Once more, she acceded, "because I want to give this a shot."
Nyoshia was born with Hemihyperatrophy Syndrome, also called Hemihyperplasia, a congenital condition, where one side of her body develops faster than the other. "With me," she explains, "the left side of my body develops faster than my right," so the left side of her body is bigger than her right.
Google it, she says, "you wouldn't really see it unless you literally examine the person, so plenty people see me as being 'normal.' But when they actually look, they will see that I stand on one of my feet, and on the other, I stand on my toe."
"The day-to-day standing or walking," is painful if she's on her feet for too long, but she has no difficulty running.
Nyoshia doesn't know why her Cougars' coach singled her out for the opportunity to participate in the Paralympics – she'd never run competitively before – but, whatever the reason, he was right.
Had she not been propelled to participate in the Paralympics, Nyoshia says, she would have continued with volleyball and "seen how far I would have reached." If she didn't get very far, she would have been happy to "be an average person and just do normal things."
As fate would have it, Nyoshia was not meant to be average. And she's happy she took the leap. "At least I wouldn't have any regrets in life, in terms of 'I should have, and if I could have' ... I know that I would have gone into this and not regret that I didn't."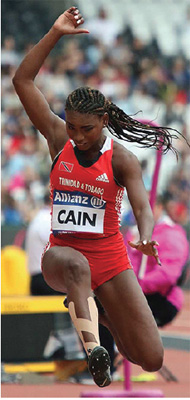 Since she began track and field competitively in 2014, Nyoshia has run seven races, six of them classifying as international competitions – her first, the Mexico Championships in Mexico City, was just a "meet", she says (although she won her first two gold medals there) – and she has come away with eight gold medals (the Mexico Championships in 2014, the Arizona Desert Challenge in 2016 and 2017, and the USA National Championships in Los Angeles in 2017), one silver medal (the Arizona Desert Challenge in 2017), and four bronze medals (the World Para Athletics Championships in 2015 and 2017, the Paralympics in Rio in 2016, and the USA National Championships in 2017).
Nyoshia competes in 100m and 200m races and runs in the T44 category, which means, she explains, "that one of your legs, either right or left, has a deficiency below the knee." Some people may wear prostheses, others, like her, may not.
Of her professional track and field career so far, Nyoshia says, "it worked out ... I have no regrets," although she will admit to a couple … disappointments. She acknowledges that she's had an "opportunity", and talent, we might add, that "not many people would have gotten," and she's happy that she placed in the top three at the 2016 Paralympics. Yet, "getting bronze last year was, to me, disappointing," she explains. "I know that I could have done better."
An athlete truly passionate about her sport, Nyoshia has watched the video of her performance in the 100m race "over and over and over and over," and knows exactly what happened and when. She was in the lead, pulled her hamstring and fell back. "I felt as if something pulled and I thought, 'gosh! I just need to finish this race!'" she recalls. And that she did, placing third, despite her injury.
She remembers another, more recent disappointment, at this year's World Para Athletics Championships in London. "I got another bronze in the same 100m, which was yet another disappointment," she says, laughing. "One would know their potential … and there's always a disappointing moment when you don't get that goal."
There was a "false start in the finals, and they only called back the race when we reached almost 50 metres down the straight." She thought, "I just used up so much energy, to have to come back to try to get more energy to finish this race." But she was game. She went back to the starting line and began again. Nyoshia was in second place as she approached the finish line, "and after a while, my legs just started to give up and my competitor came and crossed me on the line." She came in third once more – not what she imagined for herself, but she took it in stride. "All is not lost, because I know that if I can consistently come third, three years consecutively, there is a lot of room for improvement, but I'm not far from that improvement. It's just being able to execute a better race next time."
As Nyoshia knows right now, she doesn't "have any big international meets next year," but she's working hard to "push myself, because in 2019 there will be two major championships, which are ParaPan (the ParaPan American Games) and Worlds (the World Para Athletics Championships)."
Where Nyoshia sees disappointment for herself, the average Trinbagonian recognises her huge accomplishments and is proud to call her our own. She has come home to a lot of attention and, although she's happy for the praise, she admits that it can be overwhelming. "It puts a lot of pressure on you. You can make mistakes, but nothing drastic, because somebody is always watching you. Somebody's always looking up to you, so you have to be very careful because what you do in life may affect other people's lives."
She reveals that, with all the media attention, "people expect so much from you and there'll be a moment where you think, 'could I fulfil what everybody wants me to fulfil?'" Track and field, she explains, is not a team sport. She competes as an individual so there's extra pressure. "There will be a lot of negative remarks if you don't bring home a medal," for example. Ever-confident, however, she shares that "at the end of the day, I am satisfied with any result that I get, and I believe that, once you put your best foot forward, you don't have to listen to the negative remarks ... it's for you to find something within you to propel you even further."
Her family's support helps her to cope with the pressure that has come with being such a talented athlete. Her parents, sister and brothers are, undoubtedly, her biggest fans. "They support me in any and everything that I do," she says.
And Nyoshia has quite a bit on her plate. In addition to completing her Bachelor's degree in Sports Management at UWI's Faculty of Social Sciences (she's in her second year), she is busy preparing for the 2019 Paralympics. With gym training three times a week, track training four times, physical therapy sessions and, of course, school, she must ensure she sets aside time for rest. "Hard work takes a toll on your body."
How does she manage it all? Excellence requires determination, Nyoshia advises. "If you're not determined, or focus-driven … then you may not [perform at] the best of your ability." But, once you focus, she says, you will succeed.
"What I am learning, is that sometimes we say we 'can't'. Actually, you can. But, when you say you can't do something, you're programming your mind and your body to function as if you can't do it." Anytime you're faced with an obstacle or difficult situation, she says, "taking negative words out of your vocabulary and out of your system, will help you to achieve anything that you want." It doesn't just apply to athletics, she adds. "It goes for your job, your goals and aspirations."
Her dreams of representing T&T internationally achieved, Nyosia now has other aspirations, many of which will be affected by her degree. Long term, "I want to help develop Paralympics in T&T and, by extension, the Caribbean." She'd like to become a coach and encourage more people to become involved in track and field. Her more immediate focus, however, is finishing her degree and winning gold in the 2019 Paralympics.
Serah Acham is a freelance writer.