UWI in Society
Framing anti-blackness and racism
Students weigh-in on the issues and solutions
"Racism is not an extraordinary event in a racist society, it takes the form of everyday violence, everyday oppression," said Amílcar Sanatan.
Sanatan, a PhD candidate, is an instructor within the Department of Geography at UWI St Augustine. He is also a creative, activist, and student leader. Though he wears many caps, his conviction informs all of them. Sanatan believes the struggle for racial justice is not borrowed from the US, just as it is not unique to the Caribbean. It is a global struggle.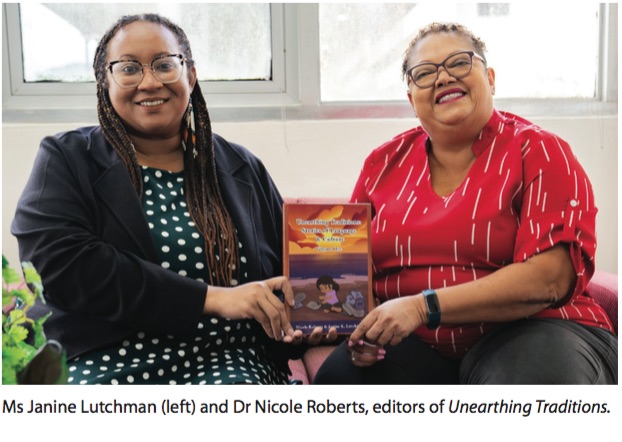 He was speaking at an online event hosted by the National Affairs Committee (NAC) of the Students' Guild Council and the UWI African Society titled Emancipation Matters: A Virtual Discussion on African Identity. The discussion was held on July 30 in commemoration of the 182nd Anniversary of the Abolition of Slavery in the Caribbean.
Underpinning this struggle, Sanatan explained, is the racist, sexist and capitalist economies that seem to thrive on the organisation and perpetuation of these less-than-desirable tenets. This is the same in the US, where George Floyd was killed as it is in Trinidad and Tobago, where young men in East Port of Spain are heavily policed.
"Police violence exists in Trinidad and Tobago, like in Belize, Guyana, Haiti, and Suriname," he reminded the online audience, adding that this violence is class-based and working-class people have less hope for recourse as they have fewer resources to get justice.
But racism is not only manifested through police violence. It is also expressed through inequality and those trapped in poverty, the "Les damnés of development", Sanatan said. Racism is exhibited as well, he pointed out, in the policing of black bodies, the urge to create distance from what is black, and to find safety in closer proximity to what is white.
And while there is the prevailing romanticised notion of the Caribbean as a racially harmonious place, replete with just "irie vibes", Sanatan said that Caribbean historians continue to examine the racial, economic and sexual exploitation in regional society.
The social setting he described is one where the humanity of Caribbean people has always been under attack as white supremacy was propagated and profits from the land were extracted for metropolitan countries. It began when explorers "savaged" indigenous people and culture, enslaved Africans, established systems of Indian indentured servitude, and birthed a lasting inequitable system. This was the colonial order which continues to constrict today's Caribbean, Sanatan described.
His sentiments were similar to other students grappling with the region's legacy of anti-blackness and racism, as well their heritage and identity. They shared their views during the virtual discussion.
"We all have a right to connect back with our heritage and history," said Nkese Charles, a student from UWI St Augustine's Faculty of Medical Sciences. "There was (an) Africa before slavery and before colonialism, and I want us to become more aware of that Africa."
She stressed however that being "pro-black" is not an indication of being "anti-anything" –except anti-racist.
Nathanael John, a Psychology major from the Faculty of Social Sciences and former member of the Student Guild, argued that archaic laws and discriminatory norms and policies have to be changed to unearth and remove entrenched racism.
Poet and activist Ashlee Burnett focused on the sexualisation of Black men and women during enslavement and how those harmful practices then have morphed into damaging stereotypes and prejudices today. She spoke out against the policing of black bodies, the portrayal of the "angry black woman", and the representation (or lack thereof) of Afro-Caribbean people.
"I hold the view that proper education and truly understanding history are the keys to helping people in the Caribbean unlearn their racist behaviours and put an end to segregation," said Chrisette Benjamin, an International Relations and Social Policy Planning student. She advocates for individuals to become more empathetic and accepting of each other.
Emancipation Day is celebrated on August 1 to commemorate the end of slavery in the British colonies in 1838. This year's celebration took on added significance with the international protests following the murder of George Floyd by a police officer in Minnesota, USA. The National Affairs Committee of the Student's Guild is responsible for the cultural affairs, safety and security, community outreach and social awareness on behalf of the students of UWI St Augustine.
---
Vishani Ragobeer is a journalist from Guyana and a first year student of Leadership and Management. She is the winner of the 2018/2019 Young Journalist of the Year award.