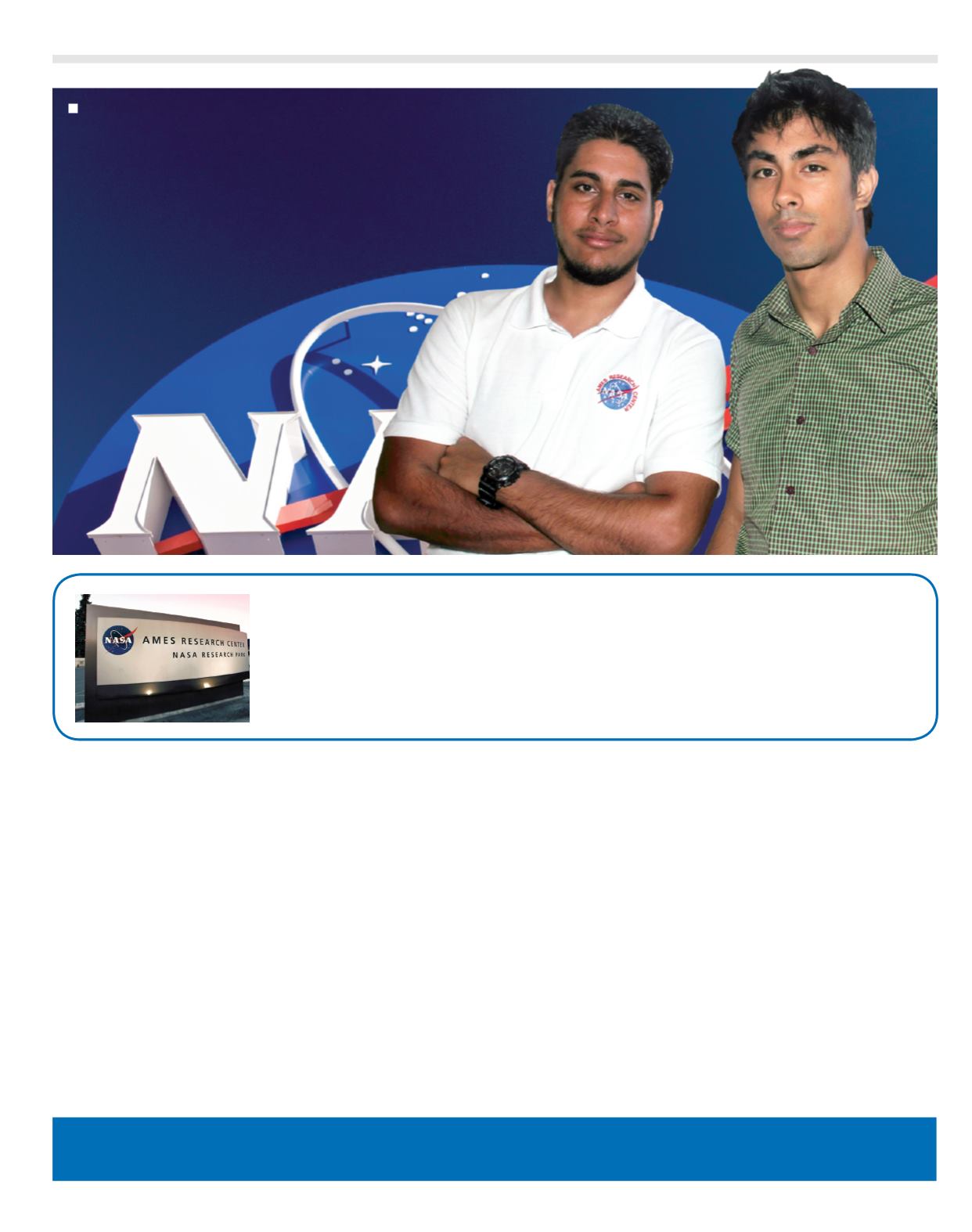 22
How did you find out about the NASA
International Internship (I2) Program?
Jason and I both found out via Facebook as part
of an Astronomy group and they said I really
should apply. This was the first iteration of the
programme. We were the first students to apply.
Trinidad was the first country to make use of the
programme. Originally it was scheduled to be 10
weeks within summer, but there were problems
processing the visas. We were then accepted
for the fall 16-week internship and it was more
serious than the summer internship.
What did the 16 weeks entail?
I did three projects: I finished the project the
previous summer interns worked on; then I
helped my mentor, Dr. Rodney Martin. I helped
to implement an algorithm. I also used the
machine-learning software to make predictions
on the hot water pump system for a building at
At NASA interns are usually assigned to one
project, but if they find that you have more
capabilities, they will give you more work. In
Stefan's case, he completed three projects even
though he was initially contracted to do one.
In my case, I was brought in to do some data
collection and analysis and I ended up doing
data collection, developing an experimental
setup, and also beginning additional research
to develop the task. I worked in a Prognostics
group and our slogan was "making prediction a
science" so we predict when electronic parts and
JA: As you said, you initially were slated for a
specific thing and you ended up working on a
larger thing, so who were you interacting with
It was a small group of a dozen or so people, but
I stuck with my mentor, Dr. Jose R. Celaya, and Dr.
I am in the data sciences group and we
have about 8-10 people and my mentor saw
opportunities for me to develop the software
more and I wrote code and added an algorithm
and created a Developer's Guide for the software.
Both of our mentors were really satisfied with our
work and I'll be returning for another internship.
If they see you can do more, they will push you.
I'll be returning for the summer because we have
such knowledge of our projects.
What were you doing when you weren't doing
We didn't have specific work hours. We have
work to get done, so they won't tell us, you have
to come in at 8am and do this till 12pm, you only
have an hour for lunch, etc. They tell us: you have
work to get done, trust that you have a good
work ethic and they let us choose our work hours
once we get the work done.
In August of 2014,
two young men embarked on a journey that would change their lives.
Stefan Hosein
Jason Renwick
were the first international students to be accepted into the prestigious
NASA International Internship Program (NASA I2)
At NASA's Ames Research Center in Mountain View, California, they participated in the opportunity of a lifetime: an all-expense
paid 16-week internship, where they worked alongside other interns and under some fine minds in STEM (Science, Technology,
Engineering and Mathematics).
Jeanette Awai
sat downwith Stefan, a graduate of the Faculty of Science andTechnology with a degree in Computer
Science, and Jason, a first-year student of the Faculty of Engineering, pursuing a degree in Electrical and Computer Engineering,
to ask them about their experiences at NASA and how it felt to represent The UWI and Trinidad and Tobago.
OUR STUDENTS
"I thought they would give me something far beyond what I was able to achieve, but it wasn't like that...
...I never felt like anything was out of my reach."