International Students
Accommodations
Joyce Gibson Innis Hall, Mt. Hope.
Located within the Faculty of Medical Sciences, on the Eric Williams Medical Sciences Complex, this accommodation is designed in the form of six-room apartment blocks. Approximately ten (10) rooms are available for elective students at the cost of $17 US per night, and you would also be required to pay a precautionary deposit of $108 US (refundable) upon arrival. The charges are inclusive of electricity and laundry facilities. Students are, however, required to bring their own bed and bath linen.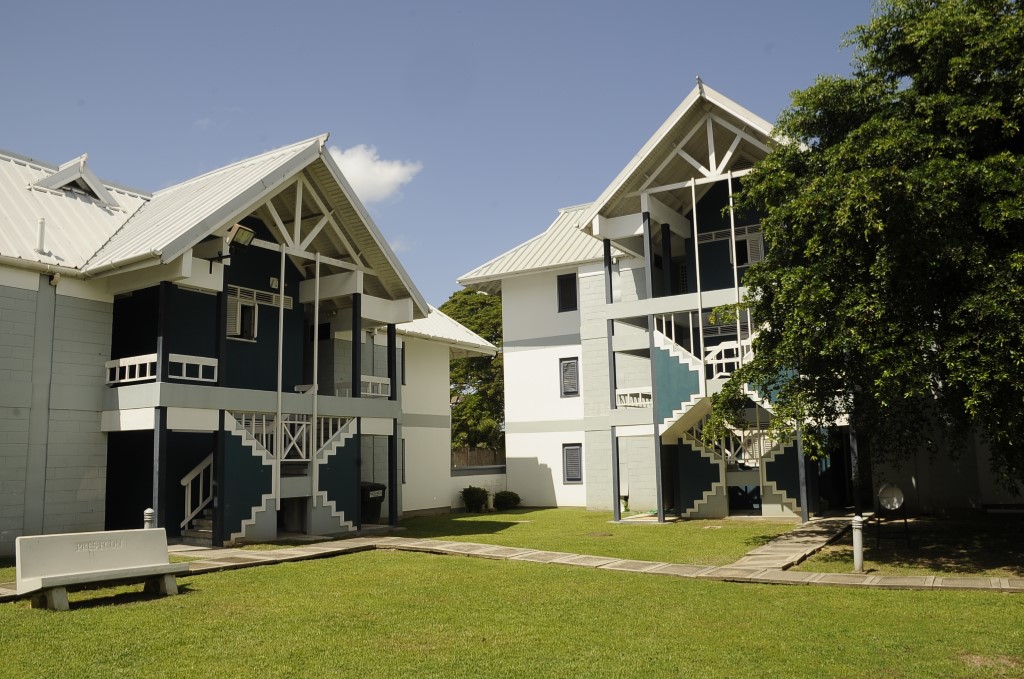 For further information, email Ms. Stacy St. Hill at jinnisshall@yahoo.com
or Mrs. Heather Legall at heather.legall@yahoo.com.
Telephone 1-868-645-3471/3478/3454, and fax at 1-868-645-3473.
Information about alternative accommodation in the Port-of-Spain area may be obtained from:
Student Advisory Services
The University of the West Indies
St. Augustine, Trinidad
Tel: 1-868-662-2002, Ext. 2098 Fax: 1-868-663-9684
Transportation
Transportation (if required) from Piarco Airport to the Faculty of Medical Sciences is available at the rate of US$12.00 per person.
There are flights from London, New York, Miami and Toronto to Trinidad on a regular basis. See your travel agent for further details OR call Caribbean Airlines at 1-800-538-2942 /
1-868-627-2942
Contact Vashti or Roopnarine Samaroo (Sam) directly Tel/Fax: 1-868-645-3517 or
1-868-680-1355
The current fare from UWI Hall of Residence to Port of Spain, City Gate is TT$5.00. Generally, short distances "short drops" cost TT$3.00 by maxi taxi (bus) and TT$4.00 by taxi cab.
A shuttle service is available at the Halls of Residence for the purpose of shopping, sight-seeing tours, etc. Details of times and events are normally posted on the notice boards.
The University also runs a shuttle service from the Joyce Gibson Innis Hall to the Main Campus located at St. Augustine. This service will be available to you at no extra costs.
Security
Every attempt will be made to ensure your safety during the precinct of the hospital on the Hall of Residence, but you are advised to take extra security precautions when you venture outside of these places.
General
During the elective period facsimiles may be sent and received from the Office of the Dean. Charges will be based on the duration of the transmission and value added tax of 15%. Internet and electronic mail access are available at the Faculty of Medical Sciences Library at the rate of TT$ 6.00 per half hour.
Postal and Banking services and the University Bookshop are available at the St. Augustine (main) Campus.
Exchange of Currency
TT$6.80 - US$1.00
TT$8.75 - £1.00
TT$3.70 - DM1.00
Revised 2017