Destination
Trinidad and Tobago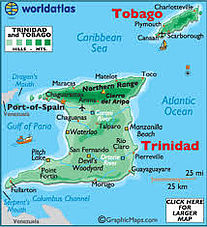 The Republic of Trinidad and Tobago is one country made up of two islands located on the southern edge of the Caribbean archipelago. Once governed by the French, the Spanish and the British, Trinidad and Tobago can now boast about being an independent state since August 31st, 1962.
Following their independence, Trinidad and Tobago adopted a democratic style of governance in which the central powers stay in office for a maximum of five years until the next general election.
The capital of the island Trinidad is Port of Spain, while Tobago's capital is Scarborough. Together, these two islands bear witness to a plethora of cultures and wildlife, which contribute to the diversity of the wider Caribbean. Trinidad promises a myriad of activities to enjoy during the daytime and an even livelier night life. Some of the popular places that one can visit are the lovely beaches along the North Coast, the Pitch Lake of La Brea and the Caroni Nariva Swamp.
Tobago, the more serene of the two islands, also offers a number of pristine beaches inhabited by various types of coral reefs and other forms of marine life. Some of the 'must-see' historical sites and landmarks are the Buccoo Reef, Fort King George and the Speyside Waterwheel.
Trinidad and Tobago was the first small island and developing state to become the host of a Summit. The 5th Summit of the Americas, which took place in Port of Spain, Trinidad in April 2009, welcomed over 5,000 foreigners including the President of the United States, Barack Obama. This summit targeted development strategies in a number of areas such as democracy/human rights, economic development, energy and climate change, citizen security and human development.
The year 2009 was one of great opportunities for Trinidad and Tobago as it also hosted the Commonwealth Heads of Government Meeting (CHOGM) in November. This meeting welcomed fifty-three leaders of countries who were all previously colonies. Some of the issues disccused were economic and political development, the strengthening of the Commonwealth community and the pathways for co-operation and development.