Dr Michael Forde
Senior Lecturer, Materials Chemistry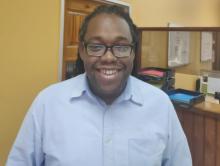 The University of the West Indies, St. Augustine Campus Trinidad and Tobago, W.I.
Telephone: 868-662-2002 Ext. 83544

Email: michael.forde@sta.uwi.edu

My general research area lies at the frontier of heterogeneous catalysis and materials design, spanning selective oxidation and hydrogenation research employing precious and transition metal nanoparticles prepared by novel colloidal and vapour deposition methodologies and supported on metal oxides, micro/mesoporous materials and novel carbon supports.
Specifically, my work is focused on selective C-H bond activation in lower alkanes (methane, ethane) and catalytic transformation of "platform molecules" derived from waste agricultural and non-food biomass sources into fuels and valuable chemicals. Other areas of research include CO2 photo-activation and the development of metal-organic framework materials from porphyrin/phthalocyanine building blocks.
Qualifications
Ph.D. (Cardiff) - 2012
MChem (Edin) - 2008