Prof. Chris Oura
Professor of Veterinary Virology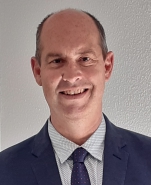 The University of the West Indies, St. Augustine Campus Trinidad and Tobago, W.I.
Telephone: 868-662-2002

Email: chris.oura@sta.uwi.edu
In my scientific career to date I have gained considerable experience working both in the UK and worldwide. I have a strong background in the disciplines of immunology and molecular biology within the veterinary virology and parasitology fields. After completing my PhD, I successfully secured two consecutive highly competitive Wellcome Trust Personal Fellowships, which enabled me to make a name for myself in the Theileria research arena. I took full advantage of the opportunity to contribute to research in Uganda, where I personally equipped and set up my own research lab. Having successfully completed 3 years in Uganda, I returned to the UK to the world famous Pirbright Institute, where I spent 8 years working with various exotic veterinary viruses. In early 2012, I moved to a new post as senior lecturer in veterinary virology at the University of the West Indies and was promoted to full Professor in 2014. I am currently delivering the veterinary virology lecture course to the undergraduate students and am running a 'One-Health' based research programme, concentrating on pathogens of importance to the Caribbean region. I am also running a Climate Change and Health Leaders Fellowship programme.
For more information you can find my ResearchGate profile here
Qualification
1994 – 1997: PhD. Immunology Department, Pirbright Laboratory, Surrey, UK.
1991 – 1992: MSc. Tropical Veterinary Science, Centre for Tropical Vet Medicine, Edinburgh University, UK.
1983 – 1988: B Vet Med. Royal Veterinary College, London University, London, UK.
Research Interests
Identification and characterisation of viruses circulating in domestic animals and wildlife in Trinidad and Tobago.
Identification of Culicoides biting midge species and related viruses in T&T.
Tick virome studies.
Viruses in fish.
Promotion of the 'One Health' concept across the Caribbean region.
Climate Change and Health.
Professional Experience
2012 - Current: Professor (Veterinary Virology), School of Veterinary Medicine, University of the West Indies (UWI), Trinidad and Tobago.
2004 – 2012: The Pirbright Institute, UK.
2010 – 2012: Deputy Head of the Vector-borne Diseases Programme.
2006 – 2012: Head of the Non-Vesicular Reference lab
2006-2007: Acting Head of Pirbright Laboratory.
2005 - 2007: Acting Head of the Division of Epidemiology, the Pirbright Institute
2004 - 2012: Head of the African Swine Fever Reference Laboratory.
2004 - 2012: Head of External Training, the Pirbright Institute.
2001 - 2004: Wellcome Trust Research Fellow. Glasgow Vet School and University of Makerere, Uganda.
1997 - 2001: Wellcome Trust Research Fellow. Dept of Parasitology, Glasgow Vet School, UK
Honours and Awards
Member of the Tropical Medicine Cluster which was awarded "Best Research Team - Encouraging Multi-Disciplinary Research' - 2014
Most Outstanding Regional Research Project (One Health, One Caribbean One Love) – 2016
Most Outstanding Researcher (Faculty of Medical Sciences) – 2016
The UWI Vice-Chancellor Award for Research – 2017
Most impactful Research Project (One Health One Caribbean One Love), Faculty of Medical Sciences Research Day - 2019
Professional Memberships
Member of the Royal College of Veterinary Surgeons (MRCVS)
Member of the Council of the Veterinary Research Club, UK.
Scientific Editorial board member for the Veterinary Record (UK).
Member One Health Research Foundation Board of Directors, Ross Veterinary School, St Kitts & Nevis
OIE designated disease expert for African Swine Fever, Bluetongue and African Horse Sickness (2005-2012)
Member – Bluetongue Expert group for the European Food Safety Authority (EFSA)
Head - Bluetongue Expert Group, Discontools EC Project
Disease Expert / Consultant for Edinburgh MSc in Transboundary Diseases
Member of the COVID-19 UWI Taskforce (2020).
CaribVET – Member of the Cordination Committee & Laboratory and Quality Assurance working group.
Courses Taught
VETM3003 – Veterinary Virology course
VETM3004 – Veterinary Immunology course
VETM2014 – Research Methodology course
VETM3007 – Problem Based Learning (PBL)
MDSC1001 – One Health lectures
Graduate Students
Since arriving at the UWI, I have supervised one PhD and one MPhil student to successful completion of their degrees.
I am currently supervising a total of 6 post-graduate students (5 PhD students and 1 MPhil student) of which 5 are from the UWI and 1 is from the University of Guyana
Grants
1. The UWI-Trinidad and Tobago Research and Development Impact Fund (RDI) (TT$800,000). Title: Identification of the reservoirs of animal influenza viruses in Trinidad and Tobago. Jan 2012-Dec 2015
2. The UWI Research and Publications fund (TT$ 56,250). Title: Identification of Eimeria species in Trinidadian poultry using molecular tools.
3. European Commission (EC) African Caribbean Pacific (ACP) Science and Technology 2 grant (Euros 1,164,364). Title: One Health, One Caribbean, One Love (in collaboration with FAO, PAHO, CIRAD and CaribVET). March 2014- Sept 2017
4. Inter-American Institute for Cooperation on Agriculture (IICA) – Funding from the SPSPS EDF Project to support the activities of the One Health One Caribbean One Love project (US$ 332,821), Jan 2015 – Jan 2016.
5. Grant from the University of Saskatoon (Canada) – Monitoring and Evaluation of One health Leadership Series (CAD 6000). June 2020-May 2021.
6. European Union and Pan American Health Organisation (PAHO) – Funding of a Climate Change and Health Leadership Fellowship series. (Euros 820,000), July 2020 – May 2025.
7. The GEF Small grants programme (UNDP) - Enhancing National Health Standards in Aquaculture Systems: Increasing Aquaculture Productivity, Improving Industry Sustainability and Reducing Deleterious Aquatic Habitat Impacts (US$ 50,000). Sept 2017- 2020
8. Nestle (Trinidad) (TT$ 5000). Contribution to project assessing the causes or sub-fertility and abortion in dairy cattle in Trinidad.
9. Livestock and Livestock Products Board (Trinidad) (TT$ 30,000) Contribution to project assessing levels of Culicoides transmitted viruses in dairy cattle in Trinidad.