Prof. Christine Carrington
Head of Department- Preclinical Sciences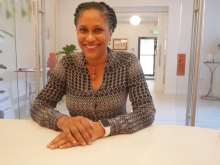 Christine Carrington is Professor of Molecular Genetics and Virology and Head of the Department of Preclinical Sciences of the Faculty of Medical Sciences at The University of the West Indies (St. Augustine Campus) in Trinidad and Tobago. She holds a BSc in Biotechnology and PhD in Molecular Virology, both from the University of London. Her research focuses on understanding evolutionary and ecological factors involved in the emergence, spread and maintenance of viruses, especially vector-borne RNA viruses. Her work to date includes studies on dengue viruses, Zika virus, Chikungunya virus, yellow fever virus, rabies virus and coronaviruses. 
Christine is the Coordinator of the WHO/PAHO reference sequencing laboratory at the UWI and of the Global Virus Network Affiliated Centre of Excellence at the Faculty of Medical Sciences. She is a founding member of the Faculty of Medical Sciences' Tropical Medicine Cluster: Infectious Diseases, Trinidad and Tobago's representative on the Board of Governors of the International Centre for Genetic Engineering and Biotechnology, a member of the UWI COVID-19 Task Force and the Technical Advisory Group on Immunisation to the Trinidad and Tobago Ministry of Health. She led COVID-19 IMPACT project that established local capacity for SARS-CoV-2 whole genome sequencing and carried out genomic surveillance for SARS-CoV-2 variants of concern for 17 Caribbean countries until regional public health bodies implemented in house capacity, a year later. She is the Anthony N. Sabga Awards - Caribbean Excellence, 2022 Laureate in Science & Technology and recipient of a Trinidad and Tobago National Award (Chaconia Medal Gold) for her service and contributions as a virologist.
For more information you can find her ResearchGate profile here and her Google Scholar profile here
Qualification
BSc (Hons) Biotechnology (Lond.)
PhD Molecular Virology (Lond.)
AKC
Research Interests
Emerging infectious diseases (e.g. zika, chikungunya, dengue, yellow fever, SARS-CoV-2 rabies viruses)
RNA viruses, arboviruses, vector-borne viruses
Viral Evolution, Phylogenetics and Phylogeography
Pathogen Genomic Surveillance
Viral Diversity, Viral Discovery
Featured Work
Towards a global virus genomic surveillance network. Cell Host & Microbe. Cell Host Microbe. 2023 Mar 6:S1931-3128(23)00107-5. doi: 10.1016/j.chom.2023.03.003
Implementation of Genomic Surveillance of SARS-CoV-2 in the Caribbean: Lessons learned for sustainability in resource-limited settings. PLOS Global Public Health. PLOS Glob Public Health. 2023 Feb 22;3(2):e0001455. doi: 10.1371/journal.pgph.0001455.
A high throughput screening assay to identify inhibitory antibodies targeting alphavirus release. Virol J. 2022 Oct 29;19(1):170. doi: 10.1186/s12985-022-01906-y PMID: 36309730
Global disparities in SARS-CoV-2 genomic surveillance. Nature Comms 2022 Nov 16;13(1):7003. doi: 10.1038/s41467-022-33713-y
The Serological Prevalence of Rabies Virus-Neutralizing Antibodies in the Bat Population on the Caribbean Island of Trinidad. Viruses. 2020 Feb 5;12(2):178. doi: 10.3390/v12020178. [PMID: 32033370].
Determinants of dengue virus dispersal in the Americas. Virus Evolution, veaa074, https://doi.org/10.1093/ve/veaa074. eCollection 2020 Jul. PMID: 33408877.
Skills
Molecular Virology
Molecular Genetics
Virus Evolution
Phylogenetics
Phylogeography
Emerging viruses (esp. mosquito-borne and other vector-borne RNA viruses).
Honours and Awards
Anthony N. Sabga Awards - Caribbean Excellence, 2022 Laureate in Science & Technology
2022 Trinidad and Tobago National Award (Chaconia Medal Gold) for leadership in molecular genetics and virology.
UWI Research Award for Outstanding Research Mentorship (2012)
Selected as one of the UWI's 60 leading academics ("60 under 60") (2008)
Commonwealth Research Fellowship (2004)
Leukaemia Research Fund Fellowship (1994)
Leukaemia Research Fund Studentship (1990)
Wellcome Trust Summer Scholarship (1989)
King's College Sambrooke Exhibition Prize (1988, 1989)
Trinidad and Tobago Government National Scholarship (1986)
UWI Service
Public Orator (2017 - present)
Chair, Campus Open Lectures Committee (2016 - present)
Public Service
Associate Editor: Virus Evolution (Oxford University Press).
Trinidad and Tobago Representative, Board of Governors, International Centre for Genetic Engineering and Biotechnology (Aug 2017 – present).
Member of Ministry of Health Committee to prepare National Clinical Guidelines for Zika virus and pregnancy (2016).
Selection Officer and founding member of United World Colleges (Trinidad and Tobago) (established June 2003)
Member of Advisory Committee to Senate (advising on introduction of DNA testing to Forensic Sciences Centre; 1998)
Professional Memberships
American Society for Virology
American Society for Microbiology
American Society for Tropical Medicine and Hygiene