Professor Christine Carrington
Head of Department- Preclinical Sciences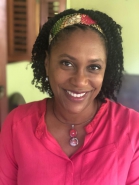 Christine Carrington is Professor of Molecular Genetics and Virology and the current Head of the Department of Preclinical Sciences. She holds a BSc in Biotechnology and a PhD in Molecular Virology, both from the University of London (King's College and the Institute of Cancer Research respectively) and has been involved in infectious disease research for since 1990.
Her primary research interest is understanding evolutionary and ecological factors involved in the emergence, spread and maintenance of viruses, especially emerging vector-borne RNA viruses such as zika, chikungunya, dengue, yellow fever, and rabies viruses. Other interests include biosurveillance, characterisation of immune responses against emerging viruses, viral discovery, defining the "viromes" of species that are likely sources of potentially emergent viruses (e.g. bats) and identifying factors that determine susceptibility / resistance to disease, including the role of the microbiome.
She particularly enjoys working with graduate research students and in 2011 she received a UWI Research Award for Outstanding Research Mentorship.
For more information you can find her ResearchGate profile here and her Google Scholar profile here
Qualification
BSc (Hons) Biotechnology (Lond.)
PhD Molecular Virology (Lond.)
AKC
Research Interests
Emerging infectious diseases, especially emerging vector-borne RNA viruses such as zika, chikungunya, dengue, yellow fever, and rabies viruses.
Viral Evolution, Phylogenetics and Phylogeography
Viral Diversity, Viral Discovery , Virome studies and Biosurveillance, especially in relation to emergence of viruses
Role of the microbiome studies in determining disease susceptibility / resistance
Featured Work
Rafeek R, Carrington CVF, Gomez A et al. Xylitol and sorbitol effects on the microbiome of saliva and plaque. Journal of Oral Microbiology, 11:1, DOI: 10.1080/20002297.2018.1536181 eCollection 2019
S Sameroff, R Tokarz, RA Charles et al. Viral Diversity of Tick Species Parasitizing Cattle and Dogs in Trinidad and Tobago, Scientific Reports 2019, doi: 10.1038/s41598-019-46914-1
Sahadeo NSD, Allicock OM, De Salazar PM, et al.Understanding the evolution and spread of chikungunya virus in the Americas using complete genome sequences, Virus Evol. 2017
Sahadeo N, Mohammed H, Allicock OM, et al. Molecular Characterisation of Chikungunya Virus Infections in Trinidad and Comparison of Clinical and Laboratory Features with Dengue and Other Acute Febrile Cases. PLoS Negl Trop Dis. 2015
Allicock OM, Lemey P, Tatem AJ, et al. Phylogeography and population dynamics of Dengue viruses in the Americas. Molecular Biology and Evolution. Mol Biol Evol. 2012
Carrington CVF, Foster JE, Pybus OG, Bennett SN and Holmes EC. (2005). The invasion and maintenance of Dengue virus type 2 and type 4 in the Americas. Journal of Virology 79(23): 14680-87.
Skills
Molecular Virology
Molecular Genetics
Virus Evolution
Phylogenetics
Phylogeography
Emerging viruses (esp. mosquito-borne and other vector-borne RNA viruses).
Honours and Awards
UWI Research Award for Outstanding Research Mentorship (2012)
Selected as one of the UWI's 60 leading academics ("60 under 60") (2008)
Commonwealth Research Fellowship (2004)
Wellcome Trust Research Development Award (1996)
Leukaemia Research Fund Fellowship (1994)
Leukaemia Research Fund Studentship (1990)
Wellcome Trust Summer Scholarship (1989)
King's College Sambrooke Exhibition Prize (1988, 1989)
Trinidad and Tobago Government National Scholarship (1986)
UWI Service
Public Orator (2017 - present)
Chair, Campus Open Lectures Committee (2016 - present)
Public Service
Associate Editor: Virus Evolution (Oxford University Press).
Trinidad and Tobago Representative, Board of Governors, International Centre for Genetic Engineering and Biotechnology (Aug 2017 – present).
Member of Ministry of Health Committee to prepare National Clinical Guidelines for Zika virus and pregnancy (2016).
Selection Officer and founding member of United World Colleges (Trinidad and Tobago) (established June 2003)
Member of Advisory Committee to Senate (advising on introduction of DNA testing to Forensic Sciences Centre; 1998)
Professional Memberships
American Society for Virology
American Society for Microbiology
American Society for Tropical Medicine and Hygiene