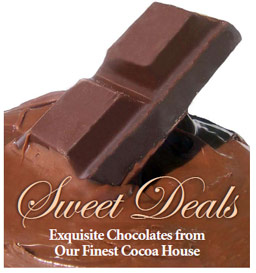 Two business initiatives of The University of the West Indies are underway that may further demonstrate its unique position in terms of the international value of its Cocoa Research Unit (CRU), custodian of he International Cocoa Genebank, Trinidad (ICG, T).
Earlier this year, following initiatives led by Trinidad and Tobago's Ambassador to Venezuela, Razia Ali, a group of executives from the company, Chocolates El Rey (CER), visited the St Augustine Campus as part of a mission to locate a new home for their operations.
Ambassador Ali, a former director of the International Trade and Economic Relations Division of the Ministry of Foreign Affairs, advised the chocolate producers, who have been in business since 1929, that the political and economic climate in T&T, coupled with outstanding technological resources at the CRU, could provide them with advantages to be had nowhere else in the world.
So in January, a team, led by the President and CEO of CER Jorge Redmond, met with a UWI team led by Campus Principal Professor Clement Sankat to discuss the possibilities of a joint venture. Although it has not yet been finalised, the prospects look good as the meeting provided only positive reasons for a partnership.
For CER, relocating their operations to a country with such close geographical proximity (remember, we are said to be a chunk of 'broken away' Venezuela), ensures a transition softened by climatic and cultural similarities.
Statements from the Second Roundtable Meeting for a Sustainable Cocoa Economy, held in T&T in March, indicate that the Government of Trinidad and Tobago is intent on revitalising the local cocoa industry and this augurs well for any company entering this sector.
As a producer of fine chocolates primarily for export, it will be able to enter the largest market for high quality chocolates, the European Union, to which T&T has access.
It would also benefit from a supply of cocoa from one of the eight countries worldwide classified (according to the International Cocoa Agreement of 1993) as an exclusive producer of fine or flavour cocoa.
As a business service, The UWI can provide technological support, the facilities of its labs at the CRU and its expertise. For The UWI, it will be an opportunity to help provide funding for the CRU, which has generally come from international agencies recognising the value of its work, and of course the significance of its prestigious ICG, T.
Hoping to encourage economic diversification regionally, The UWI has also offered similar services to Grenada, another of the exclusive eight countries, whose cocoa industry collapsed after being ravaged by recent hurricanes.
Meeting with representatives from the Ministry of Agriculture and other relevant parties, Principal Sankat and a team including Dr David Rampersad.
Director of Business Development, discussed helping Grenada to rebuild its economy with technical and other assistance. Grenada's cocoa industry, like T&T's primarily comprises farmers with small holdings, but unlike T&T, it suffers from inadequate training in processing and marketing its product.
The UWI will seek funding to enable the transfer of knowledge and to help rebuild the Grenadian economy, which has suffered tremendously in the past decade. It sees this as an opportunity to offer these services to other countries in the region, such as others belonging to the exclusive eight (Dominica, Grenada, Jamaica, St Lucia, St Vincent and the Grenadines, Samoa, Suriname and Trinidad and Tobago).