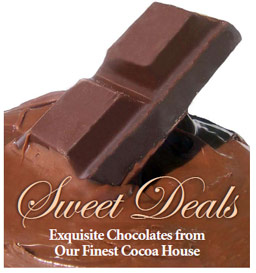 Two business initiatives of The University of the West Indies are underway that may further demonstrate its unique position in terms of the international value of its Cocoa Research Unit (CRU), custodian of he International Cocoa Genebank, Trinidad (ICG, T).

Earlier this year, following initiatives led by Trinidad and Tobago's Ambassador to Venezuela, Razia Ali, a group of executives from the company, Chocolates El Rey (CER), visited the St Augustine Campus as part of a mission to locate a new home for their operations.

Ambassador Ali, a former director of the International Trade and Economic Relations Division of the Ministry of Foreign Affairs, advised the chocolate producers, who have been in business since 1929, that the political and economic climate in T&T, coupled with outstanding technological resources at the CRU, could provide them with advantages to be had nowhere else in the world.
So in January, a team, led by the President and CEO of CER Jorge Redmond, met with a UWI team led by Campus Principal Professor Clement Sankat to discuss the possibilities of a joint venture. Although it has not yet been finalised, the prospects look good as the meeting provided only positive reasons for a partnership.