April 2009



Issue Home >>
Region's first BSc in Optometry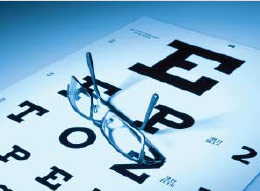 This September, The University of the West Indies (UWI) will begin another new undergraduate degree programme, a BSc in Optometry, the first of its kind in the Caribbean aimed to change the way we view…well, everything.
"A dream come true," is how Optometrist Petra Bridgemohan, one of the coordinators of the new programme, describes watching her project come to life. Sight is one of our most vital senses; and according to two of the BSc in Optometry coordinators, Bridgemohan and UWI Physics Professor Ramsey Saunders, the shortfalls in the local and regional field of optometry are plain to see. They point out that you are hard-pressed to find persons who don't have family members who have suffered with cataracts, glaucoma, childhood eye diseases or many of the other prevalent ailments related to sight.
Optometrists are trained professionals who examine eyes, give advice on visual problems, prescribe and fit spectacles and refer patients with eye disease to medical colleagues. In Trinidad and Tobago, there are only 98 registered optometrists, 97 of whom are in the private sector. At present, Bridgemohan is the only optometrist who works in the public sector, a situation she describes as "dismal."
Prof Saunders notes that the most prominent aim is to "prevent preventable blindness" through effective screening and monitoring of health care systems.
The UWI's programme is a hybrid, says the coordinators. In order to ensure that the programme was unique, they created "a hybrid of all the different [academic] systems, designed to suit the demands and evolving needs of the region." A UWI team has visited international universities with the most respected Optometry programmes, over a period of years, liaising with accreditation councils and researching academic curricula. The course will cover a broad range of topics including anatomy, physiology, clinical optometry, visual optics, ocular pharmacology, communication skills and law and optometric management. The final product is what they've termed "an optometrist's wish list," and is expected to turn out excellent specialists, well-equipped to deliver above satisfactory vision care.
This undergraduate degree is a four-year programme, with the first three years devoted to theoretical training. The fourth year will serve as an internship where students will gain practical experience at public and private eye clinics, with qualified supervisors. Applicants to this program must have obtained at least a Grade 2 in GCE Advanced Levels in three subjects, which must include Physics and Chemistry. An appropriate associate degree or relevant experience will also be considered. This selection process is expected to be highly competitive as the first batch of students is expected to be limited to 25 persons, due to the need to provide highly specialised equipment for all.
Bridgemohan has high hopes for the programme and its students, noting "graduates are expected to be policy makers in eye care in the region." She said it is not common knowledge that professionals in the field of ophthalmology were the ones responsible for driving the fight to implement the law compelling drivers and passengers to wear seatbelts, an act motivated by the high percentage of eye injuries suffered during car accidents. She expects the programmes to produce like-minded professionals who can advance the region's mindset where eye care is concerned.