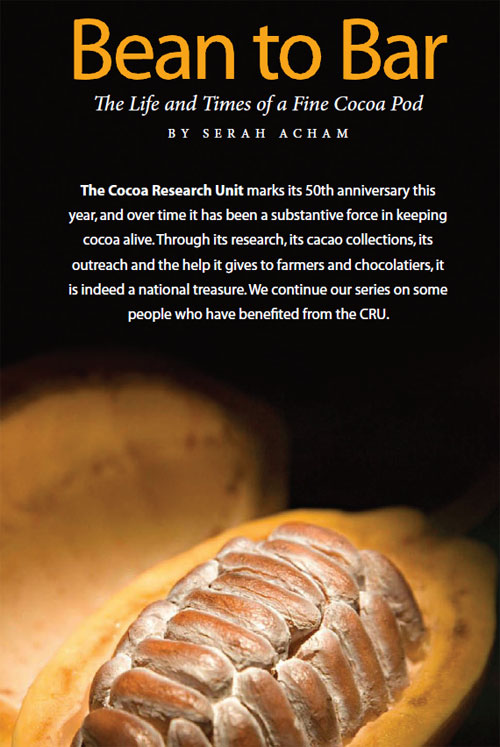 Chocolate. Many of us simply need to see the word and we can taste it… thick, smooth, creamy. Perhaps you prefer yours richer and darker, maybe sweeter, whatever your fancy, while you're nibbling or sipping away, you couldn't be less concerned with where it started. No. Not in Mr. Cadbury's Birmingham chocolate factory. Right here in Trinidad and Tobago's cocoa fields.
T&T's Trinitario cocoa beans are among the world's best. They're the main ingredient for the finest, literally clamoured after by the world's fine chocolate makers.
"Every chef would kill to have Trinidad beans and feature Trinidad cocoa because it's known for the flavour profile. You can't get that anywhere else in the world." says Lesley-Ann Jurawan, owner of Delft Cocoa Plantations Violetta Fine Chocolates.
Our conversation has my head spinning. Ask one question and she partially answers two others and raises another. She's apologetic. I'm quick to forgive. It's not hard to do.
As owner of both a cocoa estate and a blossoming chocolate making business, Lesley-Ann takes on many roles, each requiring as much time and dedication as the other, "because cocoa is a really exciting industry to be in now. Every facet of it is developing," she declares. "Yes, I make the chocolates but … my major focus is having an impact on the cocoa industry," raising awareness of the superb quality of Trinidad's cocoa and encouraging Trinidadians to take full advantage.
Take Valentine's Day, she continues, when people flock towards the Cadbury section at groceries. "Little do they know that it's using lower quality stuff compared to us."
"The same way we know about mas and pan," as a part of our cultural identity, she urges, we should "be aware and proud of the quality of cocoa we produce."
Lesley-Ann and Delft crossed paths in early 2009 when her father acquired an estate in Gran Couva and needed someone to take the helm. "I found out kind of after the fact that he had gotten it and I did a lot of research to figure out what could happen with bean-to-bar."
When she discovered what a future in chocolate could hold, she jumped in.
"I did a lot of theory where ever I could find it … Just any research I could get my hands on. Anywhere." She registered for online classes at Ecole Chocolat, based in Vancouver, Canada, and then enrolled in its Master Chocolatier programmes which took her to Belgium and Switzerland.
Along the way she discovered the value of Trinidad's cocoa. "People from all around the world would die to come and see what we have in our backyards. It's the most amazing thing," she says, recalling an experience while at class in Switzerland.
"They took out a frozen cocoa pod they shipped from somewhere in the world. They defrosted it, thawed it out and sliced it open to let people in the group taste it ... and they went nuts to be able to taste the cocoa pulp. It was insane, they were so impressed."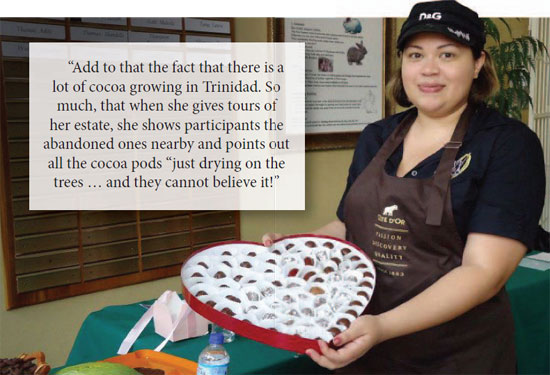 In the end, she didn't depart with just her diploma and new skills. Lesley-Ann left Europe with a vision for Trinidad's cocoa. Her studies in Belgium entailed a visit to a renowned chef, World Chocolate Ambassador, Chef Bart Van Cauwenberghe. He's a taste designer, she explains, capable of performing feats such as picking out the flavours in a perfume after taking a whiff of it, and then creating a chocolate to taste like it. From his passion, she sensed he was the one to help her generate "the kind of interest and excitement I want to bring about for Trinidad cocoa." She left Belgium in October 2010 at the end of her training and returned the following month to enlist his help in opening a cocoa and chocolate school.
"When I started doing the chocolatiering, the more I studied, the more I met young people from around Trinidad who want to do it badly but they don't have the resources." Coming from a career in teaching (she was a math and computer science teacher at Naparima Boys' High School), she felt that others shouldn't have to struggle to get started the way she did. "That's my mantra in general," she says, "nothing in life has any worth unless you can share it with people, so that really is the driving force behind everything that I do."
Add to that the fact that there is a lot of cocoa growing in Trinidad. So much, that when she gives tours of her estate, she shows participants the abandoned ones nearby and points out all the cocoa pods "just drying on the trees … and they cannot believe it!"
With this school, she says, she hopes to show that "going bean-to-bar," or being involved in the entire chocolate making process, from growing and harvesting the cocoa pods, to turning the beans into chocolate, "can not only provide a sustainable lifestyle, but a comfortable lifestyle." Hopefully, this will motivate the younger generation to get involved "and therefore create a supply again and that would have a lasting impact."
Once she popped the question, Chef Bart "said yes immediately, because that's where he wants to be as well—he wants to teach what he knows," and is now her technical advisor with over 20 years of chocolate expertise under his belt.
Lesley-Ann and Chef Bart have conducted Chocolate Discovery shows in T&T, with the help of the Ministry of Food Production Land and Marine Affairs, the Division of Agriculture, Trinidad and Tobago's hospitality schools and the Tobago Cocoa Farmers Association.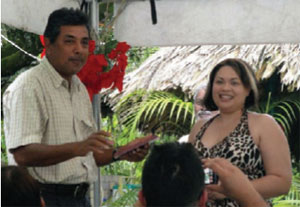 These shows targeted students at the hospitality and tourism institutes, and covered everything from "where chocolate comes from, how it's made, where we fit in that chain and … the world class reputation that Trinidad and Tobago's fine flavour cocoa enjoys," to chocolate tasting since you can't "just gobble it down. It's just like wine, there's a way to taste it." They actually paired the chocolates with different wines and other spirits, but only used local products, "local spirits with local chocolates," specifies Lesley-Ann. They included a session on the chemistry of chocolate and how to temper it.
Lesley-Ann explains that the shows also served as a research visit for Chef Bart, allowing him to experience the tastes of our islands. "He was blown away by all that we had to offer, from sorrel to pomerac to Angostura Bitters and spirits—he was shocked by how under-utilized chocolate was in combination with these flavours and implored our young chefs and chocolate enthusiasts to take advantage of them."
Her plans for a full-fledged school are underway and are being facilitated by the Centre for the Development of Enterprise. "We will be providing training in everything from chocolate making from the cocoa bean and assistance in sourcing machinery to chocolatier training in Belgium," Lesley-Ann confirms.
When she's not focusing her energy on training, Lesley-Ann slips into another of her roles. At one moment she may be a cocoa farmer, pruning, fertilizing, cleaning and harvesting. Delft Cocoa Plantations is situated in Gran Couva's Montserrat Hills, and is part of the Montserrat Cocoa Farmers Co-operative Society Limited. The farmers who own cocoa fields in that area all come together after harvesting, to dry and ferment their beans. This is so that "we have a consistent grade," explains Lesley-Ann, boasting that it is "the highest grade in Trinidad right now" and this is where the beans her chocolates are made with come from. "So the chocolate we produce is single domain," or from a single area. We'd like to produce one that's made from Delft, but that's later on down the line."
True to her bean-to-bar model, after the pods are harvested, and the beans removed, fermented and dried, Lesley-Ann dons her chef's hat and is Violetta Fine Chocolate's master chocolatier. "We do solid chocolates, enrobed chocolates, bars, truffles, pretty much anything you want."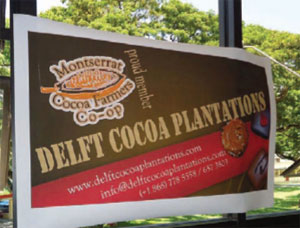 She doesn't produce her chocolates in bulk, rather, each batch is tailored to the person it's being made for. "I talk to you about the kind of flavours you like and I build the chocolate around that." Flavours depend on what's in season. One of her favourites is her pomerac pate de feuille, "a fruit gel, on a layer of dark chocolate ganache." She also does a pineapple version of this on a pimento ganache. Intrigued? Well, when you go to pick up your order, you'll find it nestled under the lid of a wooden keepsake box. "After you spend all that time and you're using the finest ingredients possible, and making a really luxurious thing …the box has to be at least as special as the chocolate going in it."
Lesley-Ann maintains that she couldn't have come as far as she has, in such a little time, without the help of The UWI's Cocoa Research Unit (CRU). "That's where I got started," she affirms, recalling her first visit there. Though she knew next to nothing about the CRU, she came onto the Campus, walked into the Unit and the first person she met was Mrs. Frances Bekele.
"I said, 'look I have some cocoa and I want to do something with it' … and she sat me down and answered all my questions, gave me all the numbers for all the persons I could contact." From there, she was given advice on how to rebuild her estate and joined the Montserrat Cocoa Farmers Co-operative Society Limited. The rest is history. "My 5-year plan was accomplished in one year because of the opportunities (the CRU) provided me with."
Lesley-Ann makes sure to add that the CRU was also instrumental in her training as a chocolate maker. Despite her chocolatier courses, she didn't have any practical experience. "I knew how to take the finished chocolate and make it into pretty things but as far as taking the beans and making it into chocolate … it was Naailah [Ali of CRU] who showed me how to do all that." With the CRU's assistance, and the use of their flavour lab, she learnt the fastest and best practice for producing her chocolates, including useful roasting techniques.
"I foresaw us making chocolate by year four and in year one, we were able to produce a bar."
Motivated, she is working on developing her signature line. "Everything is still beta testing for me," she says. "As fast as I roll them out I like to get feedback. I'm always trying to come up with new things." This can be challenging as she's found that Trinidadians tend to prefer solid chocolates. "Mr. [Jude] Lee Sam, [President of the Montserrat Cocoa Farmers Co-operative Society] always tells me that Trinidad is a bar culture. They know chocolate as bars. You can't just spring these things on them and expect them to like it," but this, she says, is the type of thinking she wants to eliminate.
"Trinidad as a society is evolving and …instead of saying 'Trinidad is not a market for fine chocolate, forget about it and go on to something else' … make the market." She decided early on that she's not going to try to compete with multinational companies like Cadbury and Hershey. She's not in the business of making candy bars, she says. "We want to make something pure, exquisite, uniquely Trinidadian."