August 2012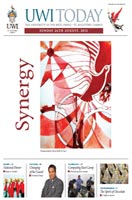 Issue Home >>

Did you know that before the 'Red, White and Black' was hoisted on August 31st 1962 three different flags flew over Trinidad and Tobago? Did you know that the ill-fated West Indies Federation even had a flag? Well, I found out these interesting tit bits of information about one of the mainstays of our national identity when I visited the Alma Jordan Library at UWI St Augustine. The Library is currently hosting their 'Forging the Nation's Identity: Trinidad and Tobago in 1962' 50th Anniversary of Independence display.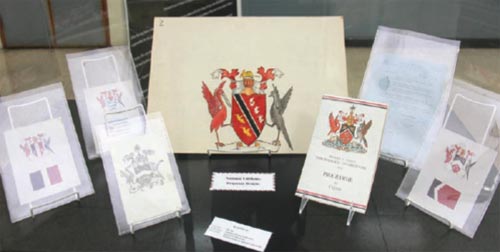 The display takes a very different approach to the typical Independence commemorations we so often see. The staff of the West Indiana and Special Collections section at the Alma Jordan Library decided to take a more profound approach to their commemoration display and instead of the typical red, white and black pennants hanging from the ceilings, they decided to take a journey through the history of these three aspects of national identity.
When you visit the display you will see the evolution of our National Flag, our Coat of Arms and our National Anthem. You will see original sketches of the Coat of Arms, taken from the Carlisle Chang Collection and even the cloth samples of the first three flags. This is not a run-of-the-mill academic display, but one that lets you see how the symbols that identify us as Trinbagonian have evolved throughout that period before our Independence.
So why not head down to the Alma Jordan Library and discover things you may not have known before about our very own history and national identity! Go in and see the original sketches, the cloth samples, and read the original song for the Federation that evolved into our beloved national anthem; and you can also visit the online version at: http://mainlib.uwi.tt/divisions/wi/displays/Forging_Nations_Identity/intro.html.