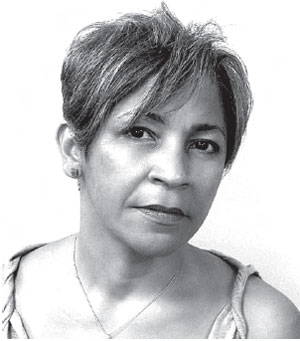 Among our six honorees this year, is Marina Salandy-Brown, journalist and media consultant, with 28 years of experience in the broadcast industry. Ms Salandy-Brown will be conferred with a DLitt at the ceremony on October 26, where she will address graduates of the Faculty of Humanities and Education. Her international awards include the Sony Gold Award, Best News Programme 2000, UK (for BBC Radio); Radio Journalist of the Year 1994, UK; New York Festivals Award, Silver, 1992; Programme of the Year, UK Television and Radio Industries Club, 1990, and the Sony Silver Award for the Most Creative Use of Radio, 1988, UK. She answers some questions posed by editor, Vaneisa Baksh.
VB: Start the Week, the programme you produced at BBC Radio 4, what was it about?
MS-B: With my presenter, Melvyn Bragg, now Lord Bragg, I turned Start the Week into the top discussion programme in the country on both TV and radio. It had been floundering, having lost ground to TV "chat," but STW had always been an important programme in the schedules and I was determined to develop that morning slot as a unique place where intelligent conversation about important matters could be discussed, making it the place where esteemed statesmen, writers, artists and scientists wanted to appear in each other's company. It went for the high ground when the media seemed to be catering only for the lowest common denominator.
It was my ambition to give place to people of all ethnicities and walks of life at a time when people of colour were not much featured in regular programming. It was also the first non-specialist programme that scientists appeared on. It popularised science and explored the arts, politics, economics, and social sciences equally. It became perhaps the most important programme in the BBC portfolio of live programmes and set the standard for discussion.
VB: "There is no point having diverse people if you don't allow them to be diverse," is attributed to you. What was the context of that statement?
MS-B: When I joined the BBC in 1984 there were no people of colour working in radio production in the four national domestic services, except one producer from India. In BBC TV there was programming in Indian languages only. It is commonly believed that Trevor McDonald presented on the BBC. He did so only on the World Service (radio), never BBC TV. On BBC TV there was one Caribbean woman news presenter, Moira Stuart, a former secretary in one of the domestic radio services. I was determined not to be the first and last Caribbean person to be a BBC radio producer. I immediately started making programmes about people whose voices were never heard by the British public.
I made programmes that promoted Caribbean and developing country cultures, politics and people alongside STW or whatever general programme I was working on, whether in TV or radio. The programmes won prizes and proved that there was a world of stories out there to be told and that all people could be included in the BBC without outraging the British public. They just had to be the very best in quality. I was able to recruit researchers and producers of non-European origin to my production teams, one of them is now the Commissioning Editor of BBC Radio Four, a top job open to very few people of any origin. I also introduced new non-European presenters and subjects to the airwaves. My success paved the way for others to follow as staff members and as presenters. Many of these found their way to other areas of the media.
I later worked on a BBC Diversity Policy that was meant to move the BBC away from its colonial way of recruiting. There were strong strategic reasons for the BBC to change this model. The highest growth in population was among the new immigrant groups, yet that's where most dissatisfaction with BBC output existed. Implementation of new recruitment, training and programming polices took place as a result. It took a long time to happen and it met with many obstacles, including deliberate sabotage. And, even when the argument was won over hiring a work force that represented the population, myopic editors would often pigeon-hole non-white producers and presenters. It was in this context that I was quoted.
VB: The NGC Bocas Lit Festival, which you helped to create, is growing at a heartening pace. Do you think it is a sign of how starved the region is for space to have literary discussions? Or do you think you are now creating that desire for such conversations?
MS-B: As part of my work at the BBC and in other private pursuits I was very integrated into the arts, including literature. In all these areas, as indeed in my BBC work, I have seen that most people do not know what they are missing. Once you point it out to them you discover an appetite that is hungry for satisfaction. There is need that not all know how to meet. There is talent that is waiting to out itself. There are opportunities that just have not been tapped into. What the NGC Bocas Lit Fest as a non-profit company has set out to do is to help writers, readers and the publishing industry.
There are reading groups in this country, people use our libraries, bookshops sell novels, writers are scribbling away, but they just needed being drawn together more, and real opportunities grasped for advancing their work. Writers need readers and society needs writers. It is a symbiotic relationship that needs encouragement. Judging from the success of the NGC Bocas Lit Fest, I would say that the desire for literary discussion was there. It is true too that we are creating desire where there was little or none. Bringing readers and writers together is important and bringing writers together too. So many of the visiting Caribbean writers had not met one another, yet they know each other's work and feed off it. The festival allows that level of discourse and exchange and we, their readers, are the beneficiaries too.
VB: Where would you like to see it go?
MS-B: Considering how the lit fest is developing, I am impressed by the corporate sector and the government ministries that financially support it. Unlike the film industry, which has been officially identified as an area for development and exploitation and has an agency with a budget to look after its affairs, literature had been overlooked. Bocas has sprung up between the cracks and established literature as worthy of greater consideration and given expression to the appetite for it. I would like to see Bocas' financial future ensured so that it can carry out the work we have planned. I would not like to see our ambitions exceed out capacity to realise them.
The Bocas project is to reach all parts of the community, locally, regionally and internationally. We have been going just three years now and it has been hard work to gather all the resources, human and financial, to host the festival every April and establish it internationally as a quality event, but it is our plan to do a festival outside of Port of Spain and one in Tobago, and to work with writing and reading groups nationwide.
VB: What does this honorary degree mean to you?

MS-B: It is an extraordinary and surprising honour to have conferred upon me. It was always a regret of mine that I was not in TT during the earlier years of our post-Independence development. I would have loved to have attended UWI. I consider it a very important Caribbean institution and I have respect for it. This way part of a wish has been realised.