UWI news
Scotiabank to provide 15 scholarships a year to UWI students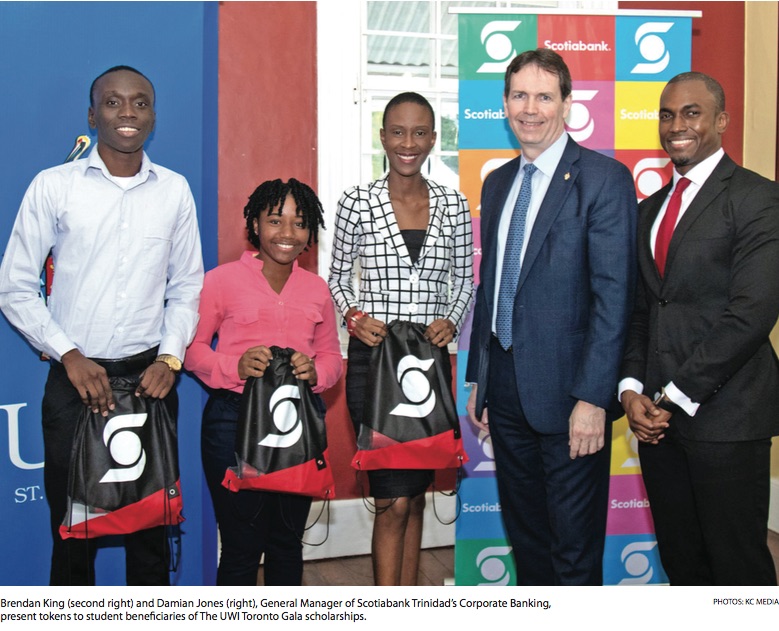 Canadian multinational Scotiabank will provide 15 new scholarships to UWI students per year for the next five years. This was announced on January 22 by Brendan King, Senior Vice President at Scotiabank International Banking at a ceremony held at the St Augustine Campus. King said the company was continuing on as title sponsor of The UWI Toronto Benefit Gala and increasing its annual support for student scholarships to CAD$75,000 a year.
"At Scotiabank, we believe in the importance of investing in the youth of our communities to help them reach their infinite potential," the Scotiabank Snr VP said. "We know that how we support young people today can help them for tomorrow, and that's why we want to help them thrive. Our sponsorship will now include 15 Scotiabank Scholarships per year, designated to support students in need of financial aid. Through these scholarships, more students will have the opportunity to experience the incredible benefits from higher education."
Speaking at the event, scholarship awardee Reanna Rajkumar, a second-year economics and management studies student, said, "This scholarship has indeed changed my life and the path that I would have been on today.... If I did not receive this scholarship then I would have had to put my degree on hold for some time. I am truly grateful that this is not the case and I am given the opportunity to continue working towards my goals in life."
Scholarship winning criminology student Vakeesha John said, "To Mr King and the entire management of Scotiabank, this is a wonderful investment. You have made and continue to make a contribution to our region. These are the things that matter... the good. We will forever be grateful. We will make you, ourselves, our families, our countries, our region and our university proud."
Danesha Ramdhanie, a third year veterinary medicine student, described to the audience how crucial the scholarship was for her to attend university:
"Due to financial constraints, family problems and the high cost of being a university student, I was very unsure of how I would be able to pursue my dreams of becoming a veterinarian. However, by the grace of God and Scotiabank, I was awarded this scholarship, and it has been nothing short of a blessing."
Over the past 10 years, Scotiabank has been the lead sponsor for the Toronto gala, UWI's largest fundraising event in Canada. The gala has raised close to CAD$2 million and awarded 500 scholarships across the region since its creation in 2009. The 2020 gala will be held on April 4.

Mr King visited UWI's Mona Campus on January 21 (a day before he came to the St Augustine Campus). He met with Chancellor of The UWI, Mr Robert Bermudez, Pro Vice-Chancellor and Campus Principal at Mona, Professor Dale Webber and St Augustine Campus Principal Professor Brian Copeland, among other senior university executives.
He also toured facilities and interacted with some of the past and current beneficiaries of Scotiabank scholarships on both campuses.
Professor Brian Copeland expressed gratitude to Scotiabank for its increased support, saying that The UWI shares the bank's commitment to sustainable business and creating a better future for all.