UWI in Society
Bocas celebrates ten years, takes the next step
It was in 2011 that a small group of individuals with a passion for literature came together to create the festival that would become the NGC Bocas Lit Fest. Since then, the festival has had incredible growth, not only becoming one of the premier (if not) the premier Caribbean literary event, but also helping to nurture a decade's worth of poets, fiction writers, and spoken word performers. And UWI has been there there from the beginning.
"We were a group of people that felt (Trinidad and Tobago) needed its own literary festival," says Nicholas Laughlin, programme director of Bocas and editor of both Caribbean Beat Magazine and The Caribbean Review of Books.
The founder (and festival director) is Marina Salandy-Brown, who was also integral in the development of the Trinidad and Tobago Film Festival (TTFF). Among that founding group as well is Funso Aiyejina, writer, educator and advocate in creative writing, former Dean of the Faculty of Humanities and Education at UWI St Augustine, and now Head of the St Augustine Academy of Sport.
"The promotion of literature has been a life-long passion of mine," Professor Aiyejina says. "Before Bocas, I had been associated with the Semi-Lime Series at the Department of Creative Arts, Campus Literature Week, the UWI 60th Anniversary Book Fair and Cultural Festival, the MFA in Creative Writing programme, and the Cropper Foundation Caribbean Writers Residential Workshop. I suspect that these antecedents informed Marina Salandy-Brown's decision to invite me to join the planning committee for what became Bocas Lit Fest."
Since 2011, the festival has grown in impact and prominence. The list of regional and international literary figures that have appeared at Bocas is massive - icons such as Derek Walcott, Earl Lovelace, and Lorna Goodison; highly celebrated newer writers like Marlon James, Kei Miller, and Nalo Hopkinson; and the up and coming talents such as Shivanee Ramlochan, Ingrid Persaud and Andre Bagoo. UWI staff and students like Professor Elizabeth Walcott-Hackshaw, Professor Emerita Barbara Lalla and Barbara Jenkins are also consistent participants of the festival.
"The UWI connection has been mainly through the Faculty of Humanities and Education, primarily because that is my home faculty and because that is the home of most of the experts in literature and culture on campus," says Professor Aiyejina. "From its inception, the faculty has provided whatever financial support it can afford to Bocas. But more importantly, members of the faculty have freely given of their expertise to Bocas Lit Fest as guest readers, discussants, judges, etc. Our MFA students have been given a platform at Bocas to showcase their talent and a number of our students often volunteer at the festival. Our staff and students have won a number of the prizes on offer at Bocas. Of the three years of the Hollick- Arvon Prize, UWI alumni won for two years (Barbara Jenkins for fiction and Danielle Boodoo-Fortune for poetry) and one alumnus and two staff members have won the OCM Prize (Vladimir Lucien, Jennifer Rahim and Kevin Adonis Browne). However you look at it, the relationship between The UWI and Bocas is a union made in the literary heaven."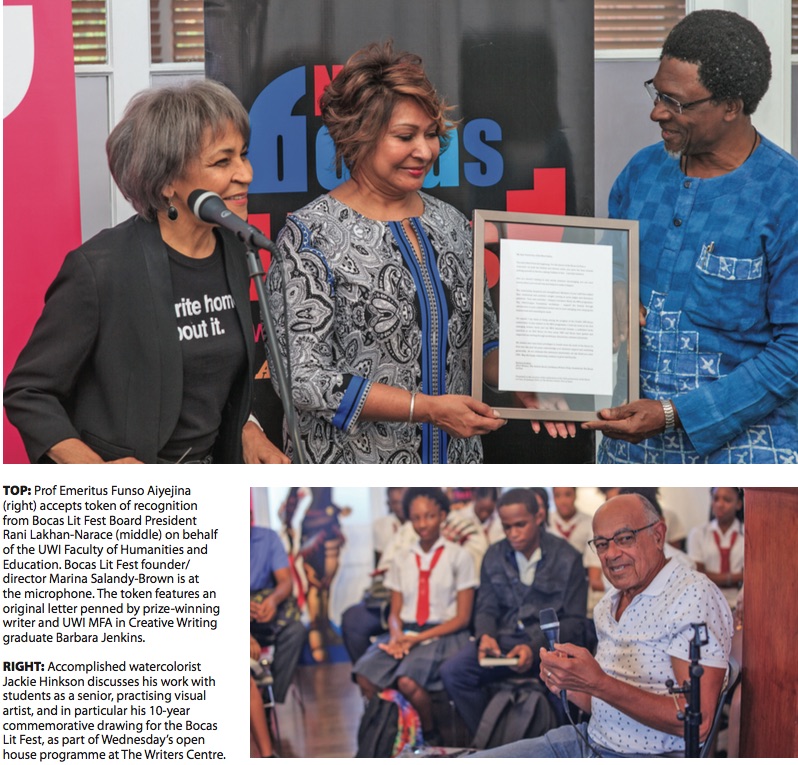 Support for emerging writers
One of the NGC Bocas Lit Fest's greatest legacies is its contribution to the development of writers.
"Reading and writing is mostly a solitary pursuit. It is valuable to have a space (for those interested in literature) to talk and create a critical mass," says Laughlin. "Bocas, along with others like the Cropper Foundation and UWI, give writers that space to develop their craft. We have always had things like workshops and seminars."
He adds that, "there is no literary agency in Trinidad," and the festival supported writers by linking them to foreign publishers and promoting them internationally.
"We have seen people come to one of our workshops and go on to win prizes and even publish their first book," Laughlin says. "From the beginning we have focused on new writers. We have always had that ideological commitment."
In its tenth year, they plan to take that commitment further. Even though the festival itself usually takes place over three or four days, Bocas has events and activities well-beyond that timeframe. At their recent official launch and open house on January 22, they announced a year-long schedule.
To commemorate ten years they were "expanding the programming that the festival has become known for, such as workshops and discussions, all year round," says Ardene Sirjoo, the Bocas Media Coordinator.
This will include hosting writers such as Jamaican novelist Curdella Forbes and Bernadine Evaristo, the 2019 Booker Prize winner. Many of these events will be held at The Writer's Centre, the headquarters of the NGC Bocas Lit Fest in Port of Spain.