Our Campus
Office of the Visitor, Justice Rolston Nelson, begins operations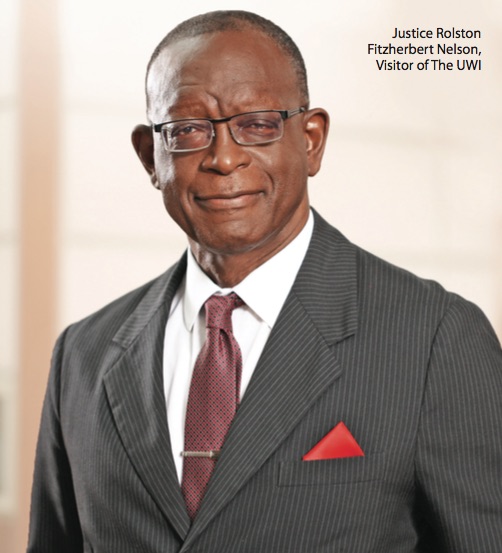 On January 23, 2020, The UWI's University Office of Administration announced that the Office of the Visitor, Justice Rolston Fitzherbert Nelson, is now in operation. Justice Nelson was appointed in May 2019 as Visitor of The UWI - a position previously held the Queen of England since the University's inception.
The title of Visitor confers on Justice Nelson the right or duty of adjudicating over petitions of grievances submitted by staff or students of The UWI. A member of the staff or student of the University may lodge a petition with the Visitor seeking a review of a decision made by or on behalf of the university concerning the interpretation and application of The UWI's governing instruments. Such a petition may only be lodged with the Visitor after the petitioner has exhausted all internal avenues and mechanisms available. The Office of the Visitor is based at The UWI Regional Headquarters.
The process of Justice Nelson's appointment follows the precedent set by other Commonwealth universities to amend their charters to name their Visitors. On November 7, 2018, the Queen endorsed, and the Privy Council approved an amendment to Article 6 of The UWI Charter to have its council name its Visitor.
At its meeting on April 26, 2019, University Council accepted the recommendation to appoint Justice Nelson, eminent jurist, as the first Visitor from the region. Justice Nelson will serve for a period of five years, in the first instance.
Called to the Bar at Lincoln's Inn in 1970 following his education at the University of Oxford and the University of London, Justice Nelson has served as a senior counsel, and then Justice of Appeal on the Supreme Court of Judicature of Trinidad and Tobago. He was judge, then senior judge and served as Acting President of the Caribbean Court of Justice.
During his career, Justice Nelson was also an educator at the Norman Manley Law School in Jamaica and the Hugh Wooding Law School in Trinidad. He is the author of several articles and case notes appearing in legal journals, including the British Tax Review and the Jamaica Law Journal. For over a decade he was the editor of The Lawyer, the journal of the Law Association of Trinidad and Tobago,
Justice Nelson is an Honorary Distinguished Fellow of The UWI and a former Visiting Fellow of the Institute of Advanced Legal Studies in London.