Sport at St. Augustine: developing athletes and administrators
St Augustine Academy of Sport seeks to change the landscape

We all know at least one. The school mate with a supernatural touch on the ball. The co-worker or friend at the weekend game with professional-level skills. The promising junior athlete forced to make the decision between their passion and a viable career. If the environment had been right, if they'd received the proper training and encouragement. If there was a thriving sport sector, they might have gone on to be great athletes. Trinidad and Tobago might have benefited from their greatness.
It's that human potential, which goes unrealised too often, that the UWI St Augustine Academy of Sport was created to capture.
"The UWI is determined to push involvement in sport past a discipline purely for the 'naturally talented' and to champion the conscious development of athletes and sport administrators," says Professor Emeritus Funso Aiyejina, Head of the St Augustine Academy of Sport.
Professor Aiyejina is best known as a man of the Arts – writer, poet, playwright, editor, creative writing teacher and even Dean of the Faculty of Humanities and Education. From his office at The UWI Sport and Physical Education Centre (SPEC), his new role is master of sports.
"The University of the West Indies has sent a clear message to the region that we recognise sport as a fit subject for intellectual enquiry and is convinced that decisions about sport should be made on the basis of reliable data and science driven research," he says. "At a time when universities worldwide are demonstrating the need to diversify their programme offerings, The UWI has begun to champion sport as an area of research growth and as a revenue earner."
The academy is part of UWI's Faculty of Sport, a cross campus faculty with operational entities on each campus. They are the Mona Academy of Sport, Cave Hill Academy of Sport, Open Campus Academy of Sport, and the St Augustine Academy of Sport.
Although the Faculty of Sport is a cross campus faculty, each Academy's focus varies, based on the resources and the demands of their individual campuses. In general, they are tasked with developing and delivering academic and professional programmes, engaging in research, and collaborating with organisations on sport outreach. They are also mandated to develop leaders in sport, athletes and administrators.
The St Augustine Academy of Sport's focus is on academic programmes, sporting activities (such as the UWI SPEC International Half Marathon and the UWI-UNICOM T20 Cricket Tournament), and outreach activities to schools and communities. They work closely with the Director of SPEC, Ms Grace Jackson, an Olympic medal-winner and Jamaican records holder.
Currently, the St Augustine Academy offers a Certificate in the Art and Science of Coaching, a BSc in Sport Coaching, and a BSc in Sport Kinetics. Postgraduate programmes—which are on offer at Mona and Cave Hill— will be available soon.
Professor Aiyejina, who was invited out of retirement to fine-tune the administrative framework of the academy by Campus Principal Professor Brian Copeland, is guided by UWI's "Triple A Strategic Vision":
"This requires us to be aligned to the strategic directions of our enabling communities, to be agile enough to re-calibrate our product to suit changing societal demands, and to move away from the traditional ivory tower image of universities to the phase of a university that is accessible to all segments of our society."
The St Augustine Academy has the additional responsibility to provide spaces where staff, students and others take part in sports and fitness activities for healthier lifestyles. This semester, SPEC is offering swimming, dance, aerobics, aqua aerobics, karate and a host of competitive sports.
Looking forward, Professor Aiyejina sees raising public awareness as the academy's most urgent task. "There is a need to bring to the attention of the public the University's appreciation of sport as a viable and central subject of study, as a tool for enhancing a healthier lifestyle, and as a major driver of social cohesion. The more aware the region becomes, the more students will be drawn to the study of sport and its benefits."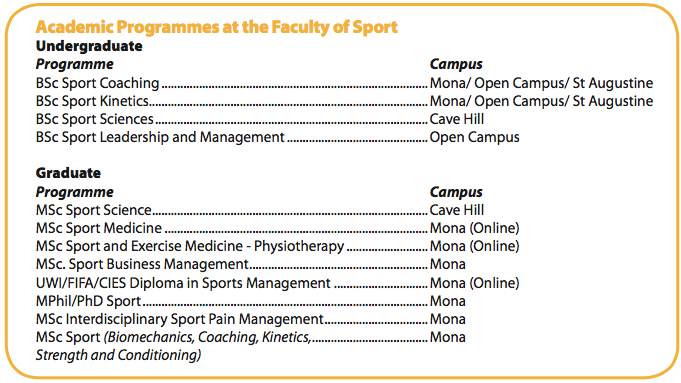 ---
Student Profile: Cheyenne Chin Choy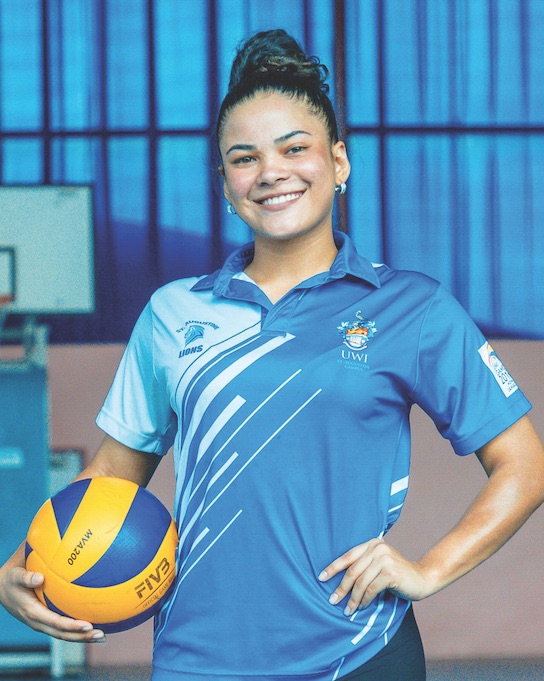 Currently training for an under-23 women's volleyball tournament in April 2020 while working on her final year project, student athlete Cheyenne Chin Choy told UWI Today about the dedication it takes to balance both her academics and sporting career.
In her final semester pursuing a BSc in Human Nutrition and Dietetics, Chin Choy is no stranger to balancing her sporting lifestyle with her studies. She trains for five to six days a week and schedules her physiotherapy and massage sessions on her off day (she is recovering from an injury).
She noted, "One of the hardest things is to balance the school with the sport. Even though I may procrastinate a lot, I set aside enough time to focus on the project due at that point in time."
On Mondays and Thursdays, she reports to Couva at 6 pm for two-hour training sessions while on Tuesdays and Saturdays she trains at Chaguanas, under coaches Sean Morrison and Panchi Cruz. On Fridays and Sundays, her training shifts to Tacarigua at 6 pm and 7 pm, respectively.
When asked about her secret to attaining this balance, she states, "I try to make sure I am always relaxed and not in too much of a rush, whether it is in training or when it pertains to anything school related. If I feel stressed, I would not get anything done." She adds that, "It is not like I drown myself in school and training.... I also make sure to take time for myself because this is necessary. I managed it pretty well thus far throughout the years, so I just really want to get through this final semester."
During her primary school days, Chin Choy played lawn tennis and trained with the national team. However, at the age 12 she suffered a hamstring injury just before she got the opportunity to officially represent the nation at a tournament. After this, she focused on the sport of volleyball from forms one to three. In forms four and five, Chin Choy switched back to tennis and won a couple of tournaments, both in the doubles and singles categories. She then decided to revert to volleyball in sixth form after she lost the passion for tennis.
In volleyball, she made her debut for the National Volleyball Juniors team during a 2015 tournament in Barbados where Team TTO placed third. Over the years, Chin Choy has been selected for four national teams and has represented UWI St Augustine at the UWI Games, claiming the "Best Libero" award in 2019.
The 20-year-old from St James also took part in the Under-23 Women's Pan American Volleyball Cup Tournament held in Peru during 2018 and accompanied the Trinidad and Tobago Senior Women's contingent in 2018 and 2019 as a developmental player during two tournaments held in Puerto Rico.
One of the main goals Chin Choy has set for herself in 2020 is to make the selection for the national team representing in the Under-23 CAZOVA Championships which will be held in Haiti during April. She also has her eyes set on competing in a few senior tournaments. Off the court, she plans on graduating at the end of the semester and furthering her studies.
Student Profile: Shemar Britton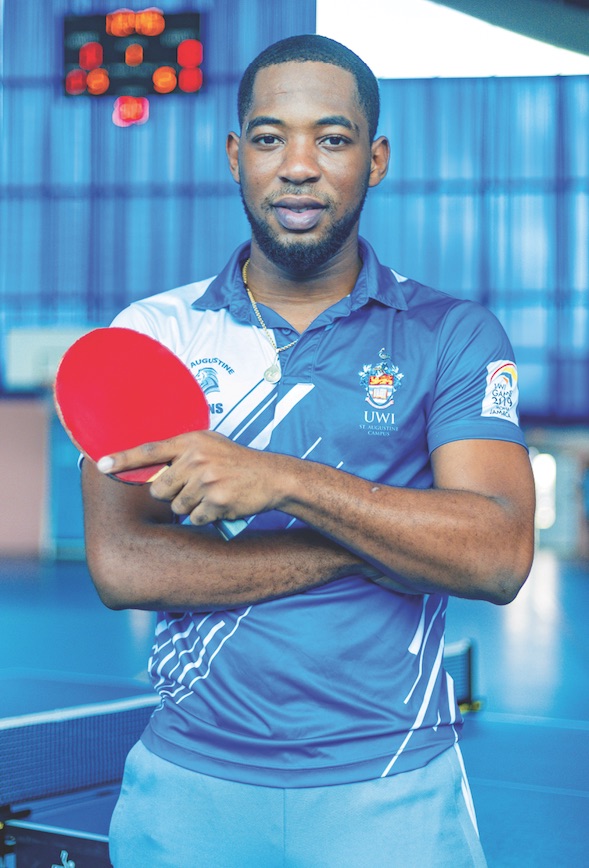 Reigning Under-21 Caribbean Table-Tennis Champion, Shemar Britton, will be seeking to book his spot at the 2020 Olympic Games in Tokyo while also balancing his daily life as a student in a foreign country.
The 21-year-old Guyanese athlete decided to further his studies in 2018 by opting to pursue a BSc in Political Sciences at UWI St Augustine. Prior to his residency as a student, Britton frequently visited Trinidad and Tobago for tournaments where he started building a positive relationship with UWI's coach at St Augustine, Verna Edwards. "This is an Olympic year, so it is a very big year for us. Therefore, the main goal is to secure an Olympic berth for Tokyo 2020. Another goal for this year is to win the Men's Singles event in the Caribbean Seniors Table-Tennis Championship," Britton detailed.
There are three ways to qualify for table tennis at the Olympics. Firstly, there is an automatic qualification for athletes among the top 20 ranking in the world. Secondly, there are team qualifiers where teams placed within the top nine in the world would be granted an Olympic spot. Lastly, every continent has four spots available for securing via a continental qualifier. Placing among the top four would guarantee a spot in Tokyo 2020. For Britton and his compatriots, the Latin American Singles and Mixed Qualification Tournament will serve as this premiere event to be held in Rosario, Argentina from April 15 -19, 2020.
Britton first started playing table tennis 11 years ago and has been representing Guyana for the past seven years in tournaments such as the Commonwealth Games. In Guyana, table tennis is a mandatory sport on the primary school's curriculum, and it was here where he was introduced to the sport at Mae's School in Georgetown. Afterwards, he attended Queen's College where he won many trophies representing the institution. "Sometimes it is tough balancing school and training because some classes finish at 8 pm and then I have to head to training," he says.
He trains for two hours a day, three days a week. He also dedicates half an hour after each session to meditate. During meditation he focuses on envisioning where he wants to be in his craft, and the steps he should take to achieve these goals.
Britton left a word of advice to student athletes and even students studying in a foreign land by saying, "If you're doing it you have to be fully committed... just stick with it through the tough times and do not half-heart anyone or [your school and sport]."
Student Profile: Nalini Maharaj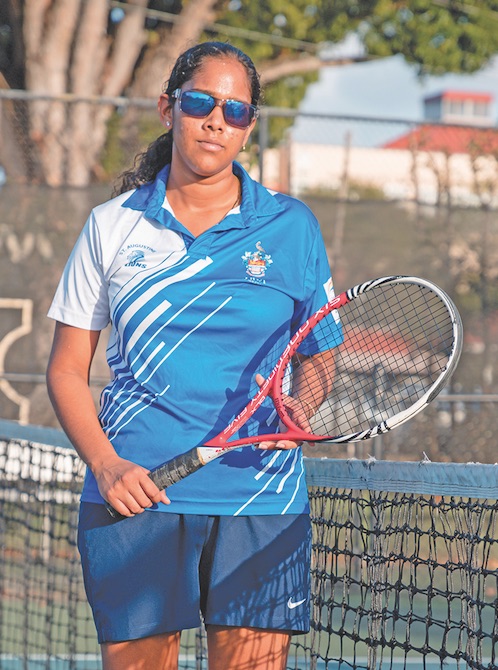 Being a student athlete is not an easy task. From training to school and vice versa, there are a lot of early mornings and late nights. According to Nalini Maharaj, "Preparation is key for this type of lifestyle. Prepare in advance and do not to procrastinate."
Speaking from her experiences as a student athlete, she says, "Looking back on if I had the option to redo it, I would work on my distractions and the preparations beforehand, so that I can do it even better."
Maharaj was always involved in sports. She started swimming from the age of four-years-old and represented St Dominic's Private Primary School, both in the pool and in cricket. However, she started her involvement in lawn tennis at the age of 11 due to her father's passion for the sport. He introduced her to the court and she never looked back. One year later, she was competing in her first official tournament, which proved to be the start of her drive towards the game.
After the under-12 competition, Maharaj moved through the different age groups, competing in the under-14, under-16 and under-19 categories. During this period, she attended Lakshmi Girls Hindu College and won a couple national titles and awards.
The 27-year old athlete from St Augustine is currently pursuing a double major in Geography and Agri-Business along with a BSc in Tourism Development and Management at UWI. While attending the university, she has represented the campus at various UWI Games, where she was crowned MVP in her discipline multiple times.
Speaking to UWI Today about the impact her training has had on her life, Maharaj says, "I am glad I was able to maintain that balance to juggle both academics and the sporting lifestyle because now I can adjust to various situations along with managing my time to a better extent. I also learned not to panic but to accept the situations at hand and prioritise the tasks to properly execute them to the best of my ability."
During her younger years, Maharaj focused on the singles format of the game, however, in time she started venturing into the doubles and mixed doubles categories. At UWI, she teamed up with her fellow student athlete Aaron Wolforde and won the Chetwynd Tennis Club Open Mix Doubles Title in 2018. During Easter 2019, the duo was also victorious in the Mixed Doubles event at the St Augustine Club Open Tennis Tournament.
Since Maharaj is in her final year and recently started working as well, she decided to select various events to compete in this year as she attempts to balance her time between school, lawn tennis and work. The 2020 Tranquility Open Tennis Tournament is the next event in which she is scheduled to display her talent.
Nickolai Madray is a final year Sports Management student at UWI St Augustine, a sport enthusiast and freelance journalist.