Sport at St Augustine: SPORT is who we are
Dr Akshai Mansingh, Dean of the Faculty of Sport, talks about The UWI's newest faculty and the need it was created to fill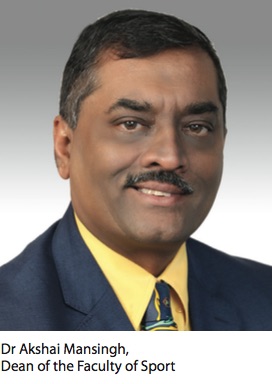 "With the establishment of the faculty, we have seen many benefits for sport," says Dr Akshai Mansingh. The faculty he is referring to is The University of the West Indies' Faculty of Sport. And he should know. Dr Mansingh, a consultant orthopaedic surgeon and sports medicine physician for elite athletes throughout the region, is the faculty's dean.
Established on August 2017, the Faculty of Sport is the newest faculty at UWI in over 40 years. Its mandate is to respond to the Caribbean's sporting needs. Its mission is to "provide high-quality education in sports with emphasis on application via research, and development of sports and athletes of the region to maintain their prominence on the world scene."
Dean Mansingh says, "The faculty has intentions to utilise data to improve sport in every aspect. The programmes are created to shape future sport scientists and sport managers to serve the region."
Cricket, football, track and field, and many others – sport is so integrated in Caribbean society that it is part of our identity. Recognising this, UWI's planners felt there was a need for a space where those involved or interested in sport can come to sharpen their skills and become certified.
While the Dean's office is based at UWI's Regional Headquarters in Jamaica, the faculty is on every campus through its Academies of Sport. Each academy has their sections devoted to sporting activities, research and outreach. The Mona Academy also has a Sports and Exercise Medicine Clinic, and the Open Campus Academy of Sport was instrumental in helping the campus host their very first University Inter-Campus Staff Games in Grenada.
Dr Mansingh, himself a UWI graduate as well as lecturer and programme director of the Masters in Sports Medicine medicine degrees at UWI Mona, says the faculty has several responsibilities to regional and local sport. First, it provides programmes of study that run the gamut from sport coaching to sport management to sport medicine. Every student can move from certificate level up to doctorate.
The faculty, through the academies, is also a resource for athletes and teams:
"Each campus has the ability to provide state-of-the- art, high-level sporting facilities to be utilised by national teams and campus teams. The ability to monetise facilities for the benefit of the campuses is an important part of our directive", says Dr Mansingh.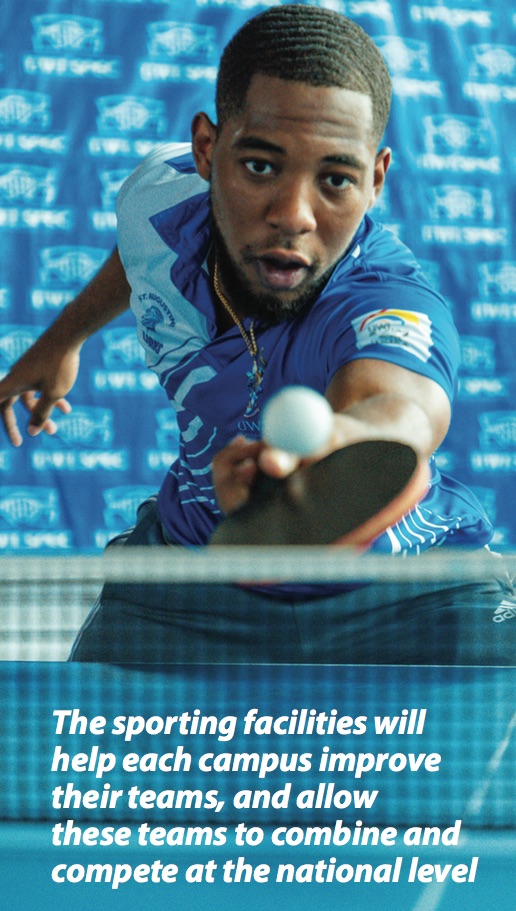 The sporting facilities will help each campus improve their teams, and allow these teams to combine and compete at the national level.
The Faculty of Sport also offers sport outreach programmes. These kinds of programmes have been shown to have a positive impact on crime prevention by using sport to encourage behaviours like ethics and fair play, and promote exercise and wellness.
Those who are interested in becoming students can access the numerous scholarships available to them. At Mona, there are about 120 scholarships, and ten scholarships and ten bursaries on the Cave Hill Campus. The faculty also reaches out to national sporting organisations to encourage their members to enrol. An education at the Faculty of Sport can enhance their skills – which will enhance their organisations.
But balancing school work and sports is not easy. Mansingh says the faculty has a "supportive structure" in place so that students can take part in lectures, coursework and exams even during competition time.
"We have decided to be open and facilitate the athletes' sport and their academic life in a way that neither area is left wanting," he says.
Mansingh, the former Chief Medical Officer of both the West Indies Cricket Board and the Caribbean Premier League, knows exactly what it takes to succeed in sport and academics. The goal for the Faculty of Sport is not just to help students balance the two, but prepare them for professional life afterwards, whether on the team or in the business of sport. And if they are prepared, then the region will be better prepared. And Caribbean sport can bloom.
---
Omega Francis is a writer, editor and blogger based in Trinidad and Tobago.