September 2013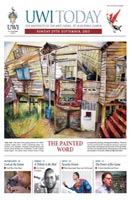 Issue Home >>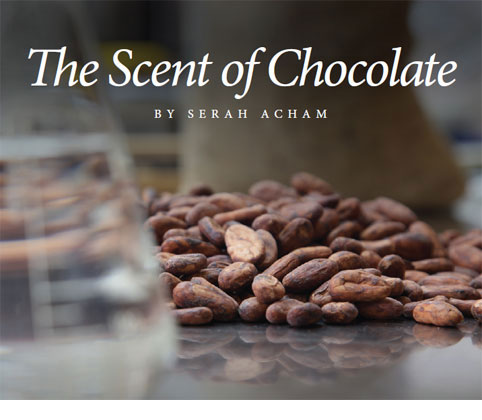 UWI has chocolate on the brain these days as the folks at the Cocoa Research Centre (CRC) prepare for their third annual World Cocoa and Chocolate Day (WCCD) celebrations, set to take place on October 1. Introduced to the world by the International Cocoa Organisation (ICCO), the occasion was designed to recognise the efforts of the small farmers worldwide who cultivate the cocoa that becomes chocolate. The CRC, custodians of the International Cocoa Genebank, Trinidad (one of the largest collections of cocoa germplasm in the world), wanted to especially honour farmers from Trinidad and Tobago: men and women who nurture the revered Trinitario cocoa bean, born and bred in our soil and in very high demand from places like France and Switzerland, known for their brands of fine or flavour chocolate.
The CRC also wishes to raise public awareness about the plight of small cocoa farmers who work so hard but struggle to make an adequate living because the cocoa industry in Trinidad is very small-scale. Farmers also deal with issues of "low acreage and low productivity" says Head of the CRC, Professor Pathmanathan Umaharan. Therefore, their profitability "is very low and farmers are migrating out of the cocoa industry." But, he continues, there are ways to combat this, including better management practices and niche marketing.
The CRC is inviting the public to visit the UWI's JFK on October 1st, and join in their celebrations, where they will not only spend a day surrounded by the sights and scent of chocolate, but learn about the industry and the world renowned Trinitario cocoa bean. The day will take the form of an exhibition, where visitors can go from booth to booth, sampling pieces of fine or flavour chocolate, chocolate ice cream and Mexican hot chocolate. They can also purchase chocolate bars, bon bons, truffles and drinking chocolates from Trinidad's famous chocolatiers, including Isabel Brash's Cocobel and Gina Hardy's Gina's Truffles. There will also be other cocoa products on sale, such as cocoa butter soaps, drinks made from the pulp of the cocoa pod, craft items fashioned out of the husks and neutraceuticals (health items) made from cocoa. Visitors will also have the opportunity to meet Trinidad and Tobago's top innovators in cocoa; learn about cocoa, the industry and the work of the CRC; and sign up for cocoa tasting and cocoa making classes. Other highlights of the day include games and competitions for adults and children, including a cocoa pod balancing race, 'guess the number of cocoa beans in the jar' and Jeopardy featuring cocoa based questions. For the chefs and food connoisseurs, there is the 'Innovations in Chocolate Food and Beverage Challenge' which invites members of the public who have a real 'sweet-hand' to create a dish using chocolate as one of its base ingredients.
The day's events begin at 10am and end at 6pm, and members of the public are invited to attend at no charge.