Matura Environmentally Sensitive Area
About MESA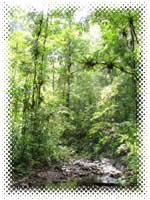 The Matura Environmentally Sensitive Area (MESA) is a state-owned parcel of land situated in the north-east of Trinidad. The Environmental Management Authority's (EMA) Environmentally Sensitive Areas Rules (2001) requires that the habitat of an Environmentally Sensitive Species (a species which is typically unique; requires a specific suite of resources or whose habitat secures a narrow range of characteristics and parameters for the organism) be designated an Environmentally Sensitive Area (ESA). Some of these Environmentally Sensitive Species (ESS), e.g. the endemic, Critically Endangered, biome-restricted Trinidad Piping-Guan (Pipile pipile) and the Ocelot (Leopardus pardalis), inhabit the Matura ESA, and are among the flagship fauna that augments the allure of the area. As of 2011, we now have the Trinidad Motmot (Momotus bahamensis) designated as an endemic. The orchid Oncidium citrinum occurs in the ESA, whose entire Genus is declared as Vulnerable. A new species of the Annonaceae family, related to the Soursop, was also found and lodged with the National Herbarium (photo-click here). Matura National Park also conserves the natural and scenic beauty of streams, waterfalls and rugged mountains. At the boundaries, the landscape features declining slopes which reach down into the rural villages. Networks of small streams in the northern part of the site flow into the larger Grande Riviere and Shark rivers. To the south, the tributaries flow into the Salybia and Matura rivers.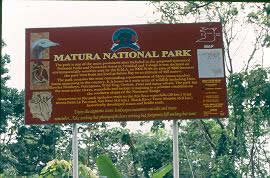 The entire site is mountainous; ranges are a continuation of the coastal cordillera of Venezuela running east-west, and steep slopes reaching up to 580m. The three E-W oriented ridges are the St. David-Zagaya, the Main Ridge and the Rio Seco Ridge, and from these there are N-S spurs. The vegetation ranges from herbaceous layers up to one metre to large canopy species reaching 40m in height. There is an estimated 2975 ha of forest (CFCA 1998). This is described by Beard (1944) as Evergreen Seasonal (Crapaud-Debasse association) Forest, Lower Montane and Montane (Serrette–Bois Gris association) Rain Forest. Much of the southern slopes of the Park is comprised of Mora forest (Mora exselsa), evergreen seasonal forest species and some secondary forest. To the north, species in the Myrtaceae family are dominant, and much secondary growth exists at lower elevations. The ESA has not experienced intensive logging, however approximately 300ha were estimated to be disturbed to the southern (Salybia) end. About 10% of the area is inhabited or farmed (Van den Eynden 2006). The proximity of the ESA to local villages, and perhaps the isolation of the area, makes the outskirts a subsistence hunting site for many villagers. Its biodiversity is under threat from over-hunting, poaching, squatting, river pollution and littering. This project studies the biodiversity of Matura Environmentally Sensitive Area as well as how the forest and its resources are used by local and visiting people. This will provide scientific data needed to effectively manage and monitor the Matura ESA and its biodiversity.