Barney Pacheco (Dr.)
Lecturer in Marketing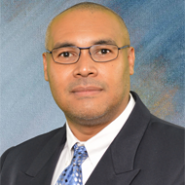 Department of Management Studies
Room #212
The University of the West Indies
St. Augustine Campus, St. Augustine
Trinidad and Tobago
Telephone: 1(868) 662-2002 Ext.83300

Fax:
1(868) 662-1140

Email: barney.pacheco@sta.uwi.edu
Dr. Barney Pacheco is a Marketing Lecturer in the Dept. of Management Studies, UWI, St. Augustine. His academic qualifications include an M.Sc. (Administration) from Concordia University and a Ph.D (Marketing) from the University of Colorado, Boulder. His research interests are in the areas of Consumer Psychology, Decision Making and Strategic Brand Management. Barney has extensive experience in consumer behaviour research and has provided consulting services to both Caribbean and Fortune 500 companies in the healthcare, financial and manufacturing sectors using a variety of advanced analytical tools in projects involving brand equity measurement, product awareness and usage tracking, customer satisfaction monitoring and market share analysis. Over the past decade, Barney has also been engaged in delivering executive development programs for leading private sector corporations and governmental organizations in areas such as market planning, strategic pricing and advertising. His research on such topics as country-of-origin effects, SME internationalization strategies and memory and brand judgments have been published in professional peer-reviewed journals and presented at leading regional and international marketing conferences. When not working, he spends time listening to music, enjoying good food and agonizing over the West Indies cricket team.
Qualification
B.Sc. UWI, M.Sc. Concordia University, Ph.D. The University of Colorado, Boulder
Research Interests
Strategic Brand Management with a specific interest in the influence of memory on consumer decision making and choice patterns.
Other interests include consumer understanding and response to market communications and information processing in a dynamic context.