Incoming International Students
The University of the West Indies offers several programmes covering a variety of disciplines which are eligible for international student exchanges.
If your institution has a formal exchange agreement with UWI (see the list of our current exchange partners here). You may be eligible to study here for up to two semesters as an exchange student.
Exchange students are generally required to pay tuition fees at their home institution (and tuition is then waived at the UWI). You will be responsible for all local expenses and fees such as housing, travel, books, meals and personal expenses.
As the COVID-19 pandemic continues to present unique challenges, The University of the West Indies, St Augustine took a proactive approach to improve their mobility service by developing a virtual exchange platform that will counteract challenges and restrictions met by students. This platform known globally as " The UWI Virtual Exchange Programme (UWI-VEP)" will create a space for collaboration that allows for faculty and students to participate in virtual knowledge transfer and enhanced teaching methods across domestic borders and campuses, while gaining inter-cultural exposure. Students will be able to access online courses and will be allowed to sit examinations and have credits transferred depending on the options selected.
Please see below exchange requirements and application process: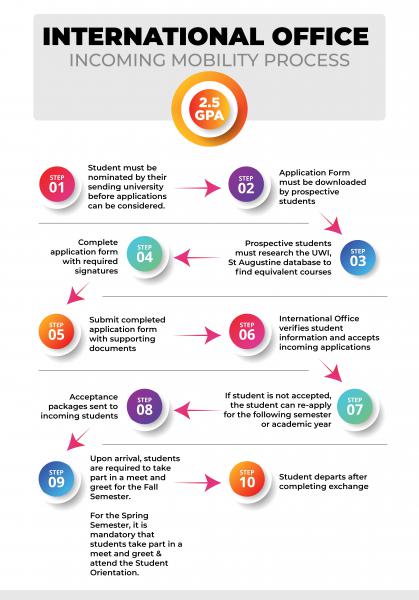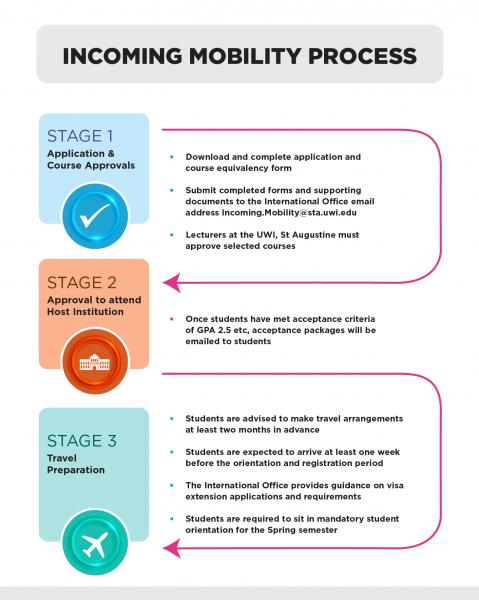 Visitor Links/Info: Go Trinidad and Tobago   Tourism Development Company Ltd
Exchange/Study Abroad Students
If you are a university student who would like to study at UWI for a semester or two on exchange, please click here . Information on fees/costs can be found in the Undergraduate Financial Information Booklet (please note that tuition is waived for exchange students paying tuition at their home institution).
For details on on-campus accommodation please click here.
To access our Student Application Form please click here.
Full-time International Students
If you are interested in completing an entire degree programme at the University of the West Indies, please visit our Undergraduate or Graduate websites for further details on available programmes, application procedures and deadlines.
English as a Foreign Language (EFL) Students
The University of the West Indies Center for Language Learning offers comprehensive courses in English as a Foreign Language at Elementary, Lower Intermediate, Intermediate, Upper Intermediate and Advanced levels. This programme is coordinated by the Centre for Language Learning. For further information, please send your queries to: EnglishAsA.ForeignLanguage@sta.uwi.edu
Applicants whose first language is not English are required to perform satisfactorily in an approved English Language Test, such as the Test of English as a Foreign Language (TOEFL) or IELTS. A mark of 500 in the TOEFL is accepted as equivalent to, and in place of, an acceptable CXC pass in English A. For more information please click here.
Medical Elective Students
Our Faculty of Medical Sciences offers electives in various disciplines including dentistry, paediatrics, general surgery and veterinary medicine. If you would like to undertake an elective at UWI please click here.
Specially Admitted and Occasional Students
(Specially admitted Students):
Taking less than a full load of classes but attending these classes, taking exams, receiving grades and a transcript.
(Occasional Students):
Attending classes but for no exams, grades or transcripts (similar to 'auditing' a class in the US system).
We have various categories of students and you will need to determine which you fall into before we can guide you on the admission process.
Study Tours
The International Office offers customized study tours for groups of students and faculty that are interested in spending time at our institution. The International Office will work with the incoming group to plan a customized itinerary specific to your needs which can include: airport transfers, orientations, classes/seminars/workshops (existing or customized), field trips, ground transportation, accommodation and in some cases airfare (e.g. Tobago).
Summer Institutes
Summer Institutes are short programmes offered in specialized areas of expertise by various Units at the UWI, St. Augustine Campus. Some examples are:
Caribbean International Relations
Caribbean History
Music
Steel Pan / Carnival Studies
Drama and Dance
Interested persons should contact the International Office for further information @ 1-(868)-224 3707/8 or 662-2002 Ext 84184 or via email at internationaloffice@sta.uwi.edu