The Campus Registrar is the campus' Chief Administrative Officer. Under his/her leadership the Registrar's Office has oversight for:
Student Affairs
Records and Archives
Human Resource Management
General Administration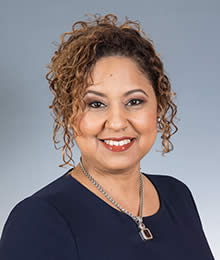 The St. Augustine Campus is pleased to announce Dr Dawn-Marie De Four-Gill, former Deputy Campus Registrar (Ag.) was appointed Campus Registrar, effective June 10, 2019. From August 1, 2018 to June 9, 2019 she served as Deputy Campus Registrar (Ag.).
Dr De Four-Gill succeeds Mr. David Moses and Mrs. Deborah Charles-Smythe, who both held the portfolio of Campus Registrar (Ag.) over the past year. The Campus Executive Management Team recognises and thanks them for their contributions.
Dr De Four-Gill has 20 years' experience in the Higher Education sector. She has held leadership positions at both the campus and regional level at The University of the West Indies. Her recent appointments at the regional level included Director of One-UWI Strategy and University Director of Marketing and Communications. At the St. Augustine Campus, she led the Marketing and Communications function for 16 years. She is the founding member of the Public Relations and Marketing Steering Committee of the Association of Commonwealth Universities, UK.
Her academic achievements include a Doctor of Education (Ed.D) in Higher Education Management from the University of Pennsylvania, an MBA (Marketing) from CASS Business School, City University London, and a BSc Management Studies (First Class Honours) from The UWI St. Augustine. She is also a former Chevening Scholar.
Dr De Four-Gill holds memberships in numerous local, regional and international professional bodies. Under her leadership the Marketing and Communications Department won several prestigious international awards for work in Marketing and Communication in Higher Education.
Contact information:
Office of the Campus Registrar
First Floor, Main Administration Building
The University of the West Indies
St. Augustine Campus
Tel: (868) 662-2002 Ext. 82000/82001
Direct Line: (868) 224-3700
Fax: (868) 645-3275