---

The Alma Jordan Library at UWI hosted the exhibition of renowned artist and UWI Honorary Graduand, Donald "Jackie" Hinkson, from 10th October to the 7th November. The exhibit featured drawings of buildings across the Campus and country in the artist's distinctive style. It was part of an expansive retrospective which featured Hinkson's watercolours, drawings and sculpture at the National Museum and at select galleries across T&T.
Hinkson has had a life-long preoccupation with capturing the unique landscape, architecture and culture of Trinidad and Tobago and the Caribbean. Over the past five decades he has been unrelenting in his drive to, not just document, but interpret the changing landscape of these islands.
A prolific painter and draughtsman who has produced thousands of oils, watercolours and drawings, Hinkson's talent was apparent from an early age. Born in Corbeaux Town, Port of Spain, Trinidad, in 1942, into a closeknit family of four boys and two girls, he was introduced to the complexities of Trinidad society as a young boy. His parents came from different backgrounds. His father, A. Lennox Hinkson, was a Travelling Officer with the Colonial Government, who grewup, for the most part, in the rural Brasso/Caparo area, while his mother, Jeanette (nee Bain), came from a large family of urban professionals living in the capital of Port of Spain. The family home was a large, aging, gabled, colonial house on Richmond Street and a popular "liming" spot for his friends from the Richmond Street Boys Primary School. At a time when Trinidadian middle and upperincome society had strict, unwritten rules on divisions according to class, colour and religious affiliation, the Hinkson household could be described as quite a liberal, welcoming space.
"I grew up in one of those porticoed, jalousied houses, aware of this vernacular style which was disappearing and that there was a need to chronicle it," Hinkson explained in October, during an Artist's Talk at the Soft Box Gallery in Port of Spain.
And we can only be thankful that he has done so, as our architectural heritage seems to be disappearing before our eyes: including the historic not-so-"Magnificent Seven" buildings that are almost disintegrating with each breeze that crosses the Queen's Park Savannah and the President's House, still without a roof, leading some of us to surmise that as a people, we have little care for preserving our past.
Although it is not a priority in the drawing process, one cannot help but make reference to certain germane statements or tropes, which seem to echo throughout the pieces. Through effective working of light against dark, references to the sacred vs the profane, socio-economic rural-tourban disparities, colonial plantation architecture vs post-modern urban sprawl, are apparent in his sketches, as well as in the larger works, such as 'The Christ in Trinidad' oil on board series and the Queen's Hall Mural. Hinkson contends that he gives little thought to the meaning of the images, to the symbolism, but there are facets of his biography that may have informed these dichotomies.
Like any "artist" worthy of the title, drawing is the foundation of Hinskon's work – it is what makes, not only the architectural pieces, but also his figurative drawings and landscape plein air paintings so powerfully moving.
"Drawing became the dominant medium in my work, eclipsing painting. I was comforted by the fact, that in the history of Western Art, so many great painters were prolific draughtsmen and, in some cases, drawing dominates their oeuvre," he explained in an Artist's Statement for the Soft Box catalogue '5 Decades of Paintings'. "Since that introduction, I have produced thousands of drawings. For decades my sketch pad accompanied me wherever I went".
Thankfully, we are able to better view and understand our history and urselves through these works of art.
Anna Walcott-Hardy
---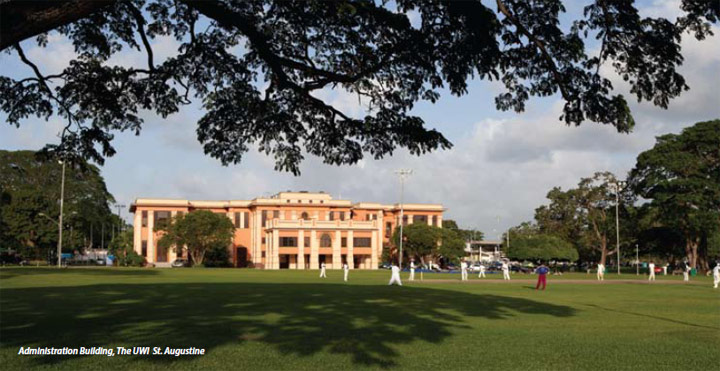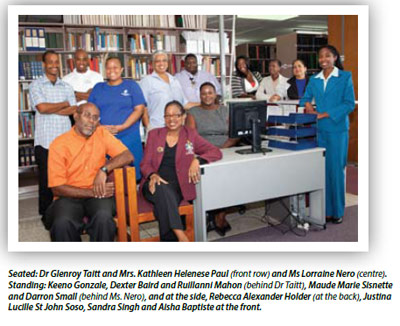 Dr. Glenroy Taitt, UWI Librarian in charge of the West Indiana and Special Collections (WISC) section of the UWI Alma Jordan Library, has always understood the importance of documenting the past. An avid admirer of the collection of archival photographs UWI has acquired over the decades, he decided to commission a project of photographing the modern-day Campus, according to international archival standards in a holistic, timely, cost-effective manner.
This need for documenting contemporary Campus life was underscored when he assisted Professor Bridget Brereton while she was selecting images for a book on the history of the UWI St Augustine. They looked at hundreds of images before making a short list.
"What struck me," Dr. Taitt explained recently, "is that we are very good on early photographs, documenting the days of the Imperial College of Tropical Agriculture [the forerunner to UWI] – but not so good at contemporary ones. I thought it would be a good idea to take pictures of the diverse scenes of the Campus…images we can use when we commemorate our 75th and 100th anniversaries."
After the tendering process, award winning photographer, Abigail Hadeed was selected and commissioned for the "UWI St Augustine Fiftieth Anniversary Commemorative Photography Collection". A list of scenes with detailed instructions to ensure "archival permanence" was provided. Just over a year later, the project was completed. The resulting 75 colour and 70 black and white photographs, (along with negatives, proof sheets and a photographer's log book) depict the architecture, greenery, research, teaching and recreational life at the Campus in Hadeed's winning, vanguard style.
The digtal colour prints which are reproduced on cold pressed, textured paper, are almost as fluid as watercolour paintings, beautifully crafted, they give the viewer an intimate look into the classrooms, laboratories, kitchens, student recreation centres and even work stations at UWI, as well as capture unique perspectives of the colonial and post-modern architecture of the Campus. You will have an opportunity to see the work first hand in an upcoming exhibition of this invaluable collection in 2013.

Anna Walcott-Hardy