We're proud to celebrate the tenth anniversary of the revamped UWI St. Augustine News (STAN). The magazine was first edited by Campus Communications Coordinator, Mr. Robert Henry, over two decades ago. Back then, the Campus newspaper was a highly informative, black and white (with spot colour blue) gazette. Over the years, the publication has become an award-winning, flagship magazine which is produced by the Marketing and Communications department. Its pages have documented the struggles, ingenuity and milestones of our staff, students and St. Augustine community.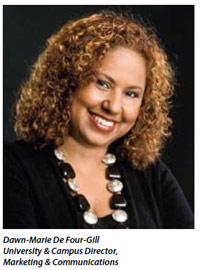 The transition from newspaper to magazine came at a time when the Campus community was expanding and so were the programmes, outreach activities and research initiatives. There was a need to enhance the reach and scope of the publication and include stakeholders, from our staff and students, to the corporate community and UWI alumni, who wanted more frequent, extensive communication with The University.
Undeniably, the magazine would not have thrived without the support of a multitude of individuals and groups, including the UWI STAN academic and administrative correspondents, then Campus Registrar, Mr. William Iton, Campus Principals, Dr. Bhoendradatt Tewarie, Prof. Bridget Brereton and Prof. Clement Sankat and, of course, the Marketing and Communications Director, Mrs. Dawn-Marie De Four-Gill. The Marketing and Communications team also needs to be thanked for its commitment and hard-work, with special thanks to Mrs. Marion Almandoz Khan, Ms. Christine Brown, Ms. Zennille Swann, Mrs Anisa Persad-Bajnath, Mr. Johann Bennett, Mr. Aneel Karim, Mr. Joseph Drayton and Ms. Serah Acham.
Our dedicated corporate advertisers have stayed with us over the years and we greatly appreciate their commitment. We wish to thank: bpTT, CIC Brokers, Colfire, Courts (Trinidad and Tobago), First Citizens, Guardian Life of the Caribbean, National Gas Company (NGC) of Trinidad and Tobago Limited, Optometrists Today, RBC/RBTT, Republic Bank, Scotiabank, Southern Sales Car Rentals, Toyota and the Unit Trust Corporation (UTC).
During the early years, when resources were limited and deadlines unforgiving, the late Professor Rex Nettleford walked into the Marketing and Communications Office, taking time from his hectic schedule to congratulate us and share that he "collected every issue" of UWI STAN. In fact, he was so pleased with the latest issue, that he recalled that he had thrown a copy on a colleague's desk and said with his customary aplomb, "take that". This advice and the constant support of the then Vice Chancellor and the ongoing support of the current Chancellor, Sir George Alleyne, Vice Chancellor, Professor E. Nigel Harris, and of course, Campus Principal, Professor Sankat, has inspired our team to ensure we deliver a quality magazine. In closing, I would like to thank my family for their astute advice and kind words that came with every issue. To our readers, thank you for helping us to achieve this milestone and keep sharing your thoughts with us.

Enjoy!
Anna Walcott Hardy
Editor