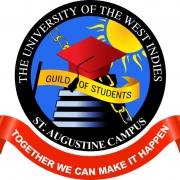 All students enrolled in courses at UWI are automatically members of the Guild of Students.  
ABOUT THE GUILD COUNCIL
 Students are elected toward the end of each academic year by the rest of the student body to serve on the Guild Council. This council comprises of an executive, hall chairpersons, faculty representatives and special committee chairpersons, such as national and international affairs, student activities, post-graduate and part time and evening committees.
Enrolled students all pay Guild Fees that in turn funds the student council put in place for them. This Guild Council therefore represents the interest and welfare of the student population, helping their transition into campus life, encouraging integration among students and forming a bridge between students and administration.
The Guild of Students also plans many activities throughout the year geared toward promoting student integration and keeping campus spirit alive. These include inter-faculty Games, Orientation Guild Fest, Campus Carnival, Town Hall meetings, Caribbean Integration Week, Faculty weeks, the annual Miss UWIverse pageant, as well as UWI Style fashion show. 
The Guild of Students not only represents the student body, but also is actively involved in the decision making of the University. Members of this council sit on various University planning, finance and academic committees. Guild councillors, particularly the executive, are also involved in various regional meetings and seminars, such as the Inter Campus General Council. 
UWI STA Guild (@uwistaguild) | Twitter
The latest Tweets from UWI STA Guild (@uwistaguild). The Official twitter account of the Guild of students of the University of the West Indies, St. Augustine Campus #IamUWI #WEareOne #ONE #PelicanPride. Trinidad & Tobago
Tel: ( 868) 662-2002 ext. 2250, 2160
Fax: (868) 662-1542
Email at guildofstudents@my.uwi.edu
Or email the guild president directly at guildpresident@my.uwi.edu or any of councillors at *theirguildposition*@my.uwi.edu
FOLLOW THE GUILD 
Follow the Guild of students for updates, news and much more on all your favourite social media platforms