Highlights & Activities over the years
A Brighter Futire for Paediatric Oncology
The WENDY FITZ-WILLIAMS Children's Hospital at the Eric Williams Medical Sciences Complex is the national centre for treating children with cancers.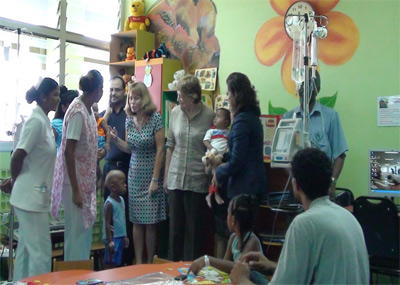 A needs assessment of the paediatric oncology services was conducted during the visit of the SickKids Team. The assessment was part of an evidenced-based approach to identify the gaps, challenges and needs in paediatric oncology service delivery at the facility. The results of the assessment will assist in determining the present and future requirements for the provision of a comprehensive, efficient and sustainable paediatric oncology services in Trinidad & Tobago.
Information was solicited from:
health care providers from various specialties involved in the delivery of paediatric oncology services both within and external to the services at the Children's Hospital
members of non-governmental and private organisations involved in the care and support of these services (enablers) and
users of the services (parents).
This information was related to:

the services and resources available and accessible to current providers, enablers and users of paediatric oncology services at the EWMSC
the challenges associated with providing, enabling and accessing a better quality of diagnosis, treatment, care and support the priority needs of these providers, enablers and users

  
Preliminary and summary findings:
Clinical/Medical Departments: The human resource, infrastructural support of services (including laboratory) and data management needs are some of the key challenges that must be overcome for the improvement of the paediatric oncology service.
User Perceptions: Medical needs of patients were perceived to be generally well met, but there was a gap in addressing the psychosocial, physical and educational needs of parents. Issues of concern included inadequate clinic appointment system, inadequate number of patient care assistants on the ward for very young patients and the admission of non-oncology patients on the oncology Specialty Unit. Apart from their child's illness, fear of job and income loss was a major stressor in parents.
This needs assessment report will be submitted to the relevant Health Authorities for their action on the recommendations made.