Highlights & Activities over the years
Oncology Visit from SickKids Hospital, Canada
The UWI Telehealth Programme in collaboration with The Trinidad & Tobago Health Training Centre hosted four paediatric oncology specialists from Sick Kids Hospital, Toronto, Canada, from 12th -16th October, 2009.




The Team from the left: Dr. Shelia Weitzman, Director, Clinical Services Haematology/Oncology Dr. Mohamed Abdelhaleem, Head Haematopathology, Director of Molecular Haematopathology Ms. Kamla Sharma, Director of the International Patient Programme Ms. Judy Van Clieaf, Oncology RN
This visit facilitated:
An awareness of Childhood Cancers in Trinidad and Tobago
Training of medical personnel in the clinical management of children with cancer
Training of laboratory personnel (cytologist and pathologist) in the use of modern techniques in the diagnosis of cancer in children
Promotion of UWI Telehealth vThe conduct of a needs assessment of the paediatric oncology services at the EWMSC
The visitors participated in clinical consultations with doctors and nurses, training and lecture sessions with laboratory staff and in a needs assessment for both clinical and laboratory services at the Eric Williams Medical Sciences Complex (EWMSC). This needs assessment will identify gaps and chart the future development of the services for the management of the cancers in children. With improvement in the laboratory services, there will also be a spin off for cancer diagnosis in all ages of patients.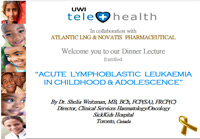 To share the expertise of our visitors, a dinner lecture was held at the Carlton Savannah Hotel at which Dr. Shelia Weitzman was the main speaker. A wide range of physicians working in the field of Oncology, both public and private, attended. They were very impressed and motivated by the information received.
Thirteen (13) post graduate medical doctors, twenty(20) junior doctors, fifty (50) medical students and (20) laboratory staff and technicians were exposed to training. To further raise the awareness of childhood cancers and the functions of the UWI Telehealth Programme, guest appearances were made on CNC3 "Early Edition" (Thursday 15th Oct. 2009) and Channel 6C "First Stop" (Friday 16th Oct. 2009). Both interviews were very informative and there was good feedback from the public.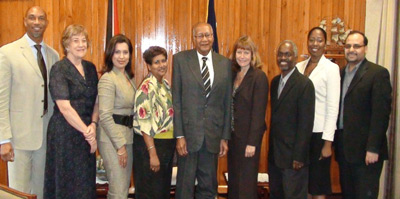 The visiting team together with the local organizers, paid a courtesy call on Thursday 15th Oct. 2009 to His Excellency, Professor George Maxwell Richards