Highlights & Activities over the years
Reaching out to Special Needs (2011)
The UWI Telehealth Programme continued to be a vital link between professionals and the community and provided consultation services for twelve (12) children with disordered development. During the period Sept. 28th -30th 2011, the Programme hosted Professor Jeffrey Brosco, Professor of Clinical Paediatrics (Clinical Educator Track), University of Miami Miller School of Medicine.
The objectives of Professor Brosco's visit were to:
facilitate an awareness of disordered development in Trinidad and Tobago
train health care providers in the identification of young

persons with the spectrum of disordered development
facilitate a public meeting with parents of children with

autism and other developmental problems, teachers and other stakeholders who care for these children
facilitate two (2) public lectures on "Understanding Autism: The Strength of Family-Professional Partnerships", "Ethical

Issues in Developmental – Behavioural Paediatrics-Learning from Families."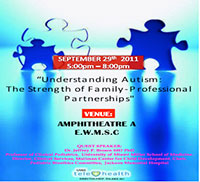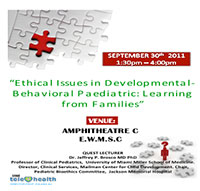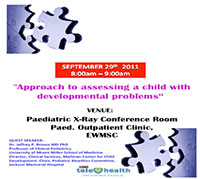 Success Stories
The following activities made a positive impact on the beneficiaries of the programme:
Oncology consultations of 10 in-patients of the EWMSC with Dr. Curt Bodkyn via Skype on June 2nd 2011.

Video consultation with four patients. These were four distinct and interesting cases that raised numerous questions for our visiting specialist and local doctors. Parents got an opportunity to share their day to day life experiences caring for their children and to gain insights into redefining refining their diagnoses and planning for future management.

Public Lecture/ Town-hall meeting with parents and other stakeholders. This session was interactive and well received by the participants. It generated proactive ideas which, if followed up would be useful for the future well being of persons with disabilities.

Lecture session. This session was attended by paediatricians, postgraduate students and clinical psychologists. Forty individuals attended this dinner event which took the form of a reminder/ introduction to the UWI Telehealth Programme followed by discussions of case studies. The cases were relevant to the local situation and generated a lot of discussion.

Morning "Grand Rounds" was well attended and stimulated an interesting debate on who really control the practice of medicine- government, doctors or multinationals.