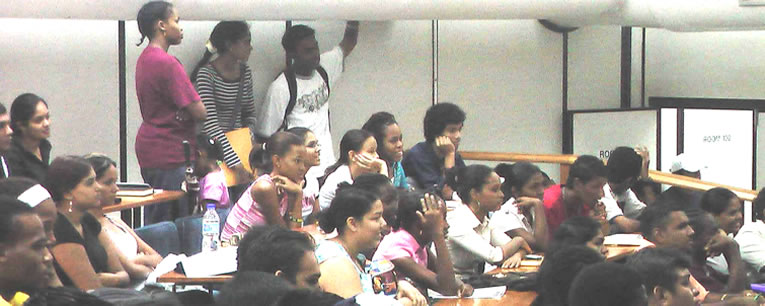 Outreach Centre
Alumni
Alumni Feedback Form
One of our goals is to keep track of what our alumni have done and are currently doing since graduating from the Faculty of Engineering. To help us achieve this goal, we would like you to complete our alumni feedback form.
Alumni Skills Upgrade
Our Engineering Institute offers a variety of courses and programmes that will assist you in upgrading your skills.
Faculty Publications
The Faculty publishes The West Indian Journal of Engineering (WIJE). Enjoy access to our free scholarly articles now.
How Can You Contribute?
Internships
One of the most tangible ways you can contribute is through your organization's participation in our Internship Programme. This programme aids in the professional development of our young engineers and is usually run during the period June to August each year. Please complete the Employer Evaluation Form (if you are in a position to recruit interns) or have your employers complete the form. A printable version is also available .
Student Seminars
One of the aims of the Outreach Office is to engage the services of the engineering alumni to aid in the professional development of our students. Successful seminars were already conducted earlier in the year, which were very well received by students.
If you would like to contribute in this regard, and you have the necessary practical experience in areas listed below, please feel free to contact Mrs. Marlene Fletcher-Cockburn at the Outreach Office.
Soft Skills
Career Development
Financial Management
Project Management
Leadership and teamwork
The role and function of an engineer
Community Service
If your area of expertise is not listed, still contact the Outreach Office to discuss how you can assist. Your contributions are invaluable.