Undergraduate Programmes
Welcome to the Department of Chemistry Undergraduate Programmes.
The Undergraduate programmes are internationally acknowledged. These programmes are taught in world-class facilities by leading lecturers in their field. We hope to outdo your expectations. But before you join us, take a look at the variety of programmes we offer.
NB: Additional information available in the Faculty of Science and Technology Undergraduate Booklet.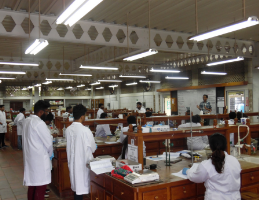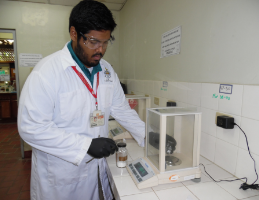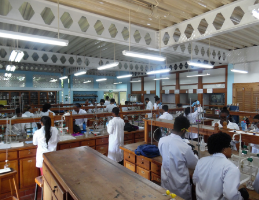 QUALIFICATIONS FOR ADMISSION INTO THE FACULTY
In order to be admitted to the three-year degree programme, candidates must satisfy the University requirements for Matriculation (see the University Regulations for Undergraduate Students) and have passed the CSEC General Proficiency Level examination at Grades I, II or, since 1998, Grade III (or equivalent qualifications) in Mathematics, English Language and three additional subjects listed in the Faculty's Undergraduate Regulations and Syllabuses.
Candidates must also:
        (a)   have obtained passes in a minimum of two two-unit subjects at CAPE (or GCE A-Level or equivalent qualification), OR
        (b)   have an approved Associate Degree or equivalent certification with a minimum GPA of 2.5 in a relevant programme from a tertiary level institution recognised by UWI, OR
        (c)   have any other appropriate qualifications acceptable to the FST.
In addition to the above general qualifications for admission, candidates must also satisfy the specific subject requirements for entry into the various programmes in the Faculty of Science & Technology (FST) they wish to pursue.   See Chemistry's requirements below:
PROGRAMME

CAPE SUBJECT(S) (GCE A-LEVEL OR EQUIVALENT) REQUIREMENT

BSc with majors in

Chemistry

Two (2) subjects including Chemistry

Industrial Chemistry

Two (2) subjects including Chemistry

BSc Special Options

BSc Chemistry

Two (2) subjects including Chemistry

BSc Chemistry and Management

Two (2) subjects including Chemistry – (Minimum Average Grade III or equivalent)