Facilities at SPEC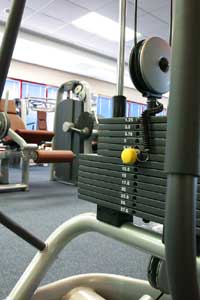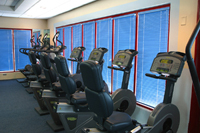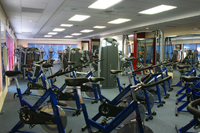 Fitness Centre | Seminar Concert Hall | Indoor/Outdoor Court
| Conference Room | Sir Frank Worrell Field
Rental:
If you are interested in renting our facilities, please fill out the respective form and return/fax to the UWI SPEC 645-9239
Internal (UWI Staff and Students) Facilities Rental Form | External Users Facilities Rental Form
Fitness Centre:
Our fitness centre gives you the opportunity to improve your personal fitness level from a wide range of exercise apparatus.
24 spinn bikes
4 treadmills
3 Step 600XT Pro machines
3 stationary bikes
3 Glidex machines
1 abdominal machine
1 abductor machine
1 adductor machine
1 leg press
1 gluteus machine
1 back machine
1 bench press machine
1 incline press machine
1 calve machine
1 leg extension machine
1 Ercolina
1 shoulder press


Opening hours - Monday to Friday – 6:00am -10:00pm You are allowed three (3) 1 hour sessions of weight training per week
You must bring your hand towel, UWI ID card and Gym Card at each visit
ALL bags must be placed in a locker - There are approximately 220 lockers available for use only by client of the gym at the time they are using it. While a locker system is operational, the lockers cannot hold very large bags. People who intend to use the lockers will need to bring the bare essentials.
Only UWI students and staff are permitted to use the Fitness Centre.
The following fees apply:
ATSS pay $600 a year
Academic Staff pay $1200 a year
Students pay $100 per Semester
All payments are made through the bursary who also issue the gym passes.
Seminar Concert Hall (top)
Graduations, Exhibitions, Seminars, Workshops
Large fully air-conditioned auditorium capable of seating 2100
Includes:
44x28 stage
Chairs for 800 – floor
Seating for 1300 – stands
P.A. System
Lectern
Compliment of 15 ushers
For events in excess of 300 people private Security arrangements must be made with UWI Campus Police.

Indoor / Outdoor Court (top)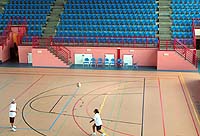 Multidisciplinary Court (REGUPOL flooring) with markings for:
Basketball
Badminton
Futsal
Indoor hockey
Netball
Volleyball
Table Tennis
Indoor facility is fully air-conditioned and seats 1360 in the stands and includes
Score board
PA System
Official's Table with chairs
Fittings for various disciplines
Manual Scoreboard provided for outdoor activities
Click here for rules and regulations on the Indoor Courts
Conference / Meeting Room (top)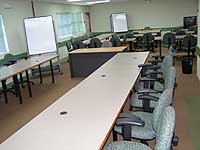 Exams / Meetings / Classes / Seminars
2 rooms - each seating 30 persons with tables
Divide is removable to create a larger room
Includes:

Tables
Chairs
White boards
Lectern
Sir Frank Worrell Field (top)
Large well manicured field outfitted for:
Cricket
Rugby
Football
Hockey
Track & Field
Windball Cricket
Sport & Family Day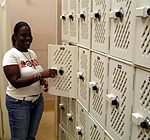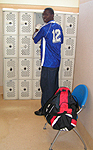 Additional facilities & services include:
A concessionaire's area
2 Ticket booths
Two massage rooms
Male and female locker rooms on either side
An officials' room
Television
Video
Multimedia Projector with Screen
Overhead Projector with Screen
Stage
Massage Therapy Services
First Aid Services