Events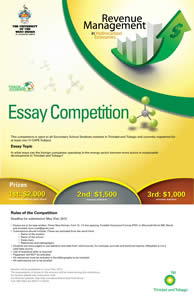 Revenue Management in Small Highly Open Hydrocarbon Rich exporting Economies - Essay Competition
This competition is open to all Secondary School Students resident in Trinidad and Tobago and are currently registered for at least one (1) CAPE Subject.
Essay Topics
Each competing student is required to write an essay of between 1200 and 2000 words on:
In what ways can the foreign companies operating in the energy sector become more active in sustainable development in Trinidad and Tobago?
Prizes:
First Prize: $2000 (individual) plus challenge trophy (School)
Second Prize: $1500 and trophy (individual)
Third Prize: $1000 and trophy (individual)
Results will be published on June 15th 2012.
The presentation of prizes to the winners will be made during the conference
Rules for Essay Competition:
Essays are to be 1200 – 2000 words, type written, Times New Roman Font 12, 1.5 line spacing, Portable Document Format (PDF)
Deadline for submissions: May 31st 2012
Submissions should include: (These are excluded from the word limit)

Name of the student
Name of the school
Essay topic
References and Bibliography

Students can only submit one essay per topic, any student submitting more than one essay per topic will be disqualified from that topic.
Students are encouraged to use of statistics and data from valid sources, for example, journals and technical reports. Wikipedia is not a valid data source.
Use of Analytical Skills required
Plagiarism will NOT be tolerated
All references must be included in the bibliography
All submissions are to be emailed to corm.mail@gmail.com.