Discover Brazil 2013
Destination cities: São Paulo, Rio de Janeiro, Brasilia, Bahia-Salvador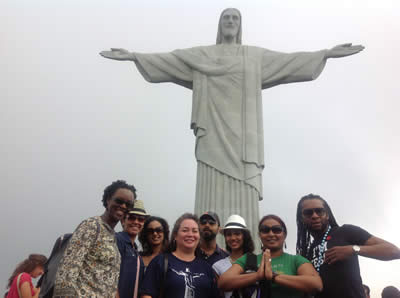 São Paulo
São Paulo is the largest city in Brazil, the southern hemisphere and the Americas, named for Saint Paul of Tarsus. The city has the second largest economy, among Latin American and Brazilian cities. The São Paulo metropolitan area exerts significant influence in commerce, politics, finance, arts and entertainment both nationally and regionally.
Rio de Janeiro
Rio de Janeiro is the most visited city in the Southern hemisphere and is known worldwide for its Carnival, samba / bossanova music and beaches. Some of the most famous landmarks include the giant statue of Christ the Redeemer, the Sambadrome , Sugarloaf Mountain and Maracana Stadium, one of the world's largest football stadiums. In 2016, the city will host the XXXI Summer Olympics.
Brasilia
Brasilia is the federal capital and the seat of government of Brazil. It is the fourth largest city in the country and was designated a UNESCO World Heritage Site in 1987.
Bahia - Salvador
Bahia is the fourth most populous Brazilian state and is located in the northeastern part of the country on the Atlantic coast. Its capital is the city of Salvador and is located at the junction of the Atlantic Ocean and the Bay of All Saints. As the chief location of the early Brazilian slave trade, Bahia possesses the most distinctive African imprint in Brazil in terms of culture and customs. These include the Yoruba-derived religious system of Candomblé, the martial art of Capoeira, African-derived music such as Samba and Axé as well as cuisine with strong links to western Africa. Bahia is the birthplace of many noted Brazilian artists, writers and musicians.